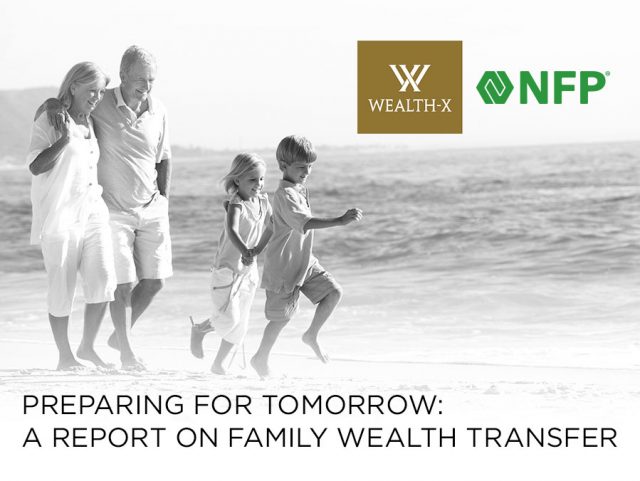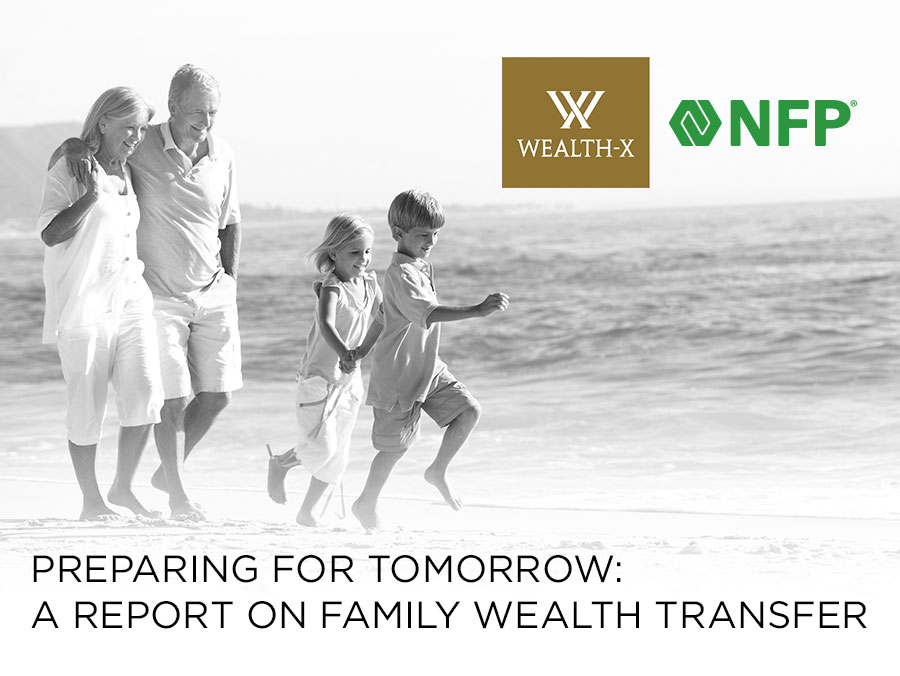 Are you looking for your next career? Banks, Private Banks, IFAs, Fund Management Co.? Search for wealth & investment Jobs here or join thousands of leading financial professionals to receive the latest news and updates here
---
Wealth-X Report 2016 – Preparing for Tomorrow: A Report on Family Wealth Transfer
Official Press Release by Wealth-X on 12th September 2016
Ultra high net worth (UHNW) individuals across the globe will transfer more than US$3.9 trillion between generations over the next decade — enough to purchase the 10 largest companies in the world outright.
"Preparing for Tomorrow: A Report on Family Wealth Transfer" takes an in-depth look at the most pertinent issues and challenges UHNW individuals face when transferring wealth to the next generation.  The report, which was produced by Wealth-X and sponsored by NFP, includes insight and best practices for family wealth transfers and the associated assets of the ultra wealthy.
Key Findings:
More than 14,000 UHNW individuals are likely to transfer assets in the next 10 years.
These UHNW individuals have an average personal wealth of US$272 million.
This total combined wealth (US$3.9 trillion) represents 13% of all UHNW assets globally.
The United States will experience the most wealth transfers globally in the next 10 years.
Private investments represent the largest holdings for UHNW individuals set to transfer their wealth in the next decade, accounting for 36% of their net worth, an average of nearly US$100 million per person.
This same group has an average liquidity of US$92 million and US$16 million in real estate and luxury assets.
"As UHNW individuals age, they increasingly consider their legacy, whether that is maintaining it, if they are second or third generation wealthy, or creating it, if they are first generation," said Tomas Povedano, Chief Operating Officer, NFP Life Solutions. "The importance of early planning and education of all related family members cannot be overstated; we find that setting expectations prudently can create the long-term legacy and stability that is so important to many UHNW individuals."
"Preparing for Tomorrow: A Report on Family Wealth Transfer" outlines many of the significant difficulties UHNW individuals face when planning for wealth transfer, from family disputes to global reporting requirements. From these findings, the report highlights best practices for UHNW individuals, including:
The importance of early planning to set expectations for all stakeholders in the family and prevent unforeseen circumstances
Preservation of wealth through diversification, primarily against political instability or concentrated financial assets, such as primary businesses, to limit exposure to unexpected events
Usage of a full suite of expert advisors who work collaboratively to help manage an increasingly complicated global landscape
---
About Wealth-X
The global leader in wealth information and insight, Wealth-X partners with leading prestige brands across the financial services, luxury, not-for-profit and higher-education industries to fuel strategic decision-making in sales, marketing and compliance. Wealth-X boasts the world's most extensive collection of hand-curated dossiers on the ultra wealthy and produces unparalleled high net worth market research. Founded in 2010, with more than 200 staff across North America, Europe and Asia, Wealth-X works with over 500 clients, providing them with unique data, analysis and counsel to drive business success.
For more information, visit wealthx.com
About NFP
At NFP Corp., our solutions and expertise are matched only by our personal commitment to each client's goals. We're a leading insurance broker and consultant that provides employee benefits, property & casualty, retirement, and individual insurance and wealth management solutions through our licensed subsidiaries and affiliates. NFP Life Solutions and NFP International are divisions of NFP Insurance Services, Inc., a U.S.-domiciled subsidiary of NFP Corp. Offshore insurance products are offered through NFP (BVI) Ltd., a subsidiary of NFP Insurance Services, Inc., and are for non-U.S. residents only.
For more information, visit NFP.com
---
Caproasia Online
 is an E-Magazine for Wealth Managers, Private Bankers & Investment Professionals.  View latest jobs in Banks, Private Banks, IFAs, Fund Management at the
Jobs Center
or
join
thousands of leading financial professionals to receive the latest news and updates
here
For content usage and citations, kindly provide a backlink or whenever possible – Source: 
Caproasia Online
.