Are you looking for your next career? Banks, Private Banks, IFAs, Fund Management Co.? Search for wealth & investment Jobs here or join mailing list or receive updates here
---
Highlights from the Asian Financial Forum 2017 in Hong Kong
More than 2,800 global leaders in finance gathered in Hong Kong for the 10th Asian Financial Forum on the 16th and 17th of January 2017.
In the the 10th edition of the Asian Financial Forum, the highlight keynote speakers had two of the world's most distinguished finance leaders.
Keynote Speakers
The keynote speaker for the first day (16th Jan 2017) was Dr Mohamed A. El-Erian,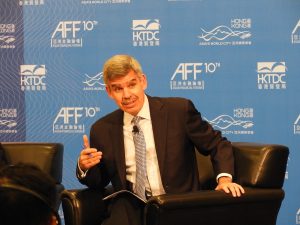 Chief Economic Advisor at Allianz and Chair of US President Barack Obama's Global Development Council. He was the former PIMCO CEO and co-CIO, alongside Bill Gross who co-founded PIMCO.   He was also the President and CEO of Harvard Management Company, the entity that manages Harvard's endowment and related accounts. Since 2007, he has been chair of Microsoft's Investment Advisory Board.
The keynote speaker for the second day (17th Jan 2017) was Dr Raghuram Rajan, the 23rd Governor of the Reserve Bank of India (2013-2016), and was also the Chief Economist and Director of Research at the International Monetary Fund.
With more than 2,800 global leaders in finance and business attending, leaders were constantly polled on their thoughts and decisions.  Here are six of the most crucial polls that will affect how investment decisions will be made in 2017:
No. 1 What is the outlook for the global economy in 2017?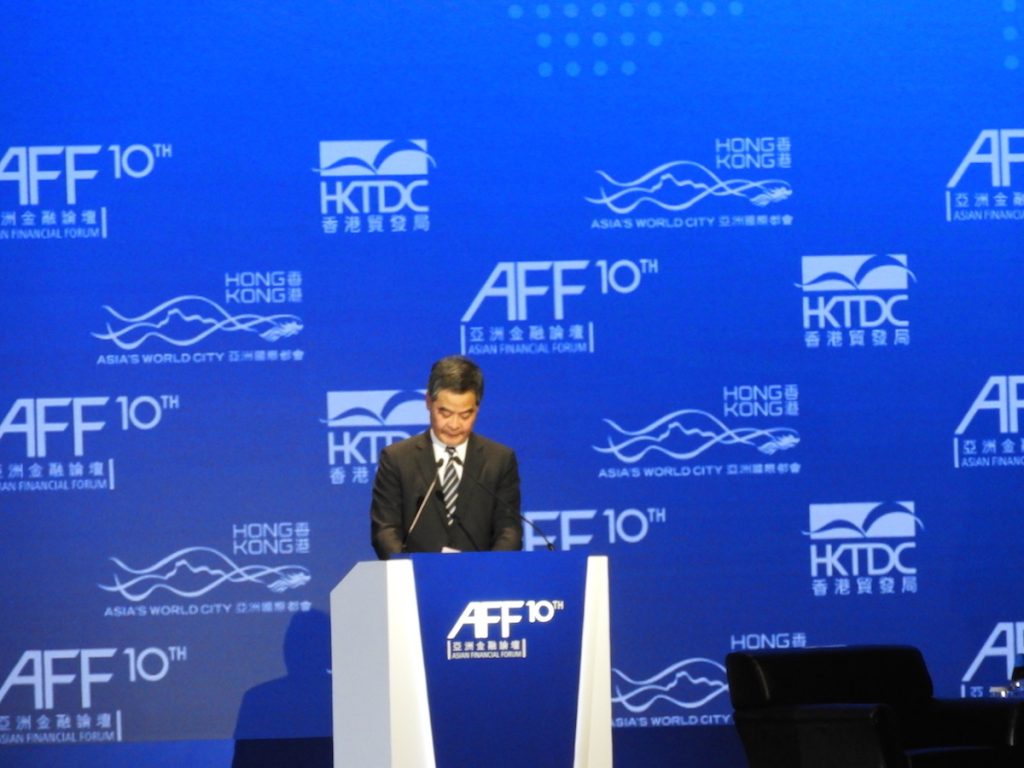 Almost half (49%) of the global financial & business leaders are neutral on the 2017 economic outlook.  31% are pessimistic and only 20% are optimistic of the global economy in 2017.
No. 2 What is the biggest global economic risk in 2017?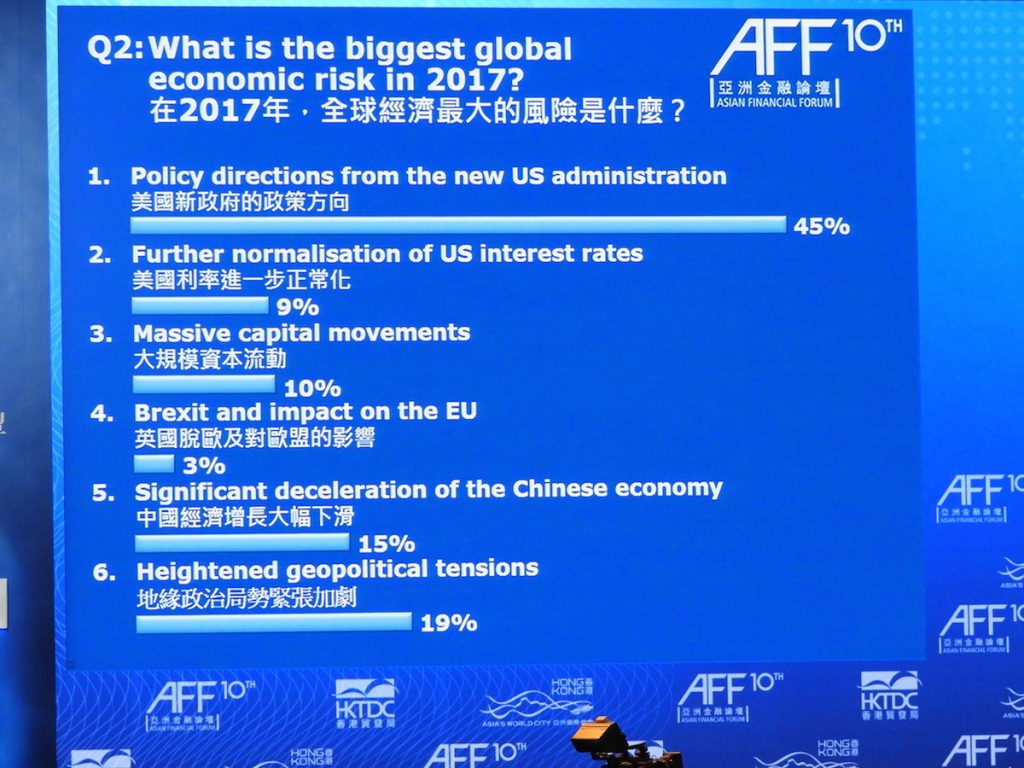 45% of the financial and business leaders feels that the biggest global economy risk in 2017 is the policy directions from the new US administration.
Heightened geopolitical tensions (19% votes) and significant deceleration of the Chinese economy (15% votes) are the next biggest risks.
The remaining voted for massive capital movements (10% votes), further normalization of US interest rates (9% votes) while only 3% voted Brexit and its impact on the EU as the biggest global economic risk in 2017.
No. 3 Which segment / area in Asia's financial services industry will be changed most radically by financial technologies?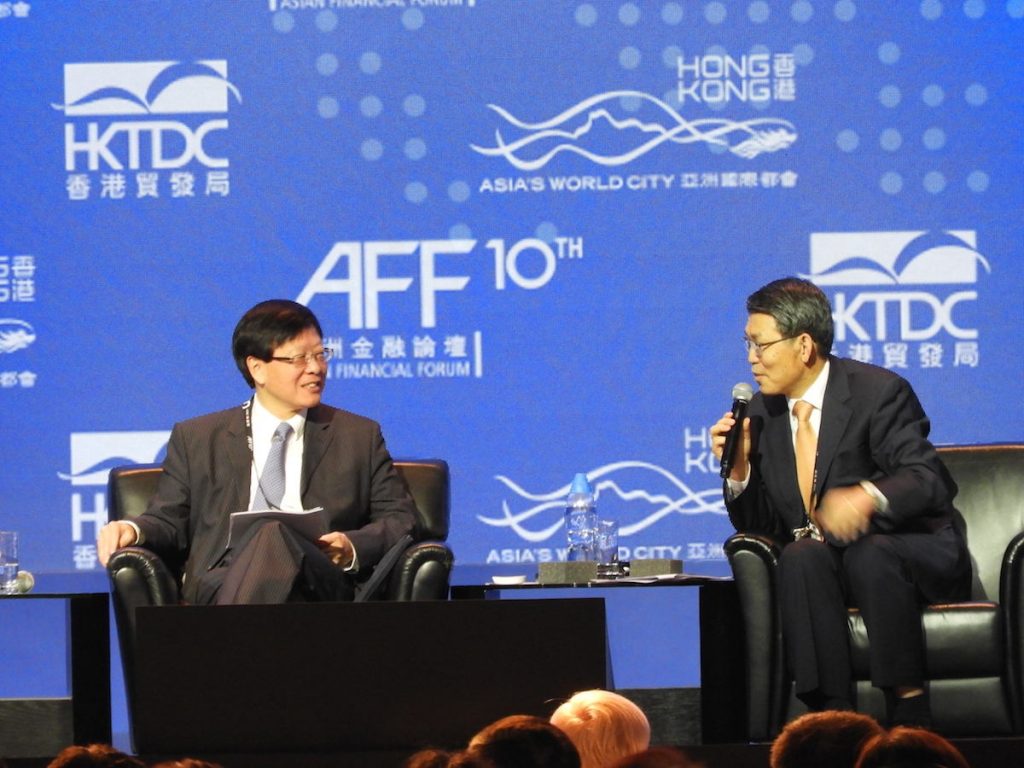 32% voted Payment will undergo the biggest transformation.  18% voted trading and settlement, 14% voted for investment services, and a similar vote of 14% for changes in cyber resilience.
Mid-office and back-office operations of financial institutions received 12% votes while lending receives 9% votes.
No. 4 Will Asian economies be able to withstand global challenges?
In another poll, leaders were asked if they think that this time – unlike in the Asian Financial Crisis where they were not able to – Will Asian economies be able to withstand the challenges posed by rising protectionism, the roll-back of globalisation, divergent interest rates, currency pressures and associated capital flows?
71% voted that Asian economics will be able to withstand global challenges.  Only 29% think otherwise.
No. 5 Which sectors have the greatest potential to drive economic growth globally in the year ahead?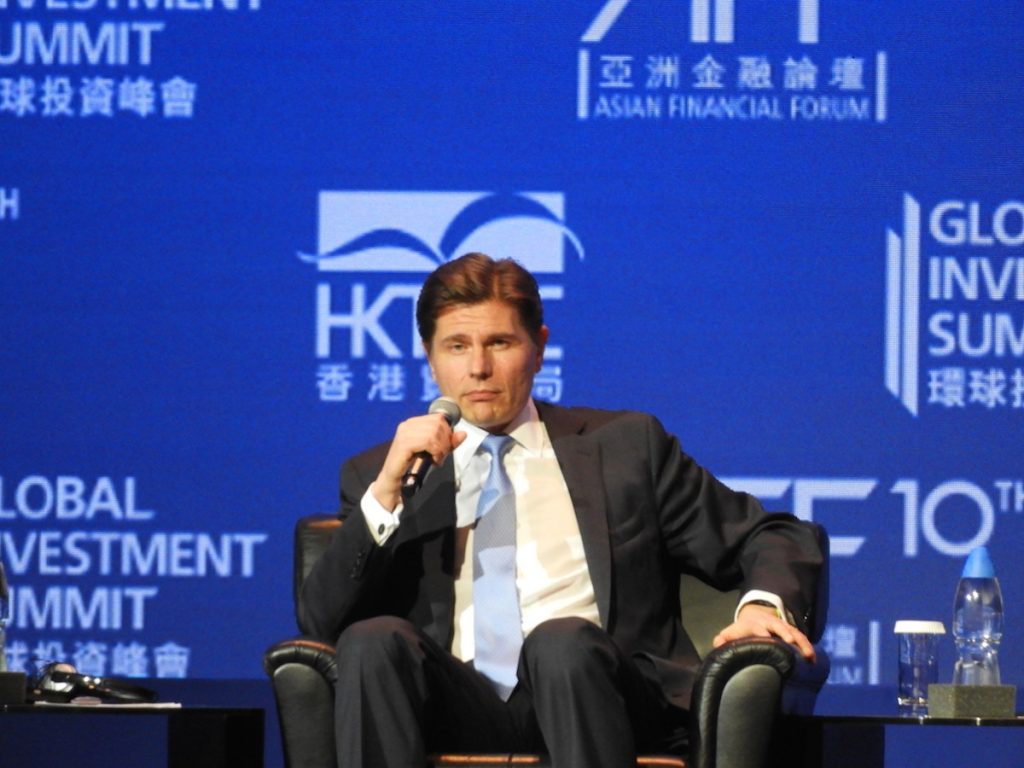 23% voted for Telecom, Media & Technology. Healthcare (19%), Green Industries / Environmental goods & services (16%),  Real Estate & Infrastructure (13%) & Financial Services (13%), E-commerce (11%) while Food & Agriculture (6%).
No. 6 In possibly the highlight poll, leaders were asked If they had $100 Million to invest in ASEAN for seeking the highest return, which country would they choose?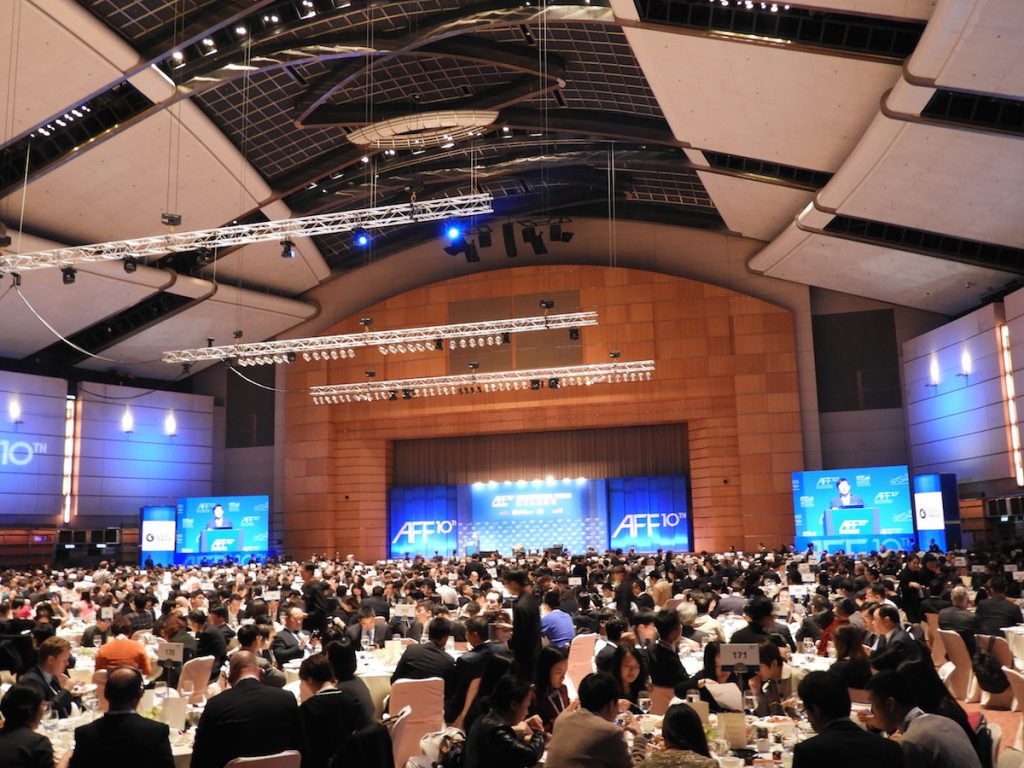 A quarter (25%) of the attending world's finance and business leaders, voted for Vietnam while Indonesia and Singapore gather equal votes of 16%.
Thailand received 13% and the Philippines received 8%.  Cambodia, Malaysia and Myanmar received the same percentage of votes at 7% respectively. Brunei and Laos received 1% of votes each.
ASEAN has 10 members nation, a collective population size of more than 630 Million, and a total GDP that exceeds $2.8 Trillion.
The 10th edition of the Asian Financial Forum (AFF), co-organised by the Hong Kong Special Administrative Region (HKSAR) Government and the Hong Kong Trade Development Council (HKTDC), was held at the Hong Kong Convention and Exhibition Centre (HKCEC).
More:
---
Caproasia.com
is a leading source of information, data, research and resource for financial professionals in Asia. Collectively, they manage more than $20 Trillion assets in Asia in Private Banking, Wealth Management, Multi-Family Office, Family Office, Fund Management, Asset Management, Insurance, Private Equity and Hedge Funds.  View latest jobs in Banks, Private Banks, IFAs, Fund Management
here
or join our mailing list or receive updates
here
For content usage and citations, kindly provide a backlink or whenever possible – Source: 
Caproasia