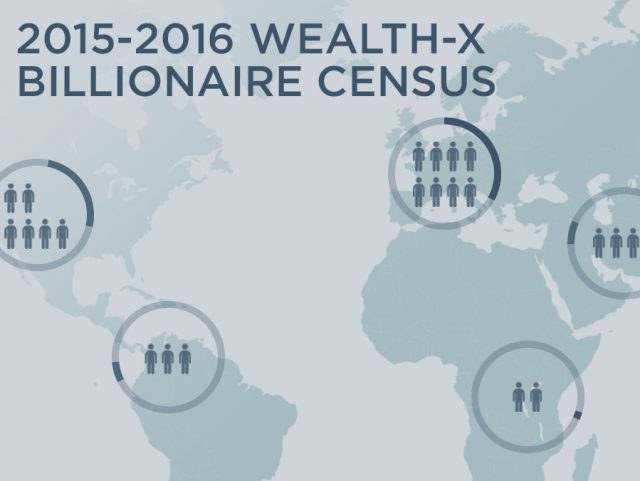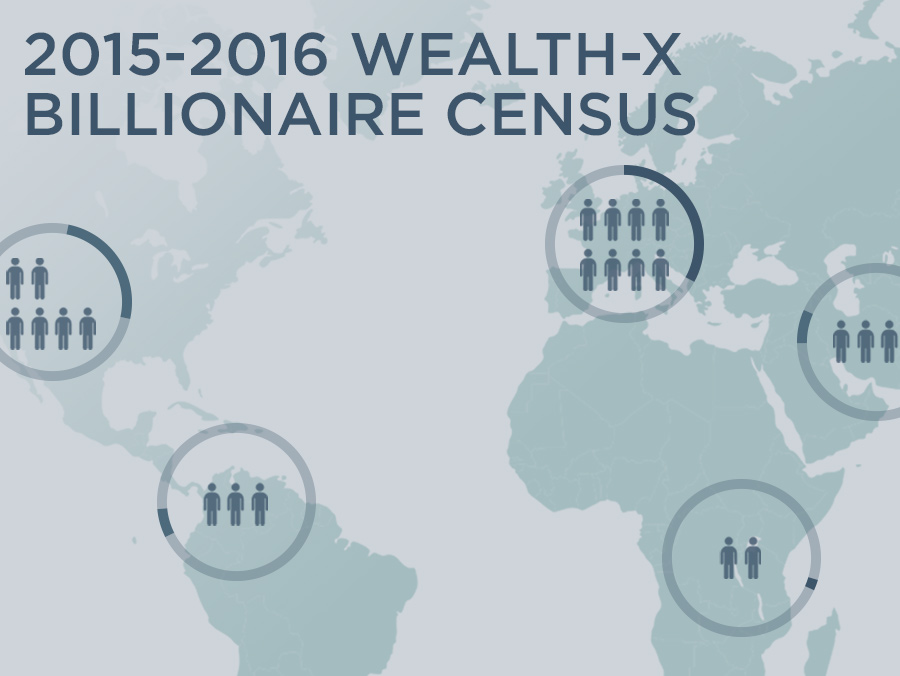 Caproasia.com is the leading financial media platform in Asia. Covering capital markets, investments and private wealth in Asia. Driving $25 trillion of assets in Asia. Our users are rainmakers, dealmakers, risk takers and game-changers. Each manage, advise and invest $20 million to $3 billion of assets in Asia. Join 10,000 + elite users driving $25 trillion assets in Asia. Sign up for newsletter here. Registration - CEOs, Entrepreneurs
,
Professional Investors
,
Financial Professionals
---
Wealth-X Report 2015 to 2016 – Billionaire Census
Official Press Release by Wealth-X on 8th August 2016
Preeminent Global Wealth Study Shows a 6.4% Billionaire Population Growth Since 2014
Wealth-X today released key highlights from its 2015-2016 Billionaire Census revealing a record number of billionaires, globally. The third edition of this preeminent report indicates that there are 2,473 total billionaires in the world, representing a combined wealth of US$7.7 trillion.  These figures illustrate a 6.4% and 5.4% increase since 2014, respectively.
Driven by Wealth-X's unparalleled collection of hand curated dossiers on the ultra high net worth (UHNW) population, the 2015-2016 Billionaire Census contains detailed analysis on the billionaire profile with a focus on geography, lifestyle, social networks, philanthropic behaviors, motivations and legacy.  Wealth-X defines UHNW individuals as having at least US$30 million in personal wealth (net worth) and billionaires as having a net worth of US$1 billion or greater.
While there is only one billionaire for every 2.95 million people on the planet, their wealth has a tremendous impact on the global economy.  In 2015, billionaires controlled 3.9% of the world's total household wealth.  While this figure is slightly down from 2014, when compared to equity market capitalisations, it would trail only the New York Stock Exchange (US$17 trillion), and only the United States (US$17.9 trillion) and China (US$11.0 trillion) when compared to gross domestic product (GDP).
Key Findings
 Billionaires and the Ultra-Wealthy
In 2015, billionaire wealth accounted for a larger share of the total wealth held by the world's ultra wealthy.
While billionaire representation within the UHNW population increased only 1% in 2015, their wealth representation in this demographic increased by nearly 5%.
Net-Worth Diversification
The continued rise in billionaire liquidity, currently at 22.2% of total net worth. An upward trend since 2012, 2015 saw a considerable ramp-up in liquidity events.
Billionaire Gender Gap
Male billionaires continue to represent the majority – 140 of the 148 new billionaire additions in 2015 were male, 17.5 times more than women.
A move toward entrepreneurialism by female billionaires – 56% inherited their wealth in 2015, nearly a 10% drop from 2014.
Wealth Transfer
Billionaires with partially inherited wealth continue to be the fastest growing segment of this population, responsible for nearly two thirds of total billionaire additions and a 29.9% increase from 2014.
Achieving billionaire status often requires more than just inheritance; 87% of billionaires made the majority of their fortunes themselves, up from 81% in 2014.
Career Movement
While finance, banking and investment remains the leading industry for billionaires, a subtle shift continues to grow – the number of billionaires in these fields decreased by 5.5% while their wealth decreased by 6.6%
Industrial conglomerates continue to edge to the top spot with the insurance, retail, diversified financial services, business services and IT services sectors all seeing significant billionaire growth.
Global Growth Engines
Asia leads all regions in growth of both billionaire population and wealth at 15.2% and 19.6% respectively.
Europe's billionaire population increased by 4.0%, however the wealth of billionaires in the region tumbled .8% – a decrease of 11% of net billionaire wealth.
North America grew 3.1% in billionaire population and a healthy 8.0% in wealth.  Due to its size, these increases accounted for 13% of all net billionaire additions and 48% of net billionaire wealth.
---
About Wealth-X
The global leader in wealth information and insight, Wealth-X partners with leading prestige brands across the financial services, luxury, not-for-profit and higher-education industries to fuel strategic decision-making in sales, marketing and compliance. Wealth-X boasts the world's most extensive collection of hand-curated dossiers on the ultra wealthy and produces unparalleled high net worth market research. Founded in 2010, with more than 200 staff across North America, Europe and Asia, Wealth-X works with over 500 clients, providing them with unique data, analysis and counsel to drive business success.
For more information, visit wealthx.com