Caproasia.com is the leading financial media platform in Asia. Covering capital markets, investments and private wealth in Asia. Driving $25 trillion of assets in Asia. Our users are rainmakers, dealmakers, risk takers and game-changers. Each manage, advise and invest $20 million to $3 billion of assets in Asia. Join 10,000 + elite users driving $25 trillion assets in Asia. Sign up for newsletter here. Registration - CEOs, Entrepreneurs
,
Professional Investors
,
Financial Professionals
---
2017 Global Private Banking Report – Scorpio Partnership
Scorpio Partnership released the latest edition of the Global Private Banking Benchmark Report:
The Top 5 Global Private Banks are:
| | | |
| --- | --- | --- |
| Global Ranking | Private Bank | AUM 2016 (USD) |
| 1 | UBS | $2.06 Trillion |
| 2 | Bank of America Merrill Lynch | $1.97 Trillion |
| 3 | Morgan Stanley | $1.95 Trillion |
| 4 | Wells Fargo | $922 Billion |
| 5 | Royal Bank of Canada | $791 Billion |
No. 1 Top 25 Private Banks Worldwide by Assets Under Management (AUM):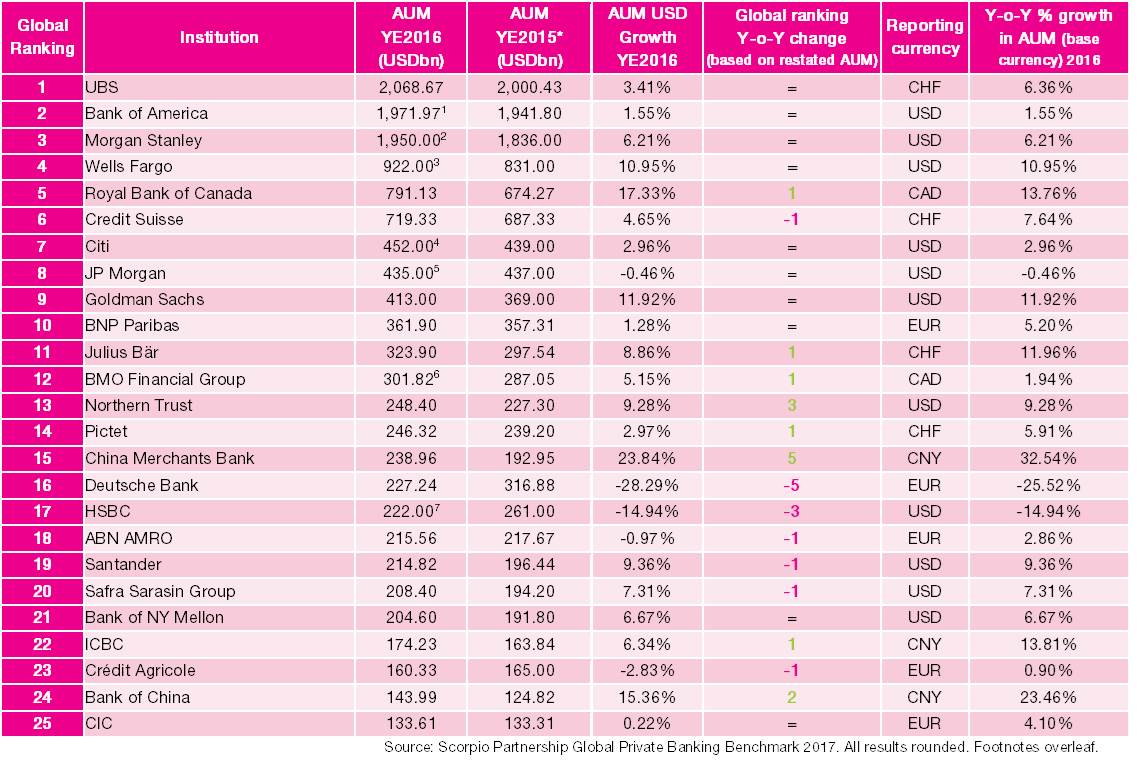 According to Scorpio Partnership, the top 25 largest private banks managed $13.3 trillion of AUM.  (The total private banking market is estimated to be $21.1 trillion in 2016)
China's private banks made notable presence on the list with China Merchant Bank adding over CNY 400 billion in the year 2016.  It is ranked 15th place on the list.  Another Chinese private bank, Bank of China entered the ranking at 24th place, managing over CNY 1 trillion of AUM.
No. 2 The Global Private Banking 2016 Operating Model Infographics
Key Summaries (Comparing 2016 to 2015):
AUM increase by 3.78%
Net New Money fell 0.03%
Operating Profits increased by 17.27%
Operating Income increased by 0.04%
Operating Expenses fell by 0.19%
Cost to Income improved from 80.5 to 77.3%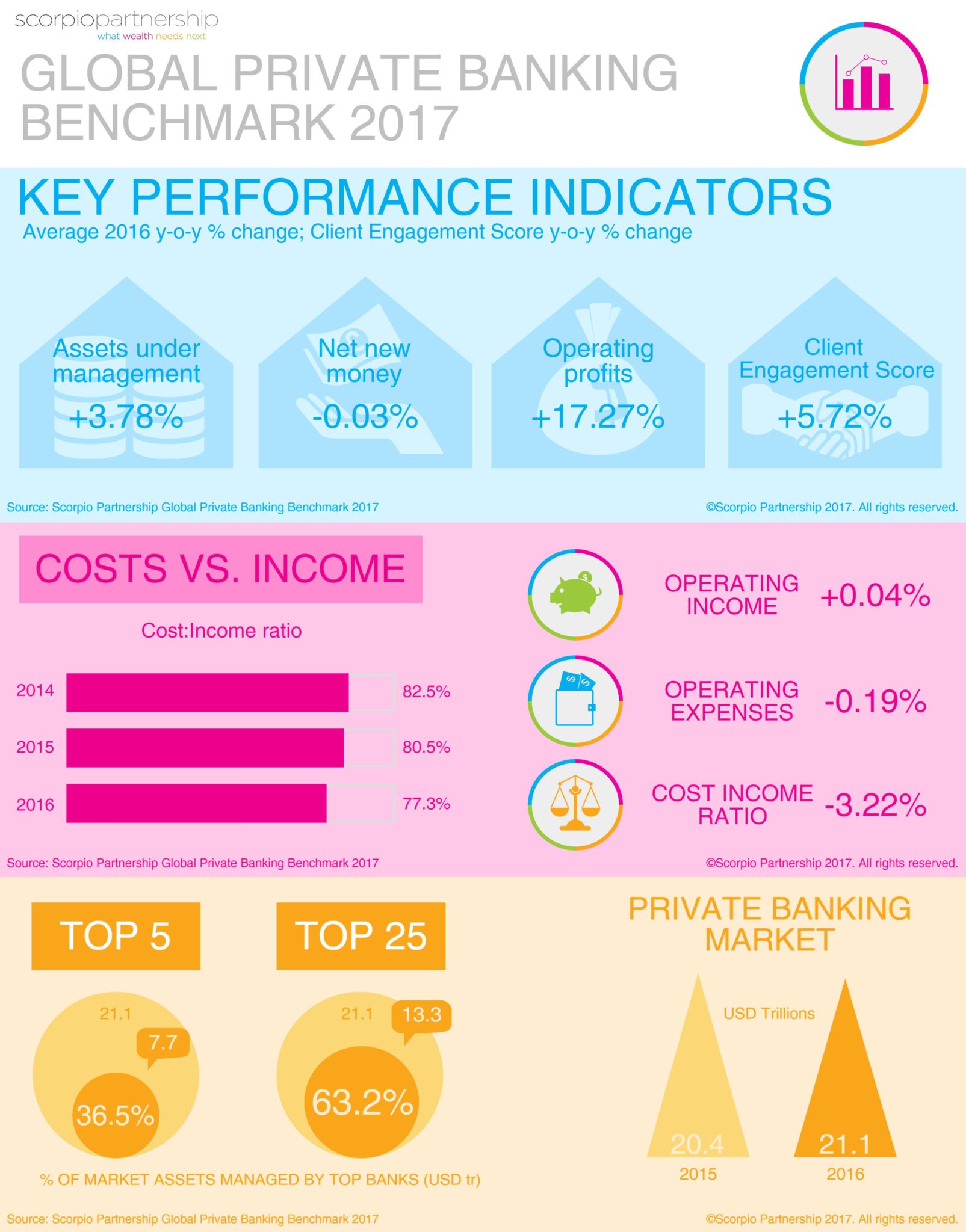 About Scorpio Partnership
Scorpio Partnership is a London-based strategy and research specialist focused on the global wealth management industry and the HNW client journey. In addition to its industry benchmarking, Scorpio Partnership's unparalleled insight into the market is based on over 75,000 interviews with millionaires and billionaires and 12,500 professional advisors across 35 global wealth centres.
The Scorpio Partnership Global Private Banking Benchmark is the leading analysis of the international wealth management market from strategists Scorpio Partnership. This year's report includes data based on results from over 200 private banks and subsidiaries around the world with total assets under management of USD15.5 trillion. Overall, the wealth management industry is estimated to manage USD19.6 trillion in private client assets.
Scorpio Partnership was acquired by Aon in 2014.  The report is available for purchase directly from Scorpio Partnership. For more information please visit our website www.scorpiopartnership.com.
Source: Official Press Release