Global ABS and Structured Finance Summit Virtual 2021
Jan 27, 2021

-

Jan 28, 2021
Global ABS and Structured Finance Summit Virtual 2021



27th – 28th January 2021 | Virtual

Overview
Following travel guidance from the CDC, and the continued growth of the Covid-19 outbreak around the world and in the United States, Opal's Global ABS and Structured Finance Summit will be hosted virtually this Fall.
Opal's Global ABS and Structured Finance Summit is an educational and networking forum designed for investors, issuers, platforms, fintech firms, investment banks, underwriters, rating agencies, broker dealers, lawyers, technology firms, service providers, accountants and more. At this conference, they can learn the newest techniques to maximize returns and reduce risk exposure, an in-depth review of recent regulatory changes, COVID issues, opportunities and structural considerations will provide attendees with the tools necessary to stay one step ahead of their competitors. The conference will serve as an opportunity where a meaningful dialogue can be opened to address concerns regarding this dynamic segment of the market.
Join us! Interested in attending, speaking or sponsoring? Contact Lauren Bautista at (212) 532-9898 ext 258 or email info@opalgroup.net
For more information: Global ABS and Structured Finance Summit Virtual 2021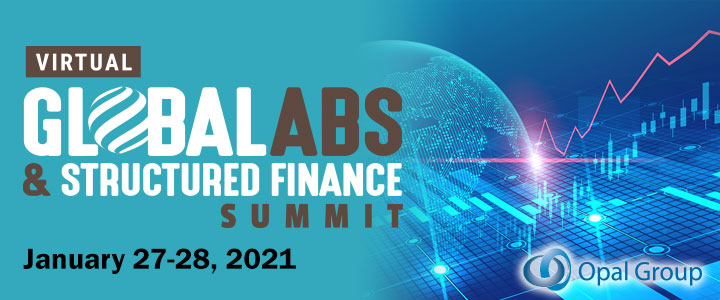 Caproasia users have access to exclusive discount.  For more information, please contact your regional representative.