Public Funds Summit Virtual 2021
Feb 10, 2021

-

Feb 11, 2021
Public Funds Summit Virtual 2021



10th – 11th February 2021 | Virtual

Overview
Opal is proud to launch our Public Funds Summit (virtual) taking place on February 10-11, 2020. This event will address what has happened in the current financial investment marketplace since the outbreak of COVID-19 as it pertains to Public Pension plans and plan sponsors. We will look at issues that are critical to the investment success of senior public pension fund officers and trustees in the new millennium. Concerns of funding liabilities for beneficiaries in a world of declining returns yet maintaining a balance between the risk/reward paradigms is center in the mind of many trustees and representatives of pension plans around the country. Beyond the investment sphere we also address legal issues facing pension plans, ethic regulations and the importance of on-going education for plan sponsors and their fiduciaries.
Please join us on this journey to navigate the financial future of the pension world by attending and sharing thoughts on best practices and directions of what needs to be accomplished to secure the stability of pension's present and future.
For additional information, please email info@opalgroup.net for a copy of our Preliminary Agenda.
For more information: Public Funds Summit Virtual 2021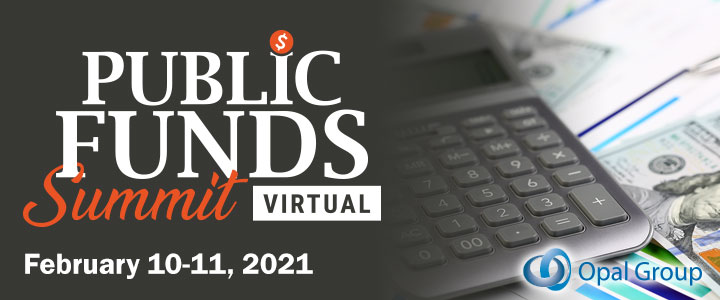 Caproasia users have access to exclusive discount.  For more information, please contact your regional representative.