Women in Structured Finance Summit 2021
April 27

-

April 28

$295
Women in Structured Finance Summit 2021



27th – 28th April 2021 | Virtual

Overview
Virtual conferences are playing a crucial role in this time of remote work and digital business by allowing organizations to adapt in a world going through new challenges. These changes are not only altering the way we do business now but will alter the way we do business in the future.
At Opal Group, our goal is to become a valued partner to the financial investment world by providing options for companies and individuals to connect with one another in their efforts to share information, deal flow, and foster relationships that fuel your efforts to reach your target market. Today, Opal Group is proud to offer customized live virtual conferences that combine market timely ideas and industry specific topics – produced to connect like-minded individuals and companies. This new digital offering can help expand your brand's reach, position speakers as thought leaders, and connect with potential prospects amidst the world's current climate.
Opal is proud to launch our Celebrating Women in Structured Finance and Fintech (virtual) taking place on April 27-28, 2021.
Please join us on this journey to navigate the wave in our future by attending and sharing thoughts on best practices and directions of deal flow opportunities.
* This event is open to all genders in the structured finance space and will include an array of relevant SF topics *
For additional information, please email info@opalgroup.net for a copy of our Preliminary Agenda.
For more information: Women in Structured Finance Summit 2021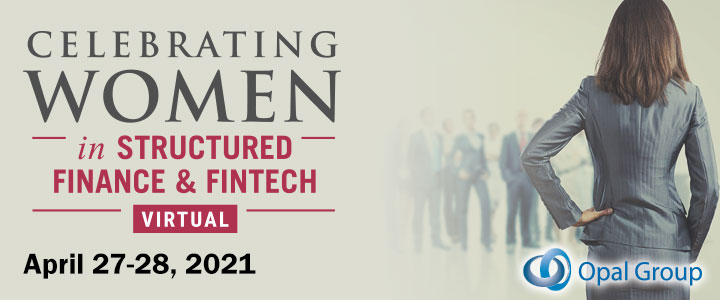 Caproasia users have access to exclusive discount.  For more information, please contact your regional representative.