Join more than 4,000 leading financial professionals in Asia to receive Caproasia exclusive newsletter
here
.
For financial professionals managing assets or advising client , sign up
here
. Gain advantage today as a Caproasia user. For existing Caproasia user, contact your regional representative.
---
Allianz Announces Bancassurance Agreement with Maybank
Allianz and Maybank have announced a 10 year bancassurance agreement in Indonesia with the launch of three new life insurance products exclusively for Maybank customers. These products aim to provide clear protection benefits and the opportunity for customers to capture investment growth. Allianz will also look to introduce its proprietary digital sales platforms for Maybank clients, to drive stronger customer engagement and satisfaction.
News Source: Allianz Press Release
About Maybank Kim Eng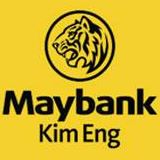 The Maybank Kim Eng group of companies comprises businesses stretching around the globe with offices in 19 countries serving more than 22 million customers worldwide. Founded in 1972, it has been in Asia for more than 40 years and provides services in corporate finance, debt capital markets, equity capital markets, derivatives, retail and institutional securities broking and research.
Origin : Kuala Lumpur, Malaysia
Assets : RM 708.35 billion (group)
Revenue : RM 40.56 billion (group)
Employees : 45,000
Official Website: www.maybank-ke.com
News & Media: Press Release
Updated on 8th August 2016