Caproasia.com | The leading financial website for financial professionals, professional investors and HNW investors. Covering capital markets, investments and private wealth in Asia. How do you invest $3 million to $300 million? How do you manage $20 million to $3 billion of assets? Quicklinks: Access | TFC | Caproasia | Bloomberg

---
2017 Singapore Top 50 Richest
The top 50 richest people in Singapore in 2017 have a combined estimated net worth of more than $104.63 Billion, in the Forbes report released in 2018.
Robert & Philip Ng, who owns Far East Organization (the largest private property developer in Singapore) and Sino Group, top the list with an estimated net-worth of $9.4 Billion. Eduardo Saverin, who is a co-founder of Facebook – the world's largest social networking site, is 2nd on the list with $9.3 Billion. Goh Cheng Liang, who founded Wuthelam Holdings (manufacturer of paint and coatings), is 3rd on the list with $7.8 Billion.
Kwek Leng Beng, Executive Chairman of Hong Leong Group Singapore (one of the Asia's largest conglomerates), and Khoo family (Goodwood Group of Hotels), rounded up the top 5 richest people in Singapore with $7.1 Billion and $6.3 Billion respectively.
Top 5 Richest in Singapore:
| | | | |
| --- | --- | --- | --- |
| Rank | Name | Net Worth | Company |
| 1 | Robert & Philip Ng | $9.4 B | Far East Organization, Sino Group |
| 2 | Eduardo Saverin | $9.3 B | Facebook |
| 3 | Goh Cheng Liang | $7.8 B | Wuthelam Holdings |
| 4 | Kwek Leng Beng | $7.1 B | Hong Leong Group Singapore |
| 5 | Khoo family | $6.3 B | Goodwood Group of Hotels |
Singapore's Richest Fast Facts:
The Richest: Robert & Philip Ng with $9.4 Billion (Sino Group, Far East)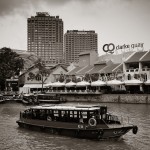 Top 50 Total Net Worth: $104.63 Billion (2016: $80.11 Billion)
The Average Age: 64.7 Years Old (2016: 64.43)
The Oldest Age: 99 Years Old ($2.01 Billion, Chang Yun Chung, Pacific International Lines – Singapore's largest shipowner)
The Youngest Age: 36 Years Old ($9.3 Billion, Eduardo Saverin – Facebook)
2017 Singapore Top 50 Richest:
| | | | | | |
| --- | --- | --- | --- | --- | --- |
| Rank | Name | Net Worth (USD) | Age | Source | Company |
| 1 | Robert & Philip Ng | $9.4 B | – | real estate | Far East Organization, Sino Group |
| 2 | Eduardo Saverin | $9.3 B | 36 | social network | Facebook |
| 3 | Goh Cheng Liang | $7.8 B | 91 | paints | Wuthelam Holdings |
| 4 | Kwek Leng Beng | $7.1 B | 77 | real estate | Hong Leong Group Singapore |
| 5 | Khoo family | $6.3 B | 58 | Maybank | Goodwood Group of Hotels |
| 6 | Wee Cho Yaw | $5.8 B | 89 | banking | United Overseas Bank (UOB) |
| 7 | Kwee family | $5.3 B | 71 | Real Estate | Pontiac Land Group |
| 8 | Kuok Khoon Hong | $2.7 B | 68 | palm oil | Wilmar |
| 9 | Raj Kumar & Kishin RK | $2.6 B | 64 | real estate | Royal Holdings/RB Capital |
| 10 | Sam Goi | $2.2 B | 69 | frozen foods | Tee Yih Jia Foods |
| 11 | Ong Beng Seng and Christina Ong | $2.1 B | 73 | diversified | Hotel Properties, Como Hotels & Resorts |
| 12 | Richard Chandler | $2.08 B | 59 | investments | Clermont Group |
| 13 | Peter Lim | $2.07 B | 65 | investments | Rowsley |
| 14 | Choo Chong Ngen | $2.05 B | 65 | hotels | Hotel 81 |
| 15 | Chang Yun Chung | $2.01 B | 99 | shipping | Pacific International Lines |
| 16 | Arvind Tiku | $2 B | 48 | oil & gas, investments | AT Holdings |
| 17 | Sheng Jian Zhong | $1.85 B | 60 | real estate | Yanlord Land |
| 18 | Lim Oon Kuin | $1.7 B | 74 | oil trading | Hin Leong Trading |
| 19 | Lee family | $1.6 B | – | banking | OCBC Bank |
| 20 | Ho family | $1.5 B | – | banking | Tai Tak Estates, First Sponsor Group |
| 21 | Chua Thian Poh | $1.45 B | 69 | real estate | Ho Bee Land |
| 22 | Asok Kumar Hiranandani | $1.42 B | 63 | real estate | Royal Group |
| 23 | Chew Gek Khim | $1.4 B | 56 | diversified | Straits Trading |
| 24 | Tang Wee Kit | $1.38 B | 63 | retail | Tang Holdings |
| 25 | Oei Hong Leong | $1.33 B | 70 | investments | |
| 26 | Robert Friedland | $1.3 B | 67 | mining | Ivanhoe Mines |
| 27 | Lien family | $1.25 B | – | banking | United Overseas Bank (UOB), Lien Foundation |
| 28 | Ron Sim | $1.2 B | 59 | retail | Osim International |
| 29 | Tay family | $1.15 B | – | retail, property | OG, Memocorp |
| 30 | Koh Wee Meng | $1.1 B | 54 | real estate, hotels | Fragrance Group |
| 31 | Peter Fu Chong Cheng | $920 M | – | diversified | Kuo International |
| 32 | Michael Kum | $905 M | 73 | hotels | M&L Hospitality |
| 33 | Lim Chap Huat | $900 M | 63 | property | Soilbuild |
| 34 | Loo Choon Yong | $890 M | 69 | health care | Raffles Medical Group |
| 35 | Serge Pun | $800 M | 65 | diversified | Yoma Strategic Holdings, Yoma Bank |
| 36 | Lim Hock Chee | $760 M | 56 | retail | Sheng Siong Group |
| 37 | Primus Cheng | $740 M | 68 | food | Prima |
| 38 | Kuik Ah Han | $730 M | 72 | property | Sim Lian Group |
| 39 | Cheng Wai Keung | $720 M | 67 | real estate | Wing Tai Holdings |
| 40 | Tan Boy Tee | $715 M | 69 | shipping | Bestford Group |
| 41 | Min-Liang Tan | $700 M | 40 | gaming | Razer Inc. |
| 42 | Danny Yong | $670 M | 46 | hedge funds | Dymon Asia Capital |
| 43 | Bhupendra Kumar Modi | $665 M | 69 | telecom | Smart Group |
| 44 | Saurabh Mittal | $650 M | 44 | finance | Mission Holdings |
| 45 | Ching Chiat Kwong | $615 M | 52 | real estate | Oxley Holdings |
| 46 | Shaw Vee Meng | $580 M | 85 | media, real estate | Shaw Organization |
| 47 | John Lim | $575 M | 61 | real estate | Asian Realty Advisors (ARA) |
| 48 | Ho Kian Guan | $565 M | 72 | plantations/real estate | Keck Seng Group |
| 49 | Henry Ng | $545 M | 60 | cement | Pan United |
| 50 | Koh Wee Seng | $540 M | 49 | jewelry | Aspial |
*Data 26th July 2017
Source: Caproasia Institute, Forbes
2017 Rich List – South-east Asia
2017 Rich List – North Asia
2017 Rich List – Global
---