Caproasia.com | The leading source of data, research, information & resource for financial professionals, institutional investors, professional investors and private investors (UHNWs, & HNWs). Covering capital markets, investments and private wealth in Asia. How do you invest $3 million to $300 million? How do you manage $20 million to $3 billion of assets? This site is for accredited investors, professional investors, investment managers and financial professionals only. You should have assets around $3 million to $300 million or managing $20 million to $3 billion.
---
2017 Philippines Top 50 Richest
The top 50 richest people in Philippines in 2017 have a combined estimated net worth of more than $73.91 billion, in the Forbes report released in 2018.
Henry Sy, who owns SM Investments (Philippines largest conglomerate), top the list with an estimated net worth of $18 billion. John Gokongwei, Jr. who owns JG Summit (Philippines conglomerate) is 2nd on the list with $5.5 billion. Enrique Razon, Chairman and CEO of International Container Terminal Services (Philippines' largest port operator), is 3rd on the list with $4.3 billion.
Lucio Tan, the Chairman and CEO of LT Group (Philippines' conglomerate) and Jaime Zobel de Ayala, the Chairman emeritus of Ayala Corporation (Philippines' oldest conglomerate), rounded up the top 5 richest people in Philippines with $4.2 billion and $3.7 billion respectively.
Top 5 Richest in Philippines:
| | | | | | |
| --- | --- | --- | --- | --- | --- |
| Rank | Name | Net Worth (USD) | Age | Source | Company |
| 1 | Henry Sy | $18 B | 93 | diversified | SM Investments |
| 2 | John Gokongwei, Jr. | $5.5 B | 91 | food and beverage | JG Summit |
| 3 | Enrique Razon, Jr. | $4.3 B | 58 | ports | International Container Terminal Services |
| 4 | Lucio Tan | $4.2 B | 83 | diversified | LT Group |
| 5 | Jaime Zobel de Ayala | $3.7 B | 83 | diversified | Ayala Corporation |
Philippines' Richest Fast Facts:
The Richest: Henry Sy with $18 Billion (SM Investments, Philippines largest conglomerate)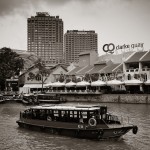 Top 50 Total Net Worth: $73.91 Billion
The Average Age: 71.5 Years Old
The Oldest Age: 97 Years Old ($190 Million, Bienvenido Tantoco, Sr., Rustan's Group – the second largest retailer in the Philippines)
The Youngest Age: 41 Years Old ($820 Million, Ciliandra Fangiono, Mang Inasal – one of the largest fast food restaurant chains in the Philippines)
2017 Philippines Top 50 Richest:
| | | | | | |
| --- | --- | --- | --- | --- | --- |
| Rank | Name | Net worth (USD) | Age | Source | Company |
| 1 | Henry Sy | $18 B | 93 | diversified | SM Investments |
| 2 | John Gokongwei, Jr. | $5.5 B | 91 | food and beverage | JG Summit |
| 3 | Enrique Razon, Jr. | $4.3 B | 58 | ports | International Container Terminal Services |
| 4 | Lucio Tan | $4.2 B | 83 | diversified | LT Group |
| 5 | Jaime Zobel de Ayala | $3.7 B | 83 | diversified | Ayala Corporation |
| 6 | David Consunji | $3.68 B | 96 | construction | DMCI |
| 7 | George Ty | $3.6 B | 85 | banking | GT Capital Holdings, Metrobank |
| 8 | Tony Tan Caktiong | $3.4 B | 65 | food | Jollibee Foods Corporation |
| 9 | Andrew Tan | $2.5 B | 65 | diversified | Alliance Global |
| 10 | Ramon Ang | $2.3 B | 64 | Diversified | San Miguel Corporation, Top Frontier Investment Holdings |
| 11 | Lucio and Susan Co | $1.8 B | 63 | retail | Puregold Price Club |
| 12 | Manuel Villar | $1.65 B | 68 | real estate | Starmalls, Vista & Landscapes |
| 13 | Inigo & Mercedes Zobel | $1.6 B | 62 | Diversified | Ayala Corporation |
| 14 | Robert Coyiuto, Jr. | $1.5 B | 65 | power | Prudential Guarantee & Assuance |
| 15 | Mercedes Gotianun | $1.4 B | 90 | real estate | Filinvest Development |
| 16 | Roberto Ongpin | $1.15 B | 81 | diversified | Alphaland |
| 17 | Eduardo Cojuangco | $1.1 B | 83 | food, drinks | San Miguel Corporation |
| 18 | Dean Lao | $1 B | 59 | food ingredients | D&L Industries |
| 19 | Ricardo Po, Sr. | $980 M | 87 | canned food | Century Pacific |
| 20 | Betty Ang | $880 M | – | food and beverage | Monde Nissin |
| 21 | Edgar Sia | $820 M | 41 | fast food | DoubleDragon Properties, Mang Inasal |
| 22 | Oscar Lopez | $760 M | 88 | Media | Lopez Holdings, ABS-CBN Corp. |
| 23 | Beatrice Campos | $650 M | – | Pharma | United Laboratories (Unilab) |
| 24 | Carlos Chan | $620 M | 77 | Foods | Oishi |
| 25 | Alfredo Yao | $600 M | 74 | soft drinks | Zest-O Corporation, Macay Holdings |
| 26 | Frederick Dy | $520 M | 63 | Banking | Security Bank |
| 27 | Jacinto Ng | $420 M | 75 | Diversified | Republic Biscuit Corp. (REBISCO), Asia United Bank |
| 28 | Jose & Robbie Antonio | $400 M | – | real estate | Century Properties, Revolution Prefabricated |
| 29 | Michael Cosiquien | $385 M | 44 | Construction | Megawide Construction |
| 30 | Jorge Araneta | $380 M | – | Real Estate | Araneta Group of Companies |
| 31 | Edgar Saavedra | $375 M | 42 | Construction | Megawide Construction |
| 32 | Mariano Tan, Jr. | $370 M | 56 | Pharmaceuticals | United Laboratories (Unilab) |
| 33 | Jon & Mikel Aboitiz | $350 M | 62 | diversified | Aboitiz Equity Ventures |
| 34 | Manuel Zamora | $280 M | 79 | mining | Nickel Asia |
| 35 | Wilfred Steven Uytengsu, Jr. | $240 M | 56 | Milk | Alaska Milk |
| 36 | Vivian Que Azcona | $230 M | – | drugstores | Mercury Drugs |
| 37 | Eric Recto | $225 M | 55 | Development | Berdforbury Development |
| 38 | Jose Ma Concepcion | $220 M | – | air-conditioning | Concepcion Industrial |
| 39 | Bienvenido Tantoco, Sr. | $190 M | 97 | Retailing | Rustan's Group |
| 40 | P.J. Lhuillier | $180 M | – | pawn shops | Cebuana Lhuiller |
| 41 | Felipe Gozon | $170 M | 78 | media | GMA Network |
| 42 | Menardo Jimenez | $165 M | 85 | media | GMA Network |
| 43 | Walter Brown | $160 M | 79 | Mining | A Brown Company |
| 44 | Gilberto Duavit | $155 M | 83 | Media | GMA Network |
| 45 | Eusebio Tanco | $150 M | 68 | education | Tanco Group |
| 46 | Juliette Romualdez | $145 M | 82 | Banking | Banco de Oro |
| 47 | Michael Romero | $135 M | 45 | ports | Harbour Centre Port Terminal |
| 48 | Erramon Aboitiz | $130 M | 62 | diversified | Aboitiz & Company, Aboitiz Equity Ventures |
| 49 | Luis Virata | $125 M | 64 | mining | Nickel Asia |
| 50 | Philip Ang | $120 M | 77 | mining | Nickel Asia |
*Data 23th August 2017
Source: Caproasia Institute, Forbes
2017 Rich List – Southeast Asia
2017 Rich List – North Asia
2017 Rich List – Global
Data Release
Caproasia Platforms:
Caproasia Events & Coverage:
---
Caproasia.com | The leading financial website for financial professionals, professional investors and HNW investors. Covering capital markets, investments and private wealth in Asia. How do you invest $3 million to $300 million? How do you manage $20 million to $3 billion of assets? Quicklinks: Caproasia Access | TFC | Caproasia | Jobs
Join 14,000+ leading financial professionals and professional investors in Asia. Stay ahead of your peers & competition. For press release, email to press@caproasia.com For editorial, media kit, listing on TFC, events, seminars or research & data services, email to mail@caproasia.com
---