Caproasia.com | The leading financial website for financial professionals, professional investors and HNW investors. Covering capital markets, investments and private wealth in Asia. How do you invest $3 million to $300 million? How do you manage $20 million to $3 billion of assets? Quicklinks: Access | TFC | Caproasia | Bloomberg



---
2016 Singapore Top 50 Richest
The top 50 richest people in Singapore have a combined estimated net-worth of more than USD 80 Billion, in the latest 2016 report by Forbes.
Robert & Philip Ng, who owns Sino Group and Far East Organization, top the list with an estimated net-worth of $8.6 Billion.  Kwek Leng Beng is 2nd on the list with $7.6 Billion, with key holdings in Hong Leong Group and City Development.  Eduardo Saverin, who gave up his United States passport in 2011 to gain Singapore citizenship, is 3rd on the list with $7.2 Billion.
The Khoo Family and and Goh Cheng Liang rounded up the top 5 richest people in Singapore with $6.3 Billion and $5.7 Billion respectively.
Top 5 Richest in Singapore:
| | | | |
| --- | --- | --- | --- |
| Rank | Name | Net Worth USD | Company |
| 1 | Robert & Philip Ng | $8.6 B | Sino Group, Far East |
| 2 | Kwek Leng Beng | $7.6 B | Hong Leong Group, City Dev |
| 3 | Eduardo Saverin | $7.2 B | Facebook |
| 4 | Khoo Family | $6.3 B | Diversified |
| 5 | Goh Cheng Liang | $5.7 B | Wuthelam Holdings |
Singapore's Richest Fast Facts:
The Richest: Robert & Philip Ng with $8.6 Billion (Sino Group, Far East)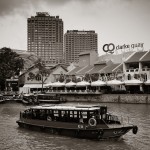 Top 50 Total Net Worth: USD 80.11 Billion
The Average Age: 64.43 Years Old
The Oldest Age: 97 Years Old ($1.65 Billion, Chang Yun Chung, Pacific International Lines)
The Youngest Age: 34 Years Old ($7.2 Billion, Eduardo Saverin, Facebook)
2016 Singapore Top 50 Richest:
| | | | | | |
| --- | --- | --- | --- | --- | --- |
| Rank | Name | Net Worth USD | Age | Source | Company |
| 1 | Robert & Philip Ng | $8.6 B | – | Real Estate | Sino Group, Far East |
| 2 | Kwek Leng Beng | $7.6 B | 75 | Real Estate | Hong Leong Group, City Dev |
| 3 | Eduardo Saverin | $7.2 B | 34 | Media | Facebook |
| 4 | Khoo Family | $6.3 B | 56 | Banking | Diversified |
| 5 | Goh Cheng Liang | $5.7 B | 89 | Paints | Wuthelam Holdings |
| 6 | Kwee Family | $5.4 B | 71 | Real Estate | Pontiac Land Group |
| 7 | Wee Cho Yaw | $4.9 B | 87 | Banking | United Overseas Bank |
| 8 | Raj Kumar & Kishin RK | $2.6 B | 62 | Real Estate | Royal Holdings |
| 9 | Kuok Khoon Hong | $2.5 B | 66 | Palm Oil | Wilmar International |
| 10 | Richard Chandler | $2.45 B | 57 | Investments | Clermont Group |
| 11 | Peter Lim | $2.4 B | 63 | Investments | Rowsley Limited, Valencia FC |
| 12 | Ong Beng Seng and Christina Ong | $2 B | 71 | Diversified | Hotel Properties Limited |
| 13 | Sam Goi | $1.9 B | 67 | Frozen foods | Tee Yih Jia Foods |
| 14 | Arvind Tiku | $1.8 B | 46 | Oil & gas, Investments | At Capital Group |
| 15 | Lim Oon Kuin | $1.75 B | 72 | Oil trading | Hin Leong Trading |
| 16 | Choo Chong Ngen | $1.7 B | 63 | Hotels | Hotel 81 |
| 17 | Chang Yun Chung | $1.65 B | 97 | Shipping | Pacific International Lines |
| 18 | Tang Wee Kit | $1.4 B | 61 | Retail | C.K. Tang |
| 19 | Lee Family | $1.39 B | – | Banking | OCBC |
| 20 | Zhong Sheng Jian | $1.35 B | 58 | Real Estate | Yanlord Land Group Limited |
| 21 | Asok Kumar Hiranandani | $1.3 B | 61 | Real Estate | Royal Group Holdings |
| 22 | Ho Family | $1.25 B | – | Banking | Banyan Tree Holdings |
| 23 | Chua Thian Poh | $1.2 B | 68 | Real Estate | Ho Bee Group |
| 24 | Lien Family | $1.18 B | – | Banking | United Overseas Bank |
| 25 | Tay Family | $1.15 B | – | Retail, Property | Memocorp |
| 26 | Koh Wee Meng | $1.13 B | 53 | Real Estate, Hotels | Fragrance Hotel |
| 27 | Ron Sim | $1.11 B | 57 | Retail | Osim International |
| 28 | Oei Hong Leong | $1.1 B | 68 | Investments | Sinar Mas Group |
| 29 | Loo Choon Yong | $1.09 B | 67 | Healthcare | Raffles Medical Group |
| 30 | Michael Kum | $905 M | 71 | Hotels |  Miclyn Holdings, Grandline International |
| 31 | Peter Fu Chong Cheng | $900 M | – | Diversified | Kuo international |
| 32 | Robert Friedland | $865 M | 65 | Mining | Ivanhoe Mines |
| 33 | Serge Pun | $815 M | 63 | Diversified | Serge Pun & Associates Group, Yoma Bank |
| 34 | Lim Chap Huat | $800 M | 62 | Property | Soilbuild Construction |
| 35 | Lim Hock Chee | $730 M | 54 | Retail | Sheng Siong Group |
| 36 | Tan Boy Tee | $725 M | 67 | Shipping | Bestford Group |
| 37 | Cheng Wai Keung | $650 M | 65 | Real Estate | Wing Tai Holdings |
| 38 | Bhupendra Kumar Modi | $645 M | 67 | Telecom | Smart Global |
| 39 | Kuik Ah Han | $625 M | 70 | property | Sim Lian Group Ltd |
| 40 | John Chuang | $615 M | 68 | Chocolates | Petra Foods |
| 41 | Min-Liang Tan | $600 M | 39 | Gaming | Razer Inc |
| 42 | Shaw Vee Meng | $550 M | 83 | – | Shaw Organization |
| 43 | Koh Wee Seng | $545 M | 47 | Jewelry | Aspial Corp Ltd |
| 44 | Ho Kian Guan | $542 M | 70 | Plantations/Real Estate | Keck Seng Group |
| 45 | Henry Ng | $540 M | 58 | Cement | Pan-United |
| 46 | John Lim | $520 M | 60 | Real Estate | ARA |
| 47 | Loi Kai Meng | $515 M | 77 | Logistics | CWT, C&P |
| 48 | Primus Cheng | $480 M | 66 | Food | Prima Food |
| 49 | Chew Gek Khim | $460 M | 54 | Diversified | Straits Trading Company |
| 50 | William Chua | $455 M | 60 | Transportation | Goldbell |
Source: Forbes 2016
Related Articles:
---