Caproasia.com | The leading financial website for financial professionals, professional investors and HNW investors. Covering capital markets, investments and private wealth in Asia. How do you invest $3 million to $300 million? How do you manage $20 million to $3 billion of assets? Quicklinks: Caproasia Access | TFC | Caproasia | Jobs
This site is for accredited investors, professional investors and financial professionals only. You should have assets around $3 million to $300 million or managing $20 million to $3 billion.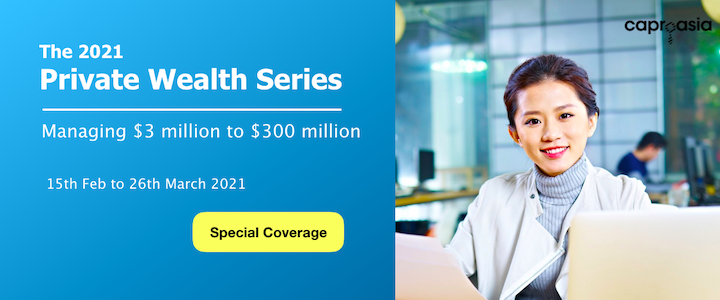 ---
Top Headlines in the Last 7 Days 
(30th Jan – 5th Feb 2017)
---
No. 1 Indosuez Wealth Management Appoints Head of Markets and Investment Solutions in Hong Kong
Indosuez has appointed Arjan de Boer was Head of Markets and Investment Solutions in Hong Kong with effect from 6th February 2017.
He will be in charge of the Markets and Investment Solutions teams in Singapore and oversee Asia products and services offerings. Learn More …
No. 2 Old Mutual International Announces New CEO for Singapore 
Old Mutual has appointed Ian Kloss as the new CEO for Old Mutual International in Singapore. Ian Kloss joined Old Mutual in August 2014 as an area sales manager in Hong Kong.
He will now be in charge of expanding its distribution opportunities and broadening its proposition to a wider audience. Learn More …
No. 3 MAS Grants Financial Adviser's License to Morningstar Investment Adviser Singapore Pte Ltd
The Monetary Authority of Singapore (MAS) has granted Morningstar Investment Adviser Singapore Pte Ltd a license to provide financial advisory services. Morningstar Investment Adviser Singapore Pte Ltd is part of Morningstar Inc.
Morningstar Investment Adviser Singapore can now provide investment advice through publications, thematic reports and individual analyst reports on securities through the websites and products. Learn More …
No. 4 Coutts & Co Ltd Fined for Violating Money Laundering Rules
Switerzland's financial regulator has fined Coutts & Co Ltd for violating money laundering rules and profiting from transactions associated with 1MDB.
The prosecutors in Switzerland are now deciding if the bank should face a criminal investigation. Learn More …
No. 5 Lioncrest Global Signs Strategic Cooperation Agreement with Pier99 Capital 
Lioncrest Global and Pier99 Capital has formed a strategic partnership which will now allow both firms to work on bringing unique and attractive venture capital and private equity deals to their clients.
Pier99 Capital is a boutique mid market cross border M&A and investment firm connecting Europe and China, with offices both in Zurich and Hong Kong. Lioncrest Global was founded by three former Managing Directors from UBS Wealth Management Asia with more than 60 years of experience in wealth management, asset management and corporate finance. Learn More …
No. 6 Sumitomo Mitsui Hires Barclays Private Bankers
Sumitomo Mitsui Financial Group Inc. will hire about 20 private bankers from Barclays in Japan as both companies end a six year collaboration and the bank has scaled down its wealth management activities in Japan.
The bankers will now join Sumitomo Mitsui Financial brokerage unit, SMBC Nikko Securities Inc and it is estimated that they will pay as much as 12 billion yen to Barlcays to terminate the partnership. Learn More …
No. 7 Julius Baer Reports Solid Performance in 2016
Julius Baer has reported a solid performance for 2016. Assets Under Management grew by 12% to a record of CHF 336 billion. Adjusted net profit was at CHF 706 million.
Hence, the bank has also opted for a 9% increase in dividend payout to shareholders from CHF 1.10 to CHF 1.20 per share. Learn More …
No. 8 Nikko Asset Management Australia Appoints New COO
Nikko Asset Management has appointed Peter Lynn as the Chief Operating Officer for Nikko Asset Management Australia. He will now be in charge of operations, technology, HR & finance.
Peter joined Nikko AM New Zealand in 2000 and has acted as Managing Director for the New Zealand business for six years. Learn More …
No. 9 Chief Communications Officer of Julius Baer Group to Retire at End of June 2017
Jan A. Bielinski, Chief Communications Officer will retire from Executive Board of Julius Baer Group at end of June 2017 after more than 30 years with the bank. She will be succeeded by Larissa Alghisi Rubner.
Alghisi Rubner was previously from Zurich base asset management group GAM Holdings and was the Group Head of Communications and a member of the Group Management Board. Learn More …
No. 10 Deutsche Bank Reports Net Loss of 1.9 Billion Euros 
Deutsche Bank reported a net loss of €1.9 billion for the fourth quarter of 2016 due to charges that included its settlement with US government over the toxic mortgage assets.
The bank managed to generate profits for the first three quarters but was hit by the penalties incurred in the last quarter that dragged the bank into the red. This is still considerably lesser than the €6.8 billion loss it incurred in 2015. Learn More …
Credits: finews asia, CNN, Bloomberg, Lioncrest Global Press Release, Old Mutual Wealth Press Release, Julius Baer Press Release, Morningstar Press Release
January 2017 Headlines
---