---
Watch 2020 Berkshire Hathaway Annual Shareholders Meeting Live on Yahoo
Caproasia | 29th April 2020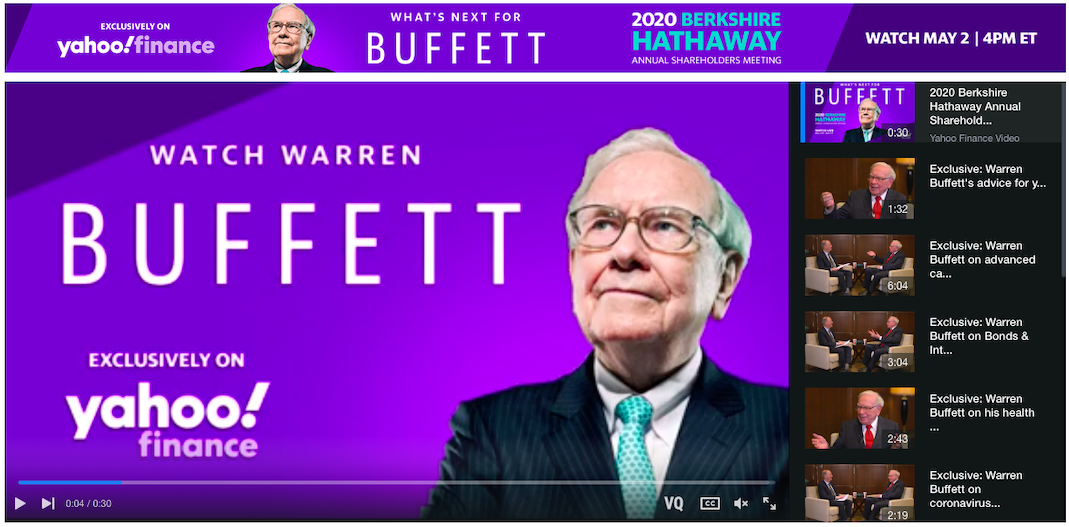 2020 Berkshire Hathaway Annual Shareholders Meeting Taking Place this Saturday on 2nd May 2020
The 2020 Berkshire Hathaway annual shareholders meeting will be taking place in Omaha on the 2nd May 2020, this Saturday (US timezone). You can catch Berkshire Hathaway Chairman and CEO Warren Buffett live via the live online stream by Yahoo Finance.
Berkshire Hathaway Chairman and CEO Warren Buffett and Greg Abel, Berkshire's Vice Chairman-Non-Insurance Operations will be physically present at the meeting.
Web links may be disabled on mobile for security. Please click on desktop.


Due to the COVID-19 pandemic, shareholders will not be allowed to attend the event in person. Berkshire's vice chairman Charlie Munger and other directors will also not be in attendance.
Live Stream on Yahoo Finance
Yahoo Finance is the exclusive online host and will be providing live coverage at 4:00 pm Eastern Time (US) on Saturday (2nd May 2020). For Hong Kong and Singapore time, it will be 4:00 am on Sunday morning (3rd May 2020). The meeting will start officially at 4:45 am HK/SG time.
Yahoo Finance's Exclusive Livestream:
Date: Saturday, (Sat) 2nd May 2020 / (Sun) 3rd May 2020
Pre-meeting show: 4 pm ET (US) / 4 am HK & SG
Meeting, Q&A: 4:45 pm ET (US) / 445 am HK & SG
Livestream Link: 2020 Berkshire Hathaway Annual Shareholders Meeting
" a must-watch event for students of investing as the "Oracle of Omaha" shares his wisdom amid one of the worst public health and economic crises in history "

~ Yahoo Finance
Earnings Release
Berkshire Hathaway Inc's 1st quarter earnings release and quarterly report will be posted on Saturday 2nd May 2020 and can be accessed at www.berkshirehathaway.com.
Berkshire Hathaway Inc is one of the largest companies in the world by market capitalization and Top 10 by market capitalization in United States with market value of $455 billion (29th April 2020). Warren Buffett is the Chairman and CEO of Berkshire Hathaway Inc and has a personal fortune of around $90 billion.
About Berkshire Hathaway
Berkshire Hathaway and its subsidiaries engage in diverse business activities including insurance and reinsurance, utilities and energy, freight rail transportation, manufacturing, retailing and services. Common stock of the company is listed on the New York Stock Exchange, trading symbols BRK.A and BRK.B.
Visit: Berkshire Hathaway
Scroll Below for Sign Up / Contact Us Form
Web links may be disabled on mobile for security. Please click on desktop.





---
Caproasia.com
| The leading financial website for investment managers, professional investors, UHNW & HNW investors and advisors to institutions, billionaires, UHNWs & HNWs.
Covering capital markets, investments and private wealth in Asia. How do you invest $3 million to $300 million? How do you manage $20 million to $3 billion of assets?
Caproasia
is a financial information technology co. founded in 2014. We have 4 businesses in Media, Information, Services and Technology. We created 3 solutions: Membership, Events & Platforms to drive investment decisions in Asia through information, services, technology & people, that impact economies, societies & people. Our Mission: Driving the future of Asia For 2022 Investment Day: mail@caproasia.com For Family Office, Professional Investor, HNW Investor Events: mail@caproasia.com For Membership, Events, Networking, Roundtable, Summits: mail@caproasia.com For Investment Relations Network: mail@caproasia.com For Platforms, Media Kit, Advertising, Campaigns, Partnerships: angel@caproasia.com For press release: press@caproasia.com For all other enquiries: mail@caproasia.com
---
Sign Up / Contact Us
Caproasia | Get Ahead in 60 Seconds. Join 10,000 +
Caproasia | Driving the future of Asia
a financial information technology co. since 2014
---
Caproasia Users
Manage $20 million to $3 billion of assets
Invest $3 million to $300 million
Advise institutions, billionaires, UHNWs & HNWs
Learn More | Caproasia Users
Caproasia Platforms | Join 10,000 Investors & Advisors
Monthly Networking & Roundtables:
Membership | Join a Powerful Network:
Family Office Programs:
Caproasia Summits:
Special Coverage