---
World's Leading $96 Billion Private Equity Firm Ardian Raises $19 Billion from Global Investors
Hong Kong | 3rd June 2020
One of the world's leading private equity firm Ardian has received $19 billion of commitments from investors globally for Ardian's 8th generation secondaries platform.
" Ardian Raises $19 Billion from Global Investors "
Ads & Announcements
The 2023 Investment Day | HK & SG
-
Visit & Register here
Where do you invest $250k, $1 million, $10 million, $100 million or $1 billion? Can you generate IRR of 10% / 15% / 20% or more? Private Equity, Hedge Funds, Boutique Funds, Private Markets & more. Taking place on 28th March 2023 in Hong Kong, 4th April 2023 in Singapore, and Virtual Investment Day in April 2023.




Ardian's 8th Generation Secondaries Platform (ASF VIII)
The $19 billion investments will go into Ardian's 8th generation secondaries platform (ASF VIII), of which $5 billion will be for co-investment interests.
Secondaries platform provides liquidity to investors, typically in asset class (eg. Private equity, Infrastructure) that have a long lock-in period lasting from 7 to 15 years.  Institutional investors such as asset management firms, sovereign wealth funds, pension funds and sophisticated investors such as family offices who often allocate into longer term investments (eg. 3 to 10 years) seeking higher returns (eg. 8% to 30% IRR) will be able have liquidity option to sell their investments earlier to secondaries platform such as Ardian.
According to Ardian, " the $19 billion fundraise highlights how the secondaries market has matured to become an important source of liquidity for investors, including insurance companies, pension funds and family offices, as they look to re-balance private equity portfolios and seek yield opportunities for savers amid the global COVID-19 pandemic ."
AXA Private Equity to Ardian
In 1996, Ardian was founded when France largest insurer AXA CEO Claude Bébéar asked Dominique Senequier to create a Private Equity division.  With support from AXA of EUR 1 for every EUR 2 raised, AXA Private Equity was borned and the firm began with 10 clients and $129 million Assets under Management (AUM). 
In 1999, AXA Private Equity started its Secondary Funds of Funds activity in Paris, to buy and sell portfolios of private equity holdings.  In 2013, AXA Private Equity became Ardian as an independent company with 80% employees as founding shareholders.  By 2016, Ardian became Continental Europe's leading private investment company with 580 LPs (Limited Partners) and the world's biggest player in secondary Funds of Funds, raising a record $14 billion for its' 2016 fund.  Today, Ardian has 15 offices, 250+ investment professionals and 680 employees worldwide.
Dominique Senequier, President of Ardian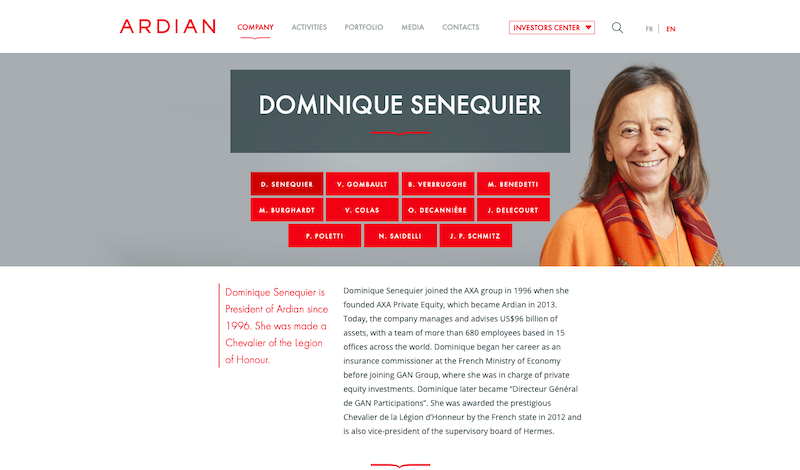 Dominique Senequier, who joined AXA group in 1996 and founded AXA Private Equity, has been the President of Ardian since 1996. She was awarded the prestigious Chevalier de la Légion d'Honneur by the French state in 2012 and is also vice-president of the supervisory board of Hermes.
Ardian $96 billion AUM:
Fund of Funds: $53 billion (Primary, Early Secondary, Secondary, Mandate)
Direct Funds: $19 billion (Buyout, Expansion, Co-Investment, Growth)
Infrastructure: $16 billion
Private Debt: $7 billion
Real Estate: $1 billion
Total: $96 billion
Ardian Platform
The Ardian platform has attracted 275 investors from nearly 40 countries across the Americas, Europe, Asia, and the Middle East, illustrating the resilience and continued attractiveness of the asset class. Investors comprise major pension funds, sovereign wealth funds, insurance companies, HNWIs and financial institutions.  There was particularly strong growth among Asian, Latin American and Middle Eastern investors, reflecting Ardian's increasingly diversified and international client base, and strong relationships across the globe. Ardian's Fund of Funds platform, which covers both primary and secondary fund of funds, now has $53 billion in assets under management, with an exposure to more than 10,000 portfolio companies through 1,600 underlying funds.
Vincent Gombault, Member of the Executive Committee and Head of Ardian Fund of Funds:
"In the current environment, the secondaries market has a crucial role to play in providing institutional investors with liquidity. It is a vital tool for pension funds and investors in how they allocate investments in private equity.  While this is another significant milestone in the growth of our Fund of Funds platform, more important is how it highlights the continued development of the secondaries market. It is now a mature market which will only grow in importance for private equity investors in the years to come."
Benoît Verbrugghe, Member of the Executive Committee and Head of Ardian US:
"Our latest fundraise is testament to the strength and depth of our global platform, our excellent asset management capabilities, long-term relationships and the consistent returns that we have offered our investors. Over more than two decades, we have built a vast database of funds and underlying portfolio companies, which gives us a unique insight into the private equity sector. Ardian is well placed to take advantage of the secondary market's increasingly important role in global finance."
Olivier Decannière, Member of the Executive Committee and Head of Ardian UK:
"This clearly demonstrates the confidence in Ardian and the secondaries platform that we have grown and developed over the years. Our ability to offer our investors diversified private equity exposure underpinned by strong returns is more relevant and compelling now than it ever has been."
About Ardian

Ardian is a world-leading private investment house with assets of US$96 billion managed or advised in Europe, the Americas and Asia. The company is majority-owned by its employees. It keeps entrepreneurship at its heart and focuses on delivering excellent investment performance to its global investor base. Through its commitment to shared outcomes for all stakeholders, Ardian's activities fuel individual, corporate and economic growth around the world.
Holding close its core values of excellence, loyalty and entrepreneurship, Ardian maintains a truly global network, with more than 680 employees working from fifteen offices across Europe (Frankfurt, Jersey, London, Luxembourg, Madrid, Milan, Paris and Zurich), the Americas (New York, San Francisco and Santiago) and Asia (Beijing, Singapore, Tokyo and Seoul). It manages funds on behalf of around 1,000 clients through five pillars of investment expertise: Fund of Funds, Direct Funds, Infrastructure, Real Estate and Private Debt.
Visit: Ardian
Philippe Poltetti, Head of Ardian Buyout
Ardian Infrastructure
Ardian Foundation
---
---
For CEOs, Heads, Senior Management, Market Heads, Desk Heads, Financial Professionals, Investment Managers, Asset Managers, Fund Managers, Hedge Funds, Boutique Funds, Analysts, Advisors, Wealth Managers, Private Bankers, Family Offices, Investment Bankers, Private Equity, Institutional Investors, Professional Investors
Get Ahead in 60 Seconds. Join 10,000 +
Save 2 to 8 hours weekly. Organised for Success.
Subscribe / Sign Up / Contact Us
Caproasia | Driving the future of Asia a financial information technology co. since 2014
Web links may be disabled on mobile for security. Please click on desktop.




---