Caproasia.com | The leading source of data, research, information & resource for financial professionals, institutional investors, professional investors and private investors (UHNWs, & HNWs). Covering capital markets, investments and private wealth in Asia. How do you invest $3 million to $300 million? How do you manage $20 million to $3 billion of assets? This site is for accredited investors, professional investors, investment managers and financial professionals only. You should have assets around $3 million to $300 million or managing $20 million to $3 billion.
---
Restaurant Platform Toast IPO on NYSE with $30 Billion Market Value, 3 Co-founders Become Billionaires
24th September 2021 | Hong Kong
Restaurant platform Toast has IPO on NYSE (New Stock Exchange) with market value of Toast rising to $30 billion on Day 1, and all 3 co-founders Steve Fredette ($2 billion), Aman Narang ($1.6 billion) and Jonathan Grimm becoming billionaires ($1.4 billion). Toast IPO raised $870 million and share was priced at $40 with share price rising 56% to a high of $61.20 on Day 1 (22/9/21). Toast which builds restaurant hardware and software system, was founded by Steve Fredette, Aman Narang and Jonathan Grimm in 2011. Toast provides restaurants with integrated point-of-sale terminal, handheld devices and mobile ordering and payment software to more than 29,000 clients in 48,000 restaurant locations. (IPO ~ Initial Public Offering)
" Restaurant Platform Toast IPO with $30 Billion Market Value, 3 Co-founders Become Billionaires "
From TOAST: $TOST is now NYSE listed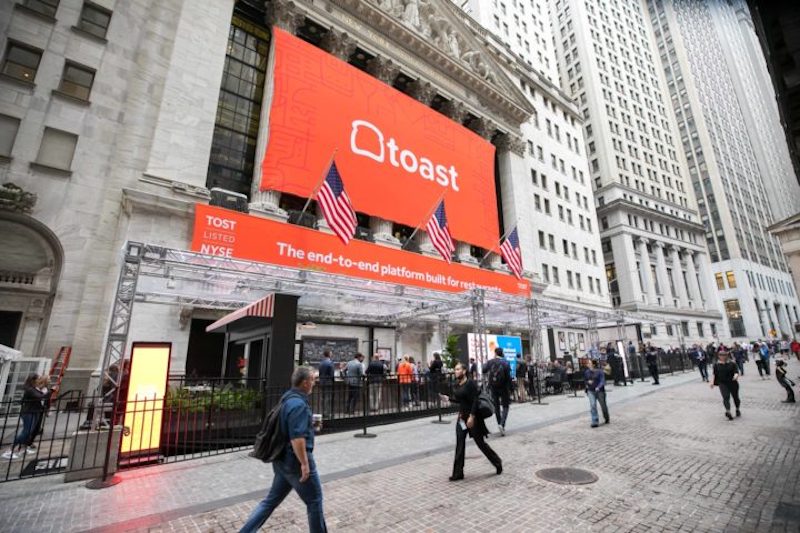 [ Running a restaurant is tough. It takes guts and determination to be in this business. It takes a love of the rush, a commitment to the any-time shift, and a knack for making magic from the chaos of dinner service.
Back in 2011, we started Toast to make restaurant work a little easier. We hoped to take our passion for small business and build a technology platform for an industry that wasn't benefiting from the digital innovation other industries had experienced. Today, Toast continues on this mission by entering a new chapter as a publicly listed company.
With the support of our customers and partners, we built an all-in-one restaurant management platform for the hard-working people who fuel this industry. Our platform is fully integrated across point of sale, operations, digital ordering and delivery, marketing, team management and financial technology solutions to give restaurants everything they need to increase sales, engage guests and keep employees happy. In short, we're empowering restaurants of all sizes to compete on an even playing field.
We're excited about this milestone, but this is only the beginning of our journey. Thank you to our customers — the approximately 48,000 restaurant locations using our platform — you have guided, educated, and trusted us, and we look forward to our ongoing partnership. Thank you to our employees, who put the restaurant community first and live our values every day. And thank you to our investors for believing the future of restaurants is bright and knowing we'll honor our mission to empower the restaurant community to delight their guests, do what they love, and thrive.]
Chris Comparato, CEO, Toast
Aman Narang, Co-President & Co-Founder, Toast
Steve Fredette, President & Co-Founder, Toast
Jonathan Grimm, CTO & Co-Founder, Toast
About Toast
Launched in 2013, Toast powers successful restaurants of all sizes with a technology platform that combines restaurant POS, front of house, back of house and guest-facing technology with a diverse marketplace of third-party applications. By pairing technology with an unrivaled commitment to customer success, Toast helps restaurants streamline operations, increase revenue and deliver amazing guest experiences. Toast was named to the 2019 Forbes Fintech 50, 2019 SXSW Interactive Innovation Finals, 2018 Forbes Cloud 100, and recognized as the third fastest-growing technology company in North America on the 2017 Deloitte Fast 500. Learn more at www.toasttab.com
Billionaires:
Data Release
Caproasia Platforms:
Caproasia Events & Coverage:
---
Caproasia.com | The leading financial website for financial professionals, professional investors and HNW investors. Covering capital markets, investments and private wealth in Asia. How do you invest $3 million to $300 million? How do you manage $20 million to $3 billion of assets? Quicklinks: Caproasia Access | TFC | Caproasia | Jobs
Join 14,000+ leading financial professionals and professional investors in Asia. Stay ahead of your peers & competition. For press release, email to press@caproasia.com For editorial, media kit, listing on TFC, events, seminars or research & data services, email to mail@caproasia.com
---