---
Pandora Papers Leak: Secret Offshore Holdings of 35 Country Leaders, 130 Billionaires and Famous People
8th October 2021 | Hong Kong
The International Consortium of Investigative Journalists (ICIJ) has released the Pandora Papers, detailing secret offshore holdings of 35 country leaders, 130 billionaires and famous people including Great Britain Former Prime Minister Tony Blair, Jordan King Abdullah II, Sir Elton John, ex-model Claudia Schiffer, singer Shakira and Bernie Ecclestone (Formula 1).  In Asia, famous names include Masayoshi Son (Softbank), Anil Ambani (Reliance), Lee Jae Yong (Samsung), Hong Kong former Chief Executives CY Leung and Tung Chee-Hwa, Lim Kok Tay (Genting), Tony Fernandes (Air Asia) and Jho Low (Alleged Mastermind of Malaysia 1MDB Corruption Scandal).  Famous football names include Luis Suarez, Angel Di Maria, Pep Guardiola, Carlo Ancelotti, Roberto Mancini.  According to ICIJ, "the leaked records came from 14 offshore services firms that set up shell companies, and it is not possible to know how much of that wealth is tied to tax evasion, crimes, legitimate sources and reported to proper authorities.  For a few hundred or a few thousand dollars, offshore providers can help clients set up a company whose real owners remain hidden." Watch: Pandora Papers
- Article continues below -
ICIJ: Pandora Papers – Leaked Names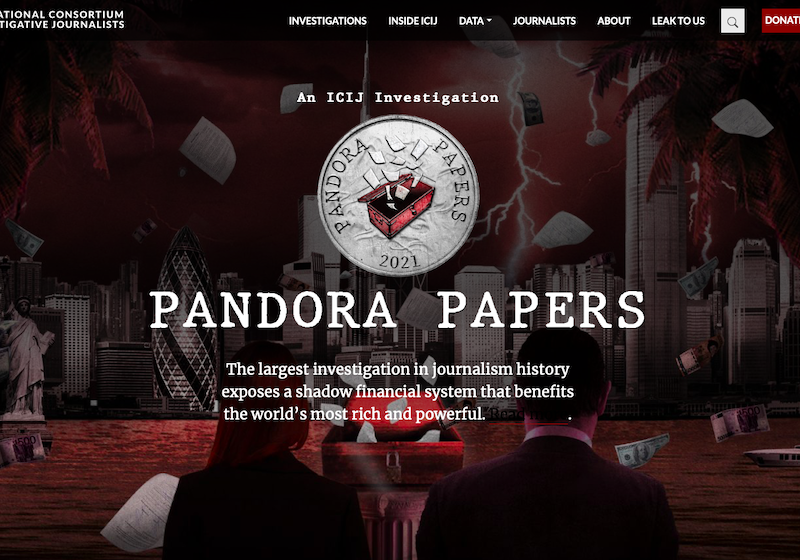 Famous People:
Shakira, Singer
Claudia Schiffer, Model
Sir Elton John, Singer
Ringo Starr, (Former Member of The Beatles)
Bernie Ecclestone and Flavio Briatore, Formula 1
Carlo Ancelotti, Football Manger
Roberto Mancini, Football Manager
Pep Guardiola, Football Manager
Luis Suarez, Football Player
Angel Di Maria, Football Player
Business:
Masayoshi Son, Founder of Softbank
Anil Ambani, Chairman Reliance Group
Lee Jae Yong, Chairman of Samsung
Lim Kok Tay ,Chairman & CEO Genting
Tony Fernandes, Founder of AirAsia
Jho Low, Alleged Mastermind of Malaysia 1MDB Corruption Scandal
Leaders:
Jordan King Abdullah II
Ukraine President Volodymyr Zelenskyy
Czech Republic Prime Minister Andrej Babis
United Arab Emirates Prime Minister Mohammad bin Rashid Al Maktoum (Ruler of Dubai)
Qatar Emir Sheikh Tamim bin Hamad Al Thani
Great Britain Former Prime Minister Tony Blair
Hong Kong Former Chief Executive CY Leung
Hong Kong Former Chief Executive Tung Chee-Hwa
China Delegate Henan Province QIya Feng
Pakistan Finance Minister Shaukat Tarin
Pakistan Minister for Water Resources Moonis Elahi
Netherlands Minister of Finance Wopke Hoekstra
View:
ICIJ: Pandora Papers
The investigation reveals the secret deals and hidden assets of country leaders, Ambassadors, mayors and ministers,  presidential advisers, generals, central bank governor, billionaires, bankers, big political donors, arms dealers, international criminals, pop stars, spy chiefs and sporting giants.
The International Consortium of Investigative Journalists (ICIJ) obtained the trove of more than 11.9 million confidential files and led a team of more than 600 journalists from 150 news outlets that spent two years sifting through them, tracking down hard-to-find sources and digging into court records and other public documents from dozens of countries.
The leaked records come from 14 offshore services firms from around the world that set up shell companies and other offshore nooks for clients often seeking to keep their financial activities in the shadows. The records include information about the dealings of nearly three times as many current and former country leaders as any previous leak of documents from offshore havens.
At least $11.3 trillion is held "offshore," according to a 2020 study by the Paris-based Organization for Economic Cooperation and Development. Because of the complexity and secrecy of the offshore system, it's not possible to know how much of that wealth is tied to tax evasion and other crimes and how much of it involves funds that come from legitimate sources and have been reported to proper authorities.
For a few hundred or a few thousand dollars, offshore providers can help clients set up a company whose real owners remain hidden. Or, for perhaps $2,000 to $25,000, they can set up a trust that, in some instances, allows its beneficiaries to control their money while embracing the legal fiction that they don't control it – a bit of paper-shuffling creativity that helps shield assets from creditors, law enforcement and ex-spouses.
View:
Pandora Papers: An Unprecedented Leak Exposes the Inner Workings of a Shadow Economy
Related:
Tax:
Managing $20 million to $3 billion. Investing $3 million to $300 million.
For Investment Managers, Hedge Funds, Boutique Funds, Private Equity, Venture Capital, Professional Investors, Family Offices, Private Bankers & Advisors, sign up today. Subscribe to Caproasia and receive the latest news, data, insights & reports, events & programs daily at 2 pm.
Join Events & Find Services
Join Investments, Private Wealth, Family Office events in Hong Kong, Singapore, Asia-wide. Find hard-to-find $3 million to $300 million financial & investment services at The Financial Centre | TFC. Find financial, investment, private wealth, family office, real estate, luxury investments, citizenship, law firms & more.  List hard-to-find financial & private wealth services. Have a product launch? Promote a product or service? List your service at The Financial Centre | TFC. Join interviews & editorial and be featured on Caproasia.com or join Investments, Private Wealth, Family Office events. Contact us at
[email protected]
or
[email protected]
Caproasia.com
| The leading source of data, research, information & resource for financial professionals, investment managers, professional investors, family offices & advisors to institutions, billionaires, UHNWs & HNWs. Covering capital markets, investments and private wealth in Asia. How do you invest $3 million to $300 million? How do you manage $20 million to $3 billion of assets?
Quick Links
2021 Data Release
2020 List of Private Banks in Hong Kong
2020 List of Private Banks in Singapore
2020 Top 10 Largest Family Office
2020 Top 10 Largest Multi-Family Offices
2020 Report: Hong Kong Private Banks & Asset Mgmt - $4.49 Trillion
2020 Report: Singapore Asset Mgmt - $3.48 Trillion AUM
For Investors | Professionals | Executives
Latest data, reports, insights, news, events & programs Everyday at 2 pm Direct to your inbox Save 2 to 8 hours per week. Organised for success
Register Below
For CEOs, Heads, Senior Management, Market Heads, Desk Heads, Financial Professionals, Investment Managers, Asset Managers, Fund Managers, Hedge Funds, Boutique Funds, Analysts, Advisors, Wealth Managers, Private Bankers, Family Offices, Investment Bankers, Private Equity, Institutional Investors, Professional Investors
Get Ahead in 60 Seconds. Join 10,000 +
Save 2 to 8 hours weekly. Organised for Success.
Sign Up / Register
Web links may be disabled on mobile for security. Please click on desktop.



---
Caproasia Users
Manage $20 million to $3 billion of assets
Invest $3 million to $300 million
Advise institutions, billionaires, UHNWs & HNWs
Caproasia Platforms | 10,000 Investors & Advisors
Monthly Roundtable & Networking
Family Office Programs
The 2023 Investment Day
28th March 2023 - Hong Kong
4th April 2023 - Singapore
April 2023 - Virtual
6th June 2023 - Hong Kong
13th June 2023 - Singapore
Sept 2023 - Hong Kong
Oct 2023 - Singapore
Oct 2023 - Hong Kong
Visit: The Investment Day | Register: Click here
Caproasia Summits
Contact Us
For Enquiries, Membership
[email protected]
,
[email protected]
For Listing, Subscription
[email protected]
,
[email protected]
For Press Release, send to:
[email protected]
For Events & Webinars
[email protected]
For Media Kit, Advertising, Sponsorships, Partnerships
[email protected]
For Research, Data, Surveys, Reports
[email protected]
For General Enquiries
[email protected]
---
Caproasia | Driving the future of Asia a financial information technology co. since 2014
---