Caproasia.com | The leading source of data, research, information & resource for financial professionals, institutional investors, professional investors and private investors (UHNWs, & HNWs). Covering capital markets, investments and private wealth in Asia. How do you invest $3 million to $300 million? How do you manage $20 million to $3 billion of assets? This site is for accredited investors, professional investors, investment managers and financial professionals only. You should have assets around $3 million to $300 million or managing $20 million to $3 billion.
---
Top 500 Largest Asset Managers AUM at $119.5 Trillion in 2020
22nd October 2021 | Hong Kong
The world's largest 500 asset managers total AUM in 2020 has reached a record $119.5 trillion in 2020, representing an increase of 14.5% (2019) from $104.4 trillion, with the top 20 assets managers owning 44% of the market share of the $119.5 trillion assets. The 2021 Willis Towers Watson P&I 500 Report is released by Thinking Ahead Institute and leading U.S. investment newspaper Pensions & Investments. (AUM ~ Assets under Management)
" Top 500 Largest Asset Managers AUM at $119.5 Trillion in 2020 "
Key Findings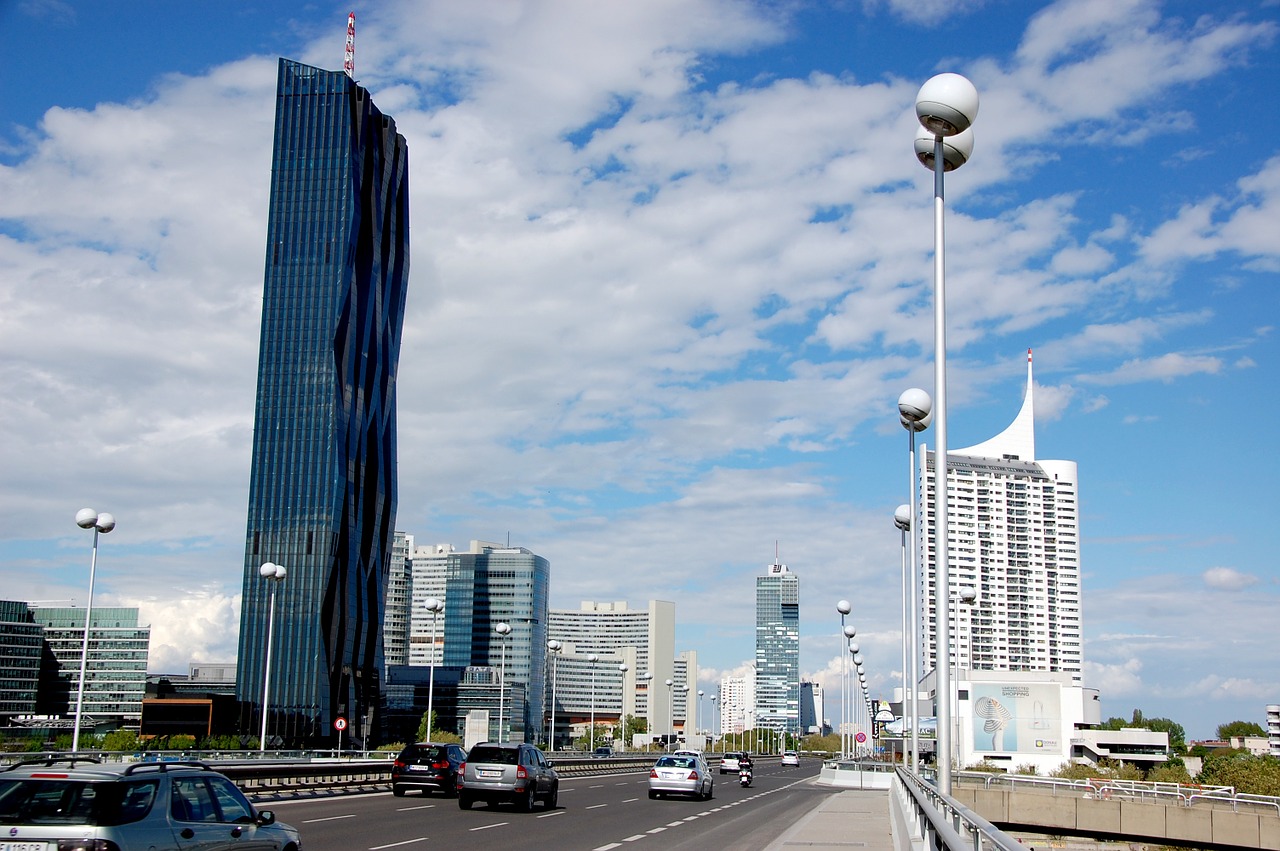 Of the top 500 managers, 221 names which featured on the list a decade ago in 2011 are now absent in 2021, demonstrating a quickening pace of competition, consolidation and rebranding.
Blackrock has retained its position as the largest asset manager in the ranking, followed by Vanguard holding its second place position for the seventh consecutive year. Of the top 20, 14 are U.S. managers, accounting for 78.6% of the top 20 AUM. On the whole, passive investments represent 26%, an increase of 16.2% compared to a 15.4% growth in actively managed AUM.
Asset managers have also been addressing the growing demand from more sophisticated asset owners, for more complex and tailored investment solutions. Outsourced CIO, Total Portfolio Approach (TPA) and ETFs have all been popular sources of growth for the world's top managers, to meet clients' increasing requirements for returns.
Additional research findings*:
Half of managers surveyed (50%) increased the proportion of minorities and women in top positions, over the course of the last year.
Client interest in sustainable investing increased across 91% of the firms surveyed.
78% of managers increased resources deployed to technology and big data and 66% increased resources deployed to cyber security.
The number of product offerings increased for more than two thirds (70%) of surveyed firms
Aggregate investment management fee levels decreased for a quarter (25%) of the surveyed managers – but fee levels increased for 21% of managers.
A majority of managers (59%) experienced an increase in the level of regulatory oversight.
The World's largest money managers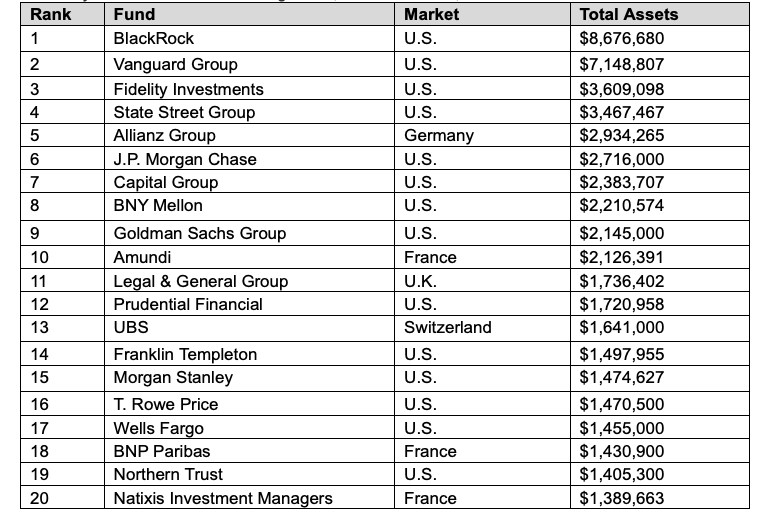 Ranked by total assets under management, in U.S. millions, as of 31 Dec 2020
APAC's largest money managers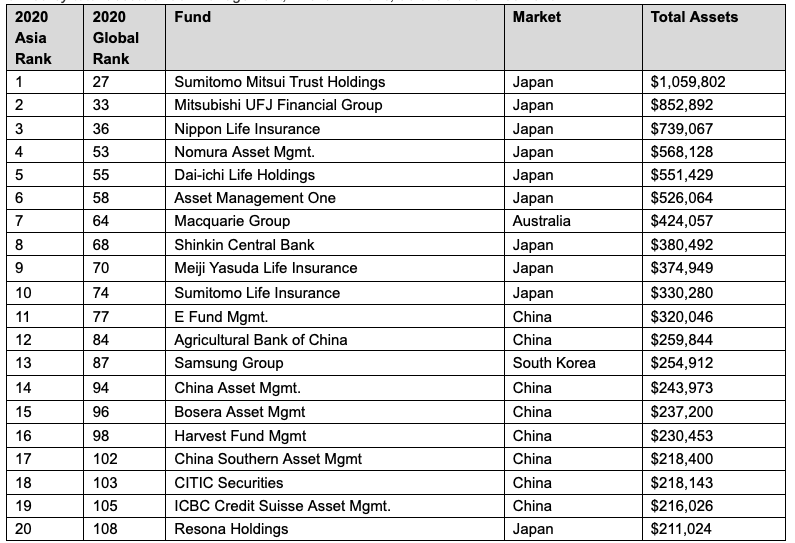 Ranked by total assets under management, in U.S. millions, as of as of 31 Dec 2020
Roger Urwin, co-founder of the Thinking Ahead Institute:
"We have witnessed unprecedented change within the investment industry – accelerated dramatically by the pandemic. In particular, sustainability is no longer just a luxury for some firms. Instead, during the pandemic, asset managers from all corners of the world have became even more aware of the interconnectedness of the financial system with society and the environment."
Jayne Bok, Head of Investments, Asia, at Willis Towers Watson:
"Asia's asset managers experienced a slowdown in their growth over 2020, compared to previous years where Japan and China led the charge amongst their global peers. If asset manages in Asia want to continue the meteoric rise they've seen in the past, they will need to create greater diversity and resilience in their business models as well as within their portfolios. A change of mindset needs to happen within the Asian asset management industry in order to execute on net zero mandates and adhere to upcoming regulatory measures. The inclusion of ESG practices into their investments will be critical to the future resilience of their portfolios and will determine whether or not they will out-perform their global peers in years to come."
Data Release
Caproasia Platforms:
Caproasia Events & Coverage:
---
Caproasia.com | The leading financial website for financial professionals, professional investors and HNW investors. Covering capital markets, investments and private wealth in Asia. How do you invest $3 million to $300 million? How do you manage $20 million to $3 billion of assets? Quicklinks: Caproasia Access | TFC | Caproasia | Jobs
Join 14,000+ leading financial professionals and professional investors in Asia. Stay ahead of your peers & competition. For press release, email to press@caproasia.com For editorial, media kit, listing on TFC, events, seminars or research & data services, email to mail@caproasia.com
---