---
Singapore Central Bank MAS & Carbon Non-Profit Group CDP to Promote Access to Quality ESG Data
25th March 2022 | Singapore
Singapore Central Bank Monetary Authority of Singapore (MAS) and CDP (Previously known as Carbon Disclosure Project), an international non-profit organisation that operates one of the world's leading environmental disclosure systems for companies and sub-national governments, have signed a Memorandum of Understanding (MOU) to promote sustainability disclosures and access to quality ESG data across the financial sector and real economy.  The partnership between MAS and CDP aims to support financial institutions in their sustainable finance and investment decisions by providing access to transparent, trusted and efficient ESG data. Paul Simpson, CDP CEO:"As the pioneer of corporate environmental disclosure, CDP is delighted to support MAS with our wealth of data, insights and expertise. This partnership represents a major contribution by MAS in driving the growth of sustainable finance both domestically and globally."  Dr Darian McBain, MAS Chief Sustainability Officer:"The signing of this MOU underscores MAS and CDP's commitment to leverage technology to help drive the sustainability agenda. Harnessing technology to facilitate trusted and efficient ESG data flows is a key component of MAS' Green Finance Action Plan. In particular, technology solutions present remarkable potential to improve the availability, quality, and comparability of ESG data and disclosures. I hope this collaboration between MAS and CDP will empower corporates in their sustainability journeys and to align their ESG disclosures with international best practices."  (ESG ~ Environmental, Social, and Governance)
" Singapore Central Bank MAS & Carbon Non-Profit Group CDP to Promote Access to Quality ESG Data "
- Article continues below - Web links may be disabled on mobile for security. Please click on desktop.
MAS & CDP Statement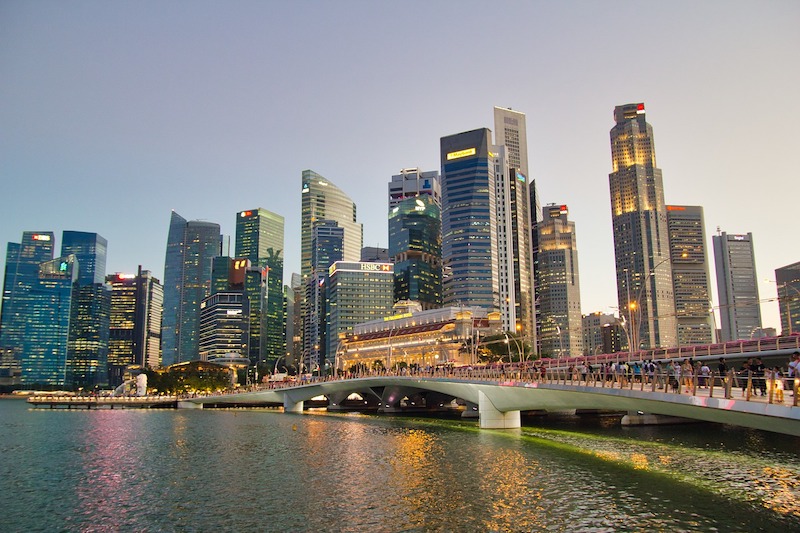 MAS and CDP to jointly promote access to quality ESG data
The Monetary Authority of Singapore (MAS) and CDPFormerly known as the Carbon Disclosure Project, an international non-profit organisation that operates one of the world's leading environmental disclosure systems for companies and sub-national governments, signed a Memorandum of Understanding (MOU) to promote sustainability disclosures and access to quality ESG data across the financial sector and real economy.
To enable financial institutions and corporates to better measure and monitor their ESG performance and impact, MAS and CDP will collaborate to explore the exchange of information between CDP's disclosure system and MAS' Project GreenprintProject Greenprint is a programme under the MAS Green Finance Action Plan aimed at enhancing access to high quality, consistent and reliable ESG data to support sustainable finance. Please refer to media release on Project Greenprint. (a technology and data platform for high-quality ESG data) to enhance financial institutions' access to ESG data; and implement capacity building programmes for corporates and financial institutions on climate disclosures.
CDP's environmental disclosure system allows investors, companies and cities to measure and manage their environmental impacts. CDP has one of the world's most comprehensive collection of self-reported data from companies globally. This has significant synergies with Project Greenprint. The partnership between MAS and CDP aims to support financial institutions in their sustainable finance and investment decisions by providing access to transparent, trusted and efficient ESG data.
Paul Simpson, Chief Executive Officer, CDP, commented, "As the pioneer of corporate environmental disclosure, CDP is delighted to support MAS with our wealth of data, insights and expertise. This partnership represents a major contribution by MAS in driving the growth of sustainable finance both domestically and globally. Building on the Singapore Exchange's recent adoption of the recommendations of the Taskforce on Climate-related Financial Disclosures (TCFD) among its listing requirements and the introduction of Project Greenprint, stakeholders will have access to credible ESG insights and data that can be used to accelerate the flow of sustainable financing across sectors and borders. We look forward to supporting MAS in ensuring that the Greenprint platforms are developed and operated in line with best practices in environmental reporting and management."
Dr Darian McBain, Chief Sustainability Officer, MAS, said, "The signing of this MOU underscores MAS and CDP's commitment to leverage technology to help drive the sustainability agenda. Harnessing technology to facilitate trusted and efficient ESG data flows is a key component of MAS' Green Finance Action Plan. In particular, technology solutions present remarkable potential to improve the availability, quality, and comparability of ESG data and disclosures. I hope this collaboration between MAS and CDP will empower corporates in their sustainability journeys and to align their ESG disclosures with international best practices."
Monetary Authority of Singapore
The Monetary Authority of Singapore (MAS) is Singapore's central bank and integrated financial regulator. As a central bank, MAS promotes sustained, non-inflationary economic growth through the conduct of monetary policy and close macroeconomic surveillance and analysis. It manages Singapore's exchange rate, official foreign reserves, and liquidity in the banking sector. As an integrated financial supervisor, MAS fosters a sound financial services sector through its prudential oversight of all financial institutions in Singapore – banks, insurers, capital market intermediaries, financial advisors and financial market infrastructures. It is also responsible for well-functioning financial markets, sound conduct, and investor education. MAS also works with the financial industry to promote Singapore as a dynamic international financial centre. It facilitates the development of infrastructures, adoption of technology, and upgrading of skills in the financial industry.
CDP
CDP is a global non-profit that runs the world's environmental disclosure system for companies, cities, states and regions. Founded in 2000 and working with more than 680 financial institutions with over $130 trillion in assets, CDP pioneered using capital markets and corporate procurement to motivate companies to disclose their environmental impacts, and to reduce greenhouse gas emissions, safeguard water resources and protect forests. Over 14,000 organizations around the world disclosed data through CDP in 2021, including more than 13,000 companies worth over 64% of global market capitalization, and over 1,100 cities, states and regions. Fully TCFD aligned, CDP holds the largest environmental database in the world, and CDP scores are widely used to drive investment and procurement decisions towards a zero carbon, sustainable and resilient economy. CDP is a founding member of the Science Based Targets initiative, We Mean Business Coalition, The Investor Agenda and the Net Zero Asset Managers initiative. Visit cdp.net or follow us @CDP to find out more.
Quick Links
2021 Data Release
2020 List of Private Banks in Hong Kong
2020 List of Private Banks in Singapore
2020 Top 10 Largest Family Office
2020 Top 10 Largest Multi-Family Offices
2020 Report: Hong Kong Private Banks & Asset Mgmt - $4.49 Trillion
2020 Report: Singapore Asset Mgmt - $3.48 Trillion AUM
For Investors | Professionals | Executives
Latest data, reports, insights, news, events & programs Everyday at 2 pm Direct to your inbox Save 2 to 8 hours per week. Organised for success
Register Below
---
Caproasia Users
Manage $20 million to $3 billion of assets
Invest $3 million to $300 million
Advise institutions, billionaires, UHNWs & HNWs
Caproasia Platforms | 10,000 Investors & Advisors
Monthly Roundtable & Networking
Family Office Programs
The 2023 Investment Day
28th March 2023 - Hong Kong
4th April 2023 - Singapore
April 2023 - Virtual
Sept 2023 - Hong Kong
Oct 2023 - Singapore
Oct 2023 - Hong Kong
Visit: The Investment Day | Register: Click here
Caproasia Summits
Contact Us
For Enquiries, Membership mail@caproasia.com, angel@caproasia.com For Listing, Subscription mail@caproasia.com, claire@caproasia.com For Press Release, send to: press@caproasia.com For Events & Webinars events@caproasia.com For Media Kit, Advertising, Sponsorships, Partnerships angel@caproasia.com For Research, Data, Surveys, Reports research@caproasia.com For General Enquiries mail@caproasia.com
---
Make Better Business & Investment Decisions
For CEOs, Heads, Senior Management, Market Heads, Desk Heads, Financial Professionals, Investment Managers, Asset Managers, Fund Managers, Hedge Funds, Boutique Funds, Analysts, Advisors, Wealth Managers, Private Bankers, Family Offices, Investment Bankers, Private Equity, Institutional Investors, Professional Investors
Get Ahead in 60 Seconds. Join 10,000 +
Save 2 to 8 hours weekly. Organised for Success.
Sign Up / Register
Caproasia | Driving the future of Asia a financial information technology co. since 2014
Web links may be disabled on mobile for security. Please click on desktop.



---