---
Luxury Fashion Lanvin Group to List in NYSE SPAC Merger at $1.9 Billion Market Value
26th March 2022 | Hong Kong
Lanvin Group, a global luxury fashion group that owns the oldest operating French couture house Lanvin, will be listed on New York Stock Exchange through a SPAC merger with Primavera Capital Acquisition Corporation and valuing Lanvin Group at $1.9 billion.  Lanvin Group, established by Fosun International in 2017, is headquartered in China, managing luxury brands worldwide including Lanvin, Sergio Rossi, Wolford, St. John Knits and Caruso.  Primavera Capital Acquisition Corporation (SPAC) is an affiliate of Primavera Capital Group, a $17 billion investment firm founded by former Goldman Sachs Greater China Chairman Fred Hu with over 60 portfolio companies including Alibaba, ByteDance, Kuaishuo, Ant Group, Sensetime, Lufax, Goto, Didi, Nio, Palantir, Postal Savings Bank of China, Focus Media and Mead Johnson.  The transaction is expected to close in 2H 2022, and the business of the Group will operate under the Lanvin Group name and will apply to be listed on the NYSE under the ticker symbol "LANV".  As part of the transaction, all of Lanvin Group's existing shareholders will roll 100% of their shares in Lanvin Group into the PubCo, representing in the aggregate approximately 65% of PubCo.  Lanvin Group will receive proceeds of up to US$544 million, including up to US$414 million of cash currently held in PCAC's trust account, fully committed PIPE subscription and forward purchase agreements of US$130 million in the aggregate from investors including Fosun International Limited, ITOCHU Corporation, Stella International Limited, Baozun Hong Kong Investment Limited, Golden A&A, Aspex Master Fund and Sky Venture Partners L.P. (SPAC ~ Special Purpose Acquisition Company, also known as "blank cheque company")
" Luxury Fashion Lanvin Group to List in NYSE SPAC Valued at $1.9 Billion "
- Article continues below -
Lanvin Group, $1.9 Billion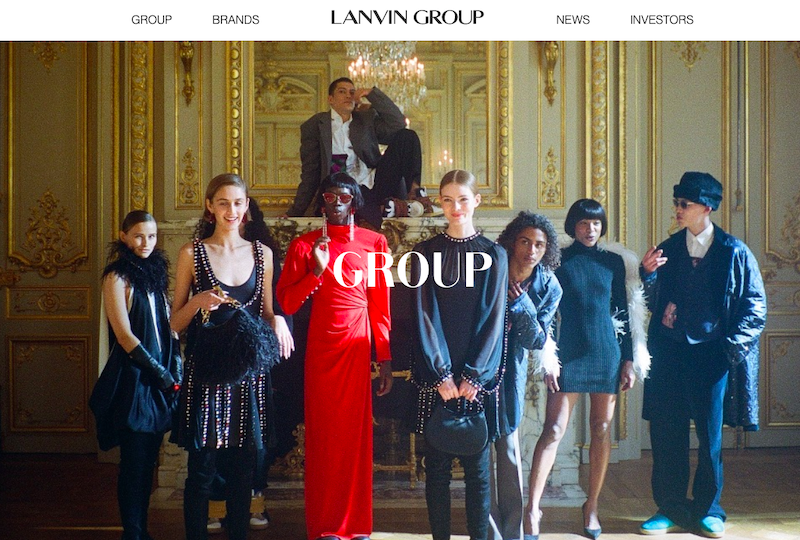 The transaction values Lanvin Group at a pro forma enterprise value of US$1.5 billion, with a combined pro forma equity value of up to US$1.9 billion.
Ms. Joann Cheng, Chairman and CEO of Lanvin Group, said: "Today's announcement marks another milestone in Lanvin Group's growth journey. We are excited to partner with Primavera for our next chapter of growth across Europe, North America and Asia. In recent years, we have not only invested in prestigious heritage brands but have also created a strategic alliance of industry-leading companies as partners and co-investors in Lanvin Group. Each of these partners is uniquely qualified to help drive growth, enhance the performance of our brands and unlock the full potential of new markets. We plan to accelerate the growth of our portfolio via both organic development and disciplined acquisitions, building a global portfolio of iconic luxury fashion brands that appeal to a broad customer base. Lanvin Group will not only enable these brands to flourish in their home countries, but also in Asia and North America, the largest luxury markets in the world."
Mr. Max Chen, Chairman, CEO & CFO of PCAC, and Partner of Primavera, said, "We have been looking to support an emerging leader in the consumer sector with enduring global appeal and significant growth prospects in Asia. In Lanvin Group, we see a unique global business with a rich heritage, an entrepreneurial management team, and a differentiated strategy to build a luxury powerhouse for a new generation of consumers, especially benefiting from surging luxury consumption in Asia. Lanvin Group and Primavera share the same vision of nurturing and reinvigorating world-class luxury brands. We look forward to working together to further develop Lanvin Group's global platform and drive growth across its brand portfolio."
About Lanvin Group
Lanvin Group, formerly known as Fosun Fashion Group, is the leading global luxury fashion group headquartered in Shanghai, China, managing iconic brands worldwide including Lanvin, Sergio Rossi, Wolford, St. John Knits, and Caruso. Harnessing the power of its unique strategic alliance of industry-leading partners in the luxury fashion sector, Lanvin Group strives to expand the global footprint of its portfolio brands and achieve sustainable growth through strategic investment and extensive operational know-how, combined with an intimate understanding and unparalleled access to the fastest-growing luxury fashion markets in the world. For more information, please visit www.lanvin-group.com.
About Primavera Capital Acquisition Corporation
Primavera Capital Acquisition Corp. (NYSE: PV, "PCAC"), is a blank check company formed for the purpose of effecting a merger, share exchange, asset acquisition, share purchase, reorganization or similar business combination with one or more businesses. PCAC is an affiliate of Primavera Capital Group ("Primavera"), a leading alternative investment management firm. With offices in Beijing, Hong Kong, Singapore and Palo Alto, Primavera manages both USD and RMB funds for prominent financial institutions, sovereign wealth funds, pension plans, endowments, corporations and family offices around the world. As of September 30, 2021, it had assets under management of approximately US$17 billion. Primavera employs a flexible investment strategy comprised of buy-out/control-oriented, growth capital and restructuring investments. Having accumulated extensive experience in structuring and executing cross-border investment transactions, Primavera seeks to create long-term value for its portfolio companies by combining deep local connectivity in China with global experience and best practices. For more information, please visit www.primavera-capital.com.
Managing $20 million to $3 billion. Investing $3 million to $300 million.
For Investment Managers, Hedge Funds, Boutique Funds, Private Equity, Venture Capital, Professional Investors, Family Offices, Private Bankers & Advisors, sign up today. Subscribe to Caproasia and receive the latest news, data, insights & reports, events & programs daily at 2 pm.
Join Events & Find Services
Join Investments, Private Wealth, Family Office events in Hong Kong, Singapore, Asia-wide. Find hard-to-find $3 million to $300 million financial & investment services at The Financial Centre | TFC. Find financial, investment, private wealth, family office, real estate, luxury investments, citizenship, law firms & more.  List hard-to-find financial & private wealth services. Have a product launch? Promote a product or service? List your service at The Financial Centre | TFC. Join interviews & editorial and be featured on Caproasia.com or join Investments, Private Wealth, Family Office events. Contact us at
[email protected]
or
[email protected]
Caproasia.com
| The leading source of data, research, information & resource for financial professionals, investment managers, professional investors, family offices & advisors to institutions, billionaires, UHNWs & HNWs. Covering capital markets, investments and private wealth in Asia. How do you invest $3 million to $300 million? How do you manage $20 million to $3 billion of assets?
Quick Links
2021 Data Release
2020 List of Private Banks in Hong Kong
2020 List of Private Banks in Singapore
2020 Top 10 Largest Family Office
2020 Top 10 Largest Multi-Family Offices
2020 Report: Hong Kong Private Banks & Asset Mgmt - $4.49 Trillion
2020 Report: Singapore Asset Mgmt - $3.48 Trillion AUM
For Investors | Professionals | Executives
Latest data, reports, insights, news, events & programs Everyday at 2 pm Direct to your inbox Save 2 to 8 hours per week. Organised for success
Register Below
For CEOs, Heads, Senior Management, Market Heads, Desk Heads, Financial Professionals, Investment Managers, Asset Managers, Fund Managers, Hedge Funds, Boutique Funds, Analysts, Advisors, Wealth Managers, Private Bankers, Family Offices, Investment Bankers, Private Equity, Institutional Investors, Professional Investors
Get Ahead in 60 Seconds. Join 10,000 +
Save 2 to 8 hours weekly. Organised for Success.
Sign Up / Register
Web links may be disabled on mobile for security. Please click on desktop.



---
Caproasia Users
Manage $20 million to $3 billion of assets
Invest $3 million to $300 million
Advise institutions, billionaires, UHNWs & HNWs
Caproasia Platforms | 10,000 Investors & Advisors
Monthly Roundtable & Networking
Family Office Programs
The 2023 Investment Day
28th March 2023 - Hong Kong
4th April 2023 - Singapore
April 2023 - Virtual
6th June 2023 - Hong Kong
13th June 2023 - Singapore
Sept 2023 - Hong Kong
Oct 2023 - Singapore
Oct 2023 - Hong Kong
Visit: The Investment Day | Register: Click here
Caproasia Summits
Contact Us
For Enquiries, Membership
[email protected]
,
[email protected]
For Listing, Subscription
[email protected]
,
[email protected]
For Press Release, send to:
[email protected]
For Events & Webinars
[email protected]
For Media Kit, Advertising, Sponsorships, Partnerships
[email protected]
For Research, Data, Surveys, Reports
[email protected]
For General Enquiries
[email protected]
---
Caproasia | Driving the future of Asia a financial information technology co. since 2014
---