---
United States Fed Officials to Reduce Bond Holdings by $95 Billion Per Month from May 2022
8th April 2022 | Hong Kong
United States Federal Reserve (Fed) officials have reached a consensus to reduce bond holdings by $95 billion per month from May 2022.  The $95 billion will be a target limit of $60 billion in Treasury bonds and $35 billion in mortgage-backed securities. During the pandemic, United States Federal Reserve had increased the bond holdings to $9 trillion. On March 2022, the United States Federal Reserve (Fed) had voted to increase interest rate by 0.25% to 0.25% to 0.50% range, the first interest rate hike since 2018.  The Fed committee also target at increases at the next 6 meetings in 2022, with interest rate hike to 1.9%/ 2% by the end of 2022. The committee also sees 3 more interest rate increase in 2023.  With the hike, the Fed officials indicated the rate increases means there will be slower economic growth in 2022.  The current Fed Chairman is Jerome Powell.  FOMC: "The Committee seeks to achieve maximum employment and inflation at the rate of 2 percent over the longer run. With appropriate firming in the stance of monetary policy, the Committee expects inflation to return to its 2 percent objective and the labor market to remain strong." (FOMC ~ Federal Open Market Committee)
" United States Fed Officials to Reduce Bond Holdings by $95 Billion Per Month from May 2022 "
- Article continues below - Web links may be disabled on mobile for security. Please click on desktop.
Federal Reserve Issues FOMC statement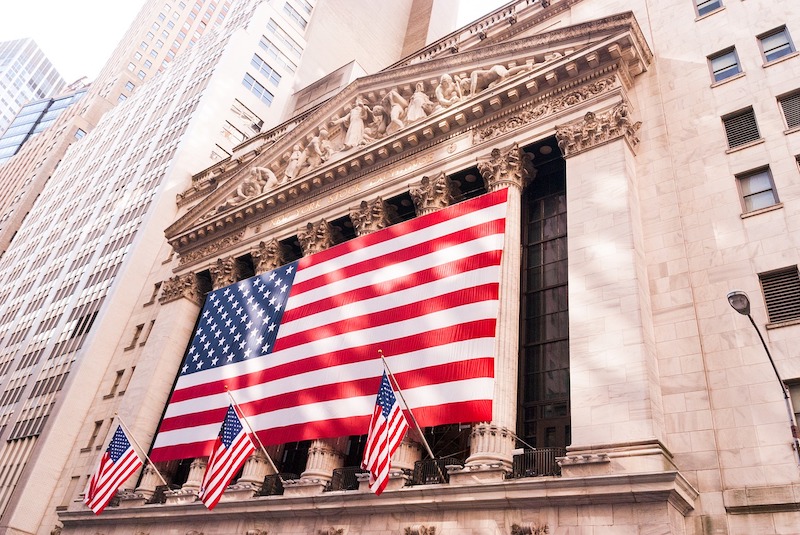 FOMC: Indicators of economic activity and employment have continued to strengthen. Job gains have been strong in recent months, and the unemployment rate has declined substantially. Inflation remains elevated, reflecting supply and demand imbalances related to the pandemic, higher energy prices, and broader price pressures.
The invasion of Ukraine by Russia is causing tremendous human and economic hardship. The implications for the U.S. economy are highly uncertain, but in the near term the invasion and related events are likely to create additional upward pressure on inflation and weigh on economic activity.
The Committee seeks to achieve maximum employment and inflation at the rate of 2 percent over the longer run. With appropriate firming in the stance of monetary policy, the Committee expects inflation to return to its 2 percent objective and the labor market to remain strong. In support of these goals, the Committee decided to raise the target range for the federal funds rate to 1/4 to 1/2 percent and anticipates that ongoing increases in the target range will be appropriate. In addition, the Committee expects to begin reducing its holdings of Treasury securities and agency debt and agency mortgage-backed securities at a coming meeting.
In assessing the appropriate stance of monetary policy, the Committee will continue to monitor the implications of incoming information for the economic outlook. The Committee would be prepared to adjust the stance of monetary policy as appropriate if risks emerge that could impede the attainment of the Committee's goals. The Committee's assessments will take into account a wide range of information, including readings on public health, labor market conditions, inflation pressures and inflation expectations, and financial and international developments.
Voting for the monetary policy action were Jerome H. Powell, Chair; John C. Williams, Vice Chair; Michelle W. Bowman; Lael Brainard; Esther L. George; Patrick Harker; Loretta J. Mester; and Christopher J. Waller. Voting against this action was James Bullard, who preferred at this meeting to raise the target range for the federal funds rate by 0.5 percentage point to 1/2 to 3/4 percent. Patrick Harker voted as an alternate member at this meeting.
Quick Links
2021 Data Release
2020 List of Private Banks in Hong Kong
2020 List of Private Banks in Singapore
2020 Top 10 Largest Family Office
2020 Top 10 Largest Multi-Family Offices
2020 Report: Hong Kong Private Banks & Asset Mgmt - $4.49 Trillion
2020 Report: Singapore Asset Mgmt - $3.48 Trillion AUM
For Investors | Professionals | Executives
Latest data, reports, insights, news, events & programs Everyday at 2 pm Direct to your inbox Save 2 to 8 hours per week. Organised for success
Register Below
---
Caproasia Users
Manage $20 million to $3 billion of assets
Invest $3 million to $300 million
Advise institutions, billionaires, UHNWs & HNWs
Caproasia Platforms | 10,000 Investors & Advisors
Monthly Roundtable & Networking
Family Office Programs
The 2023 Investment Day
28th March 2023 - Hong Kong
4th April 2023 - Singapore
April 2023 - Virtual
Sept 2023 - Hong Kong
Oct 2023 - Singapore
Oct 2023 - Hong Kong
Visit: The Investment Day | Register: Click here
Caproasia Summits
Contact Us
For Enquiries, Membership mail@caproasia.com, angel@caproasia.com For Listing, Subscription mail@caproasia.com, claire@caproasia.com For Press Release, send to: press@caproasia.com For Events & Webinars events@caproasia.com For Media Kit, Advertising, Sponsorships, Partnerships angel@caproasia.com For Research, Data, Surveys, Reports research@caproasia.com For General Enquiries mail@caproasia.com
---
Make Better Business & Investment Decisions
For CEOs, Heads, Senior Management, Market Heads, Desk Heads, Financial Professionals, Investment Managers, Asset Managers, Fund Managers, Hedge Funds, Boutique Funds, Analysts, Advisors, Wealth Managers, Private Bankers, Family Offices, Investment Bankers, Private Equity, Institutional Investors, Professional Investors
Get Ahead in 60 Seconds. Join 10,000 +
Save 2 to 8 hours weekly. Organised for Success.
Sign Up / Register
Caproasia | Driving the future of Asia a financial information technology co. since 2014
Web links may be disabled on mobile for security. Please click on desktop.



---