---
Temasek Ecosperity Week 2022 on 7th to 9th June 2022: Focus on Energy Revolution, Decarbonising Transport & Heavy Industry, Financing Green Transition in Asia
4th June 2022 | Singapore
Presented by Temasek (Singapore's global investment company with $283 billion AUM), the Ecosperity Week 2022 will be held on 7th to 9th June 2022 (Sands Expo & Convention Centre) with key focus on energy revolution, decarbonise the transport & heavy industries, and financing green transition in Asia.  The Ecosperity Week 2022 will gather global business leaders, policy-makers, investors and members of the civil society from Asia Pacific and beyond with a common agenda – to co-create solutions and spur coordinated action to achieve net zero by 2050.  Global leaders attending include Marc Benioff (Chair, CEO & Founder Salesforce), Kate E. Brandt (Chief Sustainability Officer Google), Dr Todd Citron (CTO & GM Boeing Research & Technology), Dr Steve Howard (Chief Sustainability Officer Temasek), Dr Ernest J. Moniz (President & CEO The Energy Futures Initiative, former United States Secretary of Energy), H.E. Damilola Ogunbiyi (Special Representative of the UN Secretary-General, CEO of Sustainable Energy for All), Tim Scharwath (CEO DHL Global Forwarding, Freight), Daryl Wilson (Executive Director Hydrogen Council).  The 2nd edition of the Singapore Sustainable Investing & Financing Conference (SSIFC) will return to Ecosperity Week 2022 on the 3rd day (9th June 2022), organised by BlackRock, International Finance Corporation (IFC) and Temasek, and will discuss how to mobilise financial capital to accelerate investments in climate mitigation and innovations, strengthen carbon markets and expedite the energy transition in the region.  Key speakers include Paul Bodnar (Global Head of Sustainable Investing, BlackRock), Mark Carney (Co-Chair, Glasgow Financial Alliance for Net Zero, Vice Chair, Brookfield Asset Management), Alfonso Garcia Mora (Regional Vice President, APAC, International Finance Corporation), Dr Meghan Sharp (Global Head, Decarbonization Partners), Bill Winters (Group Chief Executive, Standard Chartered) and many more. (Ecosperity Week 2022 will be a hybrid event at Sands Expo and Convention Centre, Marina Bay Sands) View: Event
" Temasek Ecosperity Week 2022 on 7th to 9th June 2022 "
Ads & Announcements
The 2023 Investment Day | HK & SG
-
Visit & Register here
Where do you invest $250k, $1 million, $10 million, $100 million or $1 billion? Can you generate IRR of 10% / 15% / 20% or more? Private Equity, Hedge Funds, Boutique Funds, Private Markets & more. Taking place on 28th March 2023 in Hong Kong, 4th April 2023 in Singapore, and Virtual Investment Day in April 2023.




Ecosperity Week 2022 | 7th to 9th June 2022 (Sands Expo & Convention Centre)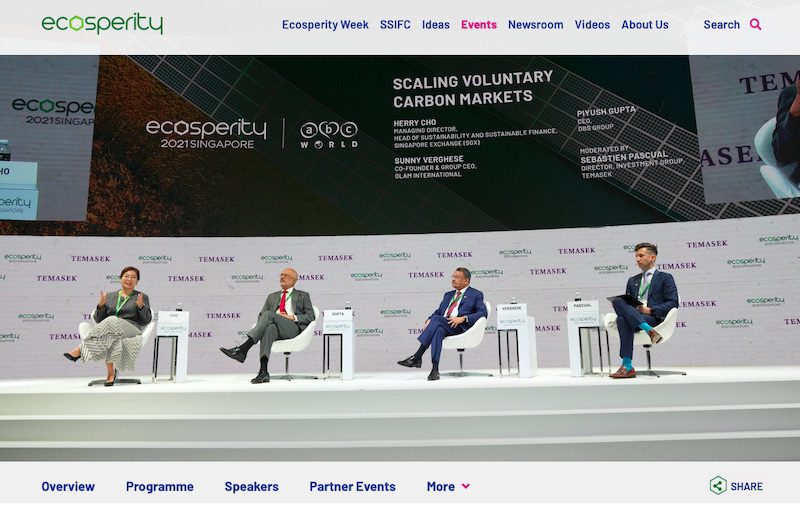 Ecosperity Week 2022 will gather global business leaders, policy-makers, investors and members of the civil society from Asia Pacific and beyond with a common agenda – to co-create solutions and spur coordinated action to achieve net zero by 2050. Themed "Accelerating Action at Scale", Ecosperity Week 2022 will deep-dive into real solutions and key levers to advance the energy revolution, decarbonise the transport and heavy industries, and finance Asia's green transition.
Presented by Temasek, Ecosperity Week 2022 will be held on 7 to 9 June 2022 at the Sands Expo & Convention Centre. Mr Teo Chee Hean, Singapore's Senior Minister and Coordinating Minister for National Security, and Ms Grace Fu, Minister for Sustainability and the Environment will deliver keynote addresses at the conference and opening dinner on 7 June. Mr S. Iswaran, Minister for Transport & Minister-in-charge of Trade Relations will open the discussion on decarbonising the hard-to-abate transport and heavy industries on 8 June. Ms Indranee Rajah, Minister in the Prime Minister's Office and second Minister for Finance and National Development will deliver a keynote address on 9 June.
Ecosperity Week 2022 will also feature global leaders from the private sector and civil society including Mr Marc Benioff, Chair, Co-Chief Executive Officer & Co-Founder, Salesforce; Ms Kate E. Brandt, Chief Sustainability Officer, Google; Dr Todd Citron, Chief Technology Officer, Vice President & General Manager, Boeing Research & Technology; Ms Cheryl Goh, Group Vice President of Marketing and Sustainability, Grab; Dr Steve Howard, Chief Sustainability Officer, Temasek; Dr Ernest J. Moniz, President & CEO, The Energy Futures Initiative and former US Secretary of Energy; H.E. Damilola Ogunbiyi, Special Representative of the UN Secretary-General and CEO of Sustainable Energy for All; Mr Tim Scharwath, CEO, DHL Global Forwarding, Freight; and Mr Daryl Wilson, Executive Director, Hydrogen Council.
The second edition of the Singapore Sustainable Investing & Financing Conference (SSIFC) will return to Ecosperity Week 2022 on the third day, 9 June. Jointly organised by BlackRock, International Finance Corporation (IFC) and Temasek, key speakers and panellists such as Mr Paul Bodnar, Global Head of Sustainable Investing, BlackRock; Mr Mark Carney, Co-Chair, Glasgow Financial Alliance for Net Zero and Vice Chair, Brookfield Asset Management; Mr Alfonso Garcia Mora, Regional Vice President, Asia and Pacific, International Finance Corporation; Dr Meghan Sharp, Global Head, Decarbonization Partners; and Mr Bill Winters, Group Chief Executive, Standard Chartered PLC, will discuss how we can mobilise financial capital to accelerate investments in climate mitigation and innovations, strengthen carbon markets and expedite the energy transition in the region.
Dr Steve Howard, Chief Sustainability Officer, Temasek.  
"There are many complex challenges in today's global situation, but the climate crisis remains as important as ever. In fact, climate change has a multiplier effect on issues like energy and food insecurity. Now more than ever, we must act with urgency to scale innovative solutions that can help us move towards a net zero future.  We need immediate, collaborative action among countries, companies and communities. By bringing together diverse actors, we hope that Ecosperity Week can contribute to accelerating action for a more resilient future."
Coalescing for change 
Partnerships are critical to the acceleration of climate action, as no one party, however big, can address the challenges of climate change on its own. Ecosperity has been working with a variety of partners across various industries, who are organising a series of events at Ecosperity Week 2022. They include:
CEO Roundtable by Glasgow Financial Alliance for Net Zero
CIO Dialogues – How do we navigate the net zero transition by BlackRock
CIX Connects: Innovation in the voluntary carbon market by Climate Impact X
Clean Energy Advisory Group Meeting by Temasek
Demystifying the path to Net Zero by Terrascope
Empower the Future of Energy by SP Group
Exploring Frontiers in Energy Transition: Perspectives on Technology Adoption and Capital

 

Mobilisation – luncheon by UBS
Fireside Chat: The Real Returns on Carbon by RGE
From ambition to action: Leveraging climate tech for a net zero world by PwC
International Advisory Panel on Sustainable Air Hub Meeting by Civil Aviation Authority of Singapore
Making Net Zero a Reality in Asia Through a Well-Executed 'Just and Urgent Energy Transition' Roundtable by IFC, Sembcorp, PwC and SMBC
Navigating 1.5 – luncheon by Standard Chartered
Net Zero Transformation Deep Dive by ENGIE Impact
Paving the Path to a Greener Supply Chain – Opportunities and Challenges by Global Compact Network Singapore
The Liveability Challenge by Temasek Foundation
The Stewardship Commons by Stewardship Asia Centre
Winning the Race to Net Zero: The CEO Guide to Climate Advantage by BCG
Youth Ecosperity Dialogue by Temasek Foundation
Visit the website for more details on each partner event: https://www.ecosperity.sg/en/events/ecosperity-week-2022/partner-events.html
Resources for charting the way forward
Two in-depth reports will also be launched at Ecosperity Week 2022, providing insights into the state of the green transition in Asia:
The Southeast Asia Green Economy 2022 Report by Bain's Global Sustainability Innovation Center, Microsoft, and Temasek highlights the climate action taken in the past year in Southeast Asia, and deep dives into the disconnects that need to be addressed to accelerate green investment in the region.
On Thin Ice by UBS, which offers a look at innovative ways for corporate changemakers to address climate change.
Innovating for a resilient future
Following the successful launch of the three-part documentary series, "Climate Trailblazers: Reimagining Our Future" at last year's Ecosperity Week, a sequel titled, "Climate Trailblazers: Towards Net Zero" will be launched at Ecosperity Week this year. The docuseries spotlights the renewable energy transition taking place in Asia, the challenges and decarbonisation pathways for hard-to-abate sectors such as aviation and maritime, and how carbon markets and private capital can catalyse breakthroughs and innovations in new solutions for the climate crisis.  
This year's Ecosperity Week will be a hybrid event at Sands Expo and Convention Centre, Marina Bay Sands.  The event is made possible with support from headline sponsors – PwC, RGE, SP Group, UBS; and supporting sponsors – PSA, SembCorp, and Standard Chartered, as well as SMBC, a supporting sponsor of SSIFC.
For more information and the latest updates on Ecosperity Week 2022, visit www.ecosperity.sg or follow Ecosperity's LinkedIn (https://www.linkedin.com/showcase/ecosperity/) and Facebook page (www.facebook.com/ecosperity/). Follow along on LinkedIn Live starting at 09:00 (GMT +8) on 7 June 2022.
About Temasek and Ecosperity
Temasek is a global investment company with a net portfolio valued at S$381 billion (US$283 billion) as of 31 March 2021. The Temasek Charter defines the company's three roles as an Investor, Institution and Steward, which shape our ethos to do well, do right, and do good. As a provider of catalytic capital, we seek to enable solutions to key global challenges. We actively seek sustainable solutions to address present and future challenges, as we capture investible opportunities to bring about a sustainable future for all.
Sustainability is central to what we do at Temasek, and Ecosperity is one of our key platforms for engagement and advocacy. The word "Ecosperity" twins ecology with prosperity, reflecting our belief that doing good and doing well can – and must – go together. We work with global leaders from the private and public sectors, academia, and civil society to exchange views, share best practices and push the agenda on sustainable development.
---
---
For CEOs, Heads, Senior Management, Market Heads, Desk Heads, Financial Professionals, Investment Managers, Asset Managers, Fund Managers, Hedge Funds, Boutique Funds, Analysts, Advisors, Wealth Managers, Private Bankers, Family Offices, Investment Bankers, Private Equity, Institutional Investors, Professional Investors
Get Ahead in 60 Seconds. Join 10,000 +
Save 2 to 8 hours weekly. Organised for Success.
Subscribe / Sign Up / Contact Us
Caproasia | Driving the future of Asia a financial information technology co. since 2014
Web links may be disabled on mobile for security. Please click on desktop.




---