---
Hong Kong Exchange Celebrates 22nd Anniversary, Total Equity Reaches $4.79 Trillion in Market Capitalization
24th June 2022 | Hong Kong
Hong Kong Exchange (HKEX) celebrated its 22nd anniversary on the 21st June 2022 since its establishment in 2000, with total equity reaching $4.79 trillion in market capitalization (HKD $37.6 billion). HKEX was established in 2000 with the merger of Stock Exchange of Hong Kong, the Hong Kong Futures Exchange and the Hong Kong Securities Clearing Company. HKEX: "Over the past 22 years, HKEX has supported the growth and development of Hong Kong's financial industry, making the city a leading marketplace for new economy companies, and a one-stop shop for trading, clearing and risk management, strengthening Hong Kong's position as a world-class international financial centre. HKEX's growth over the past 22 years parallels the substantial expansion of Hong Kong's financial markets during the period. Total market capitalisation of Hong Kong's cash equities market reached HK$37.60 trillion as at 17 June 2022, up from HK$4.86 trillion at the end of 2000. The cash market's average daily turnover expanded to HK$135.6 billion for the first five months of 2022, up from just HK$12.7 billion in 2000; while HKEX's derivatives market registered average daily volumes of 1.3 million contracts for the same period in 2022, up from just 37,500 average daily contracts for year 2000. HKEX corporate revenue has increased by nine-fold between 2000 and 2021."
" Total Equity Reaches $4.79 Trillion in Market Capitalization "
---
Web links may be disabled on mobile for security. Please click on desktop.


---
Hong Kong Exchange 22nd Anniversary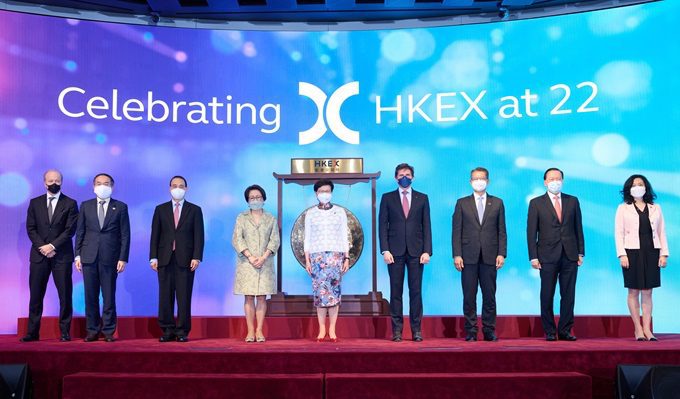 Hong Kong Exchange (HKEX) held a celebration ceremony marking the 22nd anniversary of its listing in Hong Kong and the re-opening of HKEX Connect Hall following an extensive refurbishment programme. (HKEX Connect Hall has been refurbished and revitalised to reflect HKEX's commitment to connectivity, and features extensive use of sustainable or recycled materials. This newly-renovated space not only symbolises the unique role HKEX plays in connecting capital and ideas, linking East and West, but also signals the beginning of a new chapter of vibrancy and vitality.)
The ceremony was hosted by HKEX Chairman Laura M Cha and HKEX Chief Executive Officer Nicolas Aguzin. Hong Kong Chief Executive Carrie Lam was guest of honour, alongside Hong Kong Financial Secretary Paul Chan. Other distinguished guests included Commissioner of the Ministry of Foreign Affairs of China in HKSAR, Liu Guangyuan; Secretary for Financial Services and the Treasury, Christopher Hui; Chairman of the Securities and Futures Commission (SFC), Tim Lui; Chief Executive Officer of the SFC, Ashley Alder; and Permanent Secretary for Financial Services and the Treasury (Financial Services), Salina Yan. They were also joined at the event by members of HKEX's Board of Directors and senior management.
Hong Kong Chief Executive Carrie Lam:
"HKEX plays a pivotal role in fostering the internationalisation of Hong Kong's financial centre and the city. To date, Hong Kong is a major listing platform from different jurisdictions. When it comes to creating opportunities, I am pleased to have seen HKEX's new strategic plan and its vision to create the Marketplace of the Future. I have every confidence that HKEX will continue to be a pivotal player in taking Hong Kong's financial services sector to new heights, local and beyond."
HKEX Chairman Laura M Cha:
"As we mark our 22nd anniversary, we are confident that our business is a strong one, that our community is a resilient one and that we are extremely well placed to take advantage of the opportunities ahead. We are excited about the next stage in our journey – building the Marketplace of the Future, as we evolve and grow as a purpose driven company connecting, promoting and progressing our financial markets and communities for the prosperity of all."
HKEX Chief Executive Officer Nicolas Aguzin:
"HKEX is 22 years old today. We have had a lot of milestones to celebrate for a 22 year old and we are proud of the journey we have travelled so far. But we are even more excited about the road ahead. I believe the Hong Kong story of transformation and growth will only become more compelling and I know that HKEX will be a key player in that."
About HKEX
Hong Kong Exchanges and Clearing Limited (HKEX) is a publicly-traded company (HKEX Stock Code: 0388) and one of the world's leading global exchange groups, offering a range of equity, derivative, commodity, fixed income and other financial markets, products and services, including the London Metals Exchange. As a superconnector and gateway between East and West, HKEX facilitates the two-way flow of capital, ideas and dialogue between China and the rest of world, through its pioneering Connect schemes, increasingly diversified product ecosystem and its deep, liquid and international markets. HKEX is a purpose-led organisation which, across its business and through the work of HKEX Foundation, seeks to connect, promote and progress it markets and the communities they support for the prosperity of all. Visit: www.hkexgroup.com
---
For CEOs, Heads, Senior Management, Market Heads, Desk Heads, Financial Professionals, Investment Managers, Asset Managers, Fund Managers, Hedge Funds, Boutique Funds, Analysts, Advisors, Wealth Managers, Private Bankers, Family Offices, Investment Bankers, Private Equity, Institutional Investors, Professional Investors
Sign Up / Contact Us
Caproasia | Get Ahead in 60 Seconds. Join 10,000 +
Caproasia | Driving the future of Asia
a financial information technology co. since 2014
Web links may be disabled on mobile for security. Please click on desktop.





---
Caproasia.com
| The leading financial website for investment managers, professional investors, UHNW & HNW investors and advisors to institutions, billionaires, UHNWs & HNWs.
Covering capital markets, investments and private wealth in Asia. How do you invest $3 million to $300 million? How do you manage $20 million to $3 billion of assets?
Caproasia
is a financial information technology co. founded in 2014. We have 4 businesses in Media, Information, Services and Technology. We created 3 solutions: Membership, Events & Platforms to drive investment decisions in Asia through information, services, technology & people, that impact economies, societies & people. Our Mission: Driving the future of Asia For 2022 Investment Day: mail@caproasia.com For Family Office, Professional Investor, HNW Investor Events: mail@caproasia.com For Membership, Events, Networking, Roundtable, Summits: mail@caproasia.com For Investment Relations Network: mail@caproasia.com For Platforms, Media Kit, Advertising, Campaigns, Partnerships: angel@caproasia.com For press release: press@caproasia.com For all other enquiries: mail@caproasia.com
---
Caproasia Users
Manage $20 million to $3 billion of assets
Invest $3 million to $300 million
Advise institutions, billionaires, UHNWs & HNWs
Learn More | Caproasia Users
Caproasia Platforms | Join 10,000 Investors & Advisors
Monthly Networking & Roundtables:
Membership | Join a Powerful Network:
Family Office Programs:
Caproasia Summits:
Special Coverage