---
The Last & Final Lunch Auction New York Private Steak Lunch with Warren Buffett: Anonymous $19 Million Winning Bid on eBay
24th June 2022 | Hong Kong
The last & final lunch auction for a New York private steak lunch with legendary investor and Chairman of Berkshire Hathaway Warren Buffet was won by a $19 million ($19,000,100) winning bid, who had chose to remain anonymous. The bid started on 12th June 2022 at $25,000, with the winner to dine with Warren Buffett at the Smith & Wollensky Steakhouse in New York City (United States). GLIDE and eBay's annual Power of One Charity Auction Lunch since its launch in 2000, had raised more than $53 million to support GLIDE's transformative programs and services that lift people out of poverty, hunger, and homelessness, and advance equity through systems change. The last auction to dine with Warren Buffett took place in 2019 with a winning bid of $4.5 million ($4,567,888), won by crypto entrepreneur Justin Sun. Warren Buffett: "It's been nothing but good … … I've met a lot of interesting people from all over the world. The one universal characteristic is that they feel the money is going to be put to very good uses." The grand finale Power of One Charity Auction Lunch will take place at a mutually beneficial date and time in the coming months. As host of the annual Power of One Charity Auction Lunch, Alan Stillman, founder of Smith & Wollensky, has generously donated tens of thousands of dollars to the event. The restaurant has been called "the quintessential New York steakhouse" by Gourmet Magazine and "the steakhouse to end all arguments" by The New York Times.
" The Last & Final Lunch Auction New York Private Steak Lunch with Warren Buffett: Anonymous $19 Million Winning Bid on eBay "
GLIDE and eBay's annual Power of One Charity Auction Lunch – Warren Buffett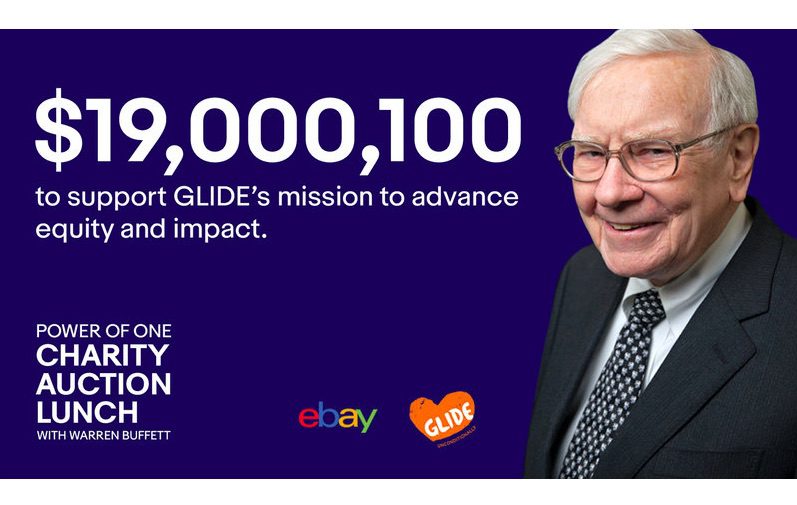 About GLIDE
For nearly six decades spanning political, economic and cultural changes, GLIDE has served as a social justice movement, social service provider and spiritual community dedicated to strengthening communities and transforming lives. GLIDE is a nationally-recognized center for equity, dedicated to fighting systemic injustices, creating pathways out of poverty and crisis, and transforming lives. Through our integrated services, advocacy initiatives, and inclusive community, we empower individuals, families, and children to achieve stability and thrive. GLIDE is on the forefront of addressing some of society's most pressing issues, including poverty, housing and homelessness, and racial and social justice.
About eBay
eBay Inc. (Nasdaq: EBAY) is a global commerce leader that connects people and builds communities to create economic opportunity for all. Our technology empowers millions of buyers and sellers in more than 190 markets around the world, providing everyone the opportunity to grow and thrive. Founded in 1995 in San Jose, California, eBay is one of the world's largest and most vibrant marketplaces for discovering great value and unique selection. In 2021, eBay enabled over $87 billion of gross merchandise volume. For more information about the company and its global portfolio of online brands, visit www.ebayinc.com.



---
For CEOs, Heads, Senior Management, Market Heads, Desk Heads, Financial Professionals, Investment Managers, Asset Managers, Fund Managers, Hedge Funds, Boutique Funds, Analysts, Advisors, Wealth Managers, Private Bankers, Family Offices, Investment Bankers, Private Equity, Institutional Investors, Professional Investors
Get Ahead in 60 Seconds. Join 10,000 +
Sign Up / Contact Us
Caproasia | Driving the future of Asia a financial information technology co. since 2014
Web links may be disabled on mobile for security. Please click on desktop.






---
Caproasia.com
| The leading financial website for investment managers, professional investors, UHNW & HNW investors and advisors to institutions, billionaires, UHNWs & HNWs.
Covering capital markets, investments and private wealth in Asia. How do you invest $3 million to $300 million? How do you manage $20 million to $3 billion of assets?
Caproasia
is a financial information technology co. founded in 2014. We have 4 businesses in Media, Information, Services and Technology. We created 3 solutions: Membership, Events & Platforms to drive investment decisions in Asia through information, services, technology & people, that impact economies, societies & people. Our Mission: Driving the future of Asia For 2022 Investment Day: mail@caproasia.com For Family Office, Professional Investor, HNW Investor Events: mail@caproasia.com For Membership, Events, Networking, Roundtable, Summits: mail@caproasia.com For Investment Relations Network: mail@caproasia.com For Platforms, Media Kit, Advertising, Campaigns, Partnerships: angel@caproasia.com For press release: press@caproasia.com For all other enquiries: mail@caproasia.com
2022 Upcoming Events
Join Events in Hong Kong & Singapore. Investments, Alternatives, Private MarketsHedge Funds, Private Equity, Private Wealth, Family Office & more. View:
2022 Upcoming Events
| Register
here
Join as Delegate, Speaker, Moderator, Host, Sponsor & Partner Contact: events@caproasia.com or mail@caproasia.com
---
Caproasia Users
Manage $20 million to $3 billion of assets
Invest $3 million to $300 million
Advise institutions, billionaires, UHNWs & HNWs
Learn More | Caproasia Users
Caproasia Platforms | Join 10,000 Investors & Advisors
Monthly Networking & Roundtables:
Membership | Join a Powerful Network:
Family Office Programs:
Caproasia Summits:
Special Coverage