---
Deloitte 2022 1H Review & Outlook for Mainland & HK IPO Markets: Shanghai Stock Exchange Remains No.1 for Global IPO Fund Raising
This is an article by Deloitte on 2022 1H Review & Outlook for Mainland & HK IPO Markets published on 22nd of June 2022. Deloitte China's Capital Market Services Group (CMSG): The Shanghai and Shenzhen stock exchanges will have risen to become the two largest fundraising venues in the world in 1H 2022 by funds raised. Korea Stock Exchange will take 3rd place after the listing of an electronic vehicle battery manufacturer, which will also be the world's largest IPO in 1H 2022. The Dubai Financial Market and National Stock Exchange of India will be in 4th and 5th respectively, with a listing on each of these bourses among the top five global IPOs in 1H 2022. The Shanghai Stock Exchange retained the jewel crown in global IPO fundraising in 1H 2022. Shenzhen Stock Exchange's high volume of IPO deals also made it stand out from other stock exchanges as it came second to Shanghai Stock Exchange. These are remarkable results from red chip listing reform and the registration-based regime despite negative sentiment from the Russia-Ukraine conflict, US interest rate hikes and tapering, and the Mainland's pandemic situation and controls. We believe the Mainland's IPO activity will remain at a normal pace throughout 2022 on average. It could gain momentum in the second half of the year following the continuous reform of the registration-based mechanism. View: Report (Simplified Chinese Version Only)
" Shanghai Stock Exchange Remains No.1 for Global IPO Fund Raising "
Deloitte: 2022 1H Review & Outlook for Mainland & HK IPO Markets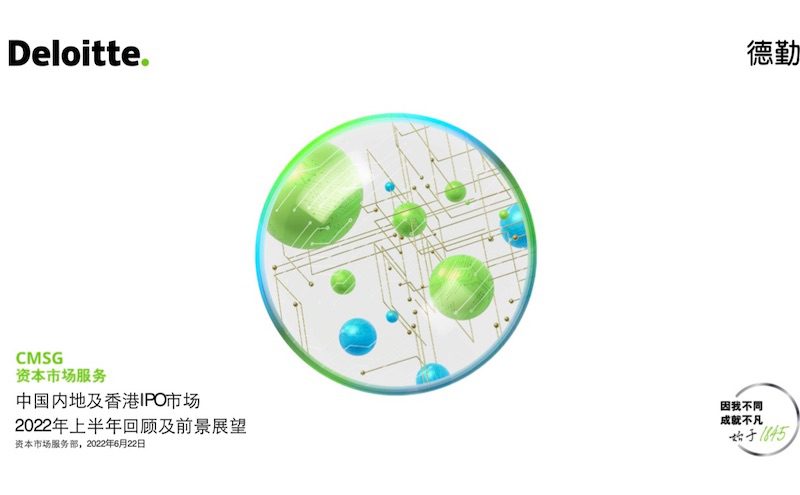 With potential large listings in the pipeline, more than 200 listing candidates have been approved for IPOs but not yet debuted, and there are over 400 active listing applications in the Mainland, the CMSG anticipates that for the full year, about 140 to 160 companies will list on the SSE STAR Market raising RMB230 billion to RMB260 billion. Another 190 to 210 businesses are forecast list on ChiNext, raising RMB190 billion to RMB215 billion. The main boards in Shanghai and Shenzhen are likely to have about 80 to 100 IPOs raising as much as RMB140 billion to RMB170 billion. Beijing Stock Exchange will have about 50 to 80 new listings raising approximately RMB10 billion to RMB15 billion.
The US and other key markets experienced the same downtrend in IPO activities as Hong Kong did in 1H 2022. Reduced valuations, especially for tech businesses, have prompted US-listed China concept stocks that need to ameliorate delisting risks to make introductory listings in Hong Kong rather than raise massive sums as they did in the past.
The Russia-Ukraine conflict continued through the traditional listing window in Q2 of late May and June. It will continue to affect global supply chains, the economy, and capital markets. It will take time for valuations and the Mainland economy to rebound to reinvigorate Hong Kong's listing activity. On this basis, the CMSG now expects Hong Kong to have about 70 new listings raising HKD160 to HKD180 billion in 2022. Return listings of China concept stocks will be the key theme, with IPOs from other technology, media, and telecommunications, life sciences and healthcare companies, and businesses with environment, sustainability, and governance capabilities being the highlights.
However, most important of all is that set against the sharp decline in the global IPO market, the adjustment in Hong Kong's IPO market is still less significant. A strong IPO pipeline of more than 160 applicants, including a streamlined settlement cycle due in Q4 and enhancements to the Stock Connect programs including the anticipated launch of yuan-denominated stocks for Southbound Stock Connect; and Hong Kong's solid, unique advantages should support Hong Kong's IPO market in 2H 2022.
In the US, listings of Chinese companies have remained weak as more than half of China concept stocks fell under the provisional and conclusive lists of issuers under the Holding Foreign Companies Accountable Act. Until discussions on cross-border audit oversight have reached an agreement or a turning point, the outlook for Chinese companies listing in the US will remain uncertain in 2H 2022. However, this will provide a support for Hong Kong's IPO market.
The performance of the special purpose acquisition company (SPAC) listing market in Hong Kong in 2022 should mirror the trends in conventional IPOs. Due to market volatility, the number of SPAC listings in 2022 is unlikely to exceed 10, with each raising around HKD1 billion.



---
For CEOs, Heads, Senior Management, Market Heads, Desk Heads, Financial Professionals, Investment Managers, Asset Managers, Fund Managers, Hedge Funds, Boutique Funds, Analysts, Advisors, Wealth Managers, Private Bankers, Family Offices, Investment Bankers, Private Equity, Institutional Investors, Professional Investors
Get Ahead in 60 Seconds. Join 10,000 +
Sign Up / Contact Us
Caproasia | Driving the future of Asia a financial information technology co. since 2014
Web links may be disabled on mobile for security. Please click on desktop.






---
Caproasia.com
| The leading financial website for investment managers, professional investors, UHNW & HNW investors and advisors to institutions, billionaires, UHNWs & HNWs.
Covering capital markets, investments and private wealth in Asia. How do you invest $3 million to $300 million? How do you manage $20 million to $3 billion of assets?
Caproasia
is a financial information technology co. founded in 2014. We have 4 businesses in Media, Information, Services and Technology. We created 3 solutions: Membership, Events & Platforms to drive investment decisions in Asia through information, services, technology & people, that impact economies, societies & people. Our Mission: Driving the future of Asia For 2022 Investment Day: mail@caproasia.com For Family Office, Professional Investor, HNW Investor Events: mail@caproasia.com For Membership, Events, Networking, Roundtable, Summits: mail@caproasia.com For Investment Relations Network: mail@caproasia.com For Platforms, Media Kit, Advertising, Campaigns, Partnerships: angel@caproasia.com For press release: press@caproasia.com For all other enquiries: mail@caproasia.com
2022 Upcoming Events
Join Events in Hong Kong & Singapore. Investments, Alternatives, Private MarketsHedge Funds, Private Equity, Private Wealth, Family Office & more. View:
2022 Upcoming Events
| Register
here
Join as Delegate, Speaker, Moderator, Host, Sponsor & Partner Contact: events@caproasia.com or mail@caproasia.com
---
Caproasia Users
Manage $20 million to $3 billion of assets
Invest $3 million to $300 million
Advise institutions, billionaires, UHNWs & HNWs
Learn More | Caproasia Users
Caproasia Platforms | Join 10,000 Investors & Advisors
Monthly Networking & Roundtables:
Membership | Join a Powerful Network:
Family Office Programs:
Caproasia Summits:
Special Coverage