Caproasia.com | The leading source of data, research, information & resource for investment managers, professional investors, UHNW & HNW investors, and advisors to institutions, billionaires, UHNWs & HNWs. Covering capital markets, investments and private wealth in Asia. How do you invest $3 million to $300 million? How do you manage $20 million to $3 billion of assets? Caproasia -
Learn more
This site is for accredited investors, professional investors, investment managers and financial professionals only. You should have assets around $3 million to $300 million or managing $20 million to $3 billion.


---
Bank of East Asia China President's Assistant Detained in China for Suspected Bribery
16th September | Hong Kong
The Bank of East Asia's China President's Assistant (Chen Zhiren) had been detained in China for suspected bribery to approve loans (19th July 2022).  Bank of East Asia has provided a response to Yicai Global (14/9/22): "The matter solely concerns the personal actions of an individual employee."  Chen Zhiren is assistant to Bank of East Asia's China President & Head of North China operations, and had also been appointed as Head of Beijing Branch.  Chen Zhiren has an Executive MBA from Tsinghua University and had joined Bank of East Asia in 1996.  Bank of East Asia is one of 2 Hong Kong's largest independent bank (Other: Dah Sing Bank), and is founded in 1918.  
" Bank of East Asia China President's Assistant Detained in China for Suspected Bribery to Approve Loans "
The Bank of East Asia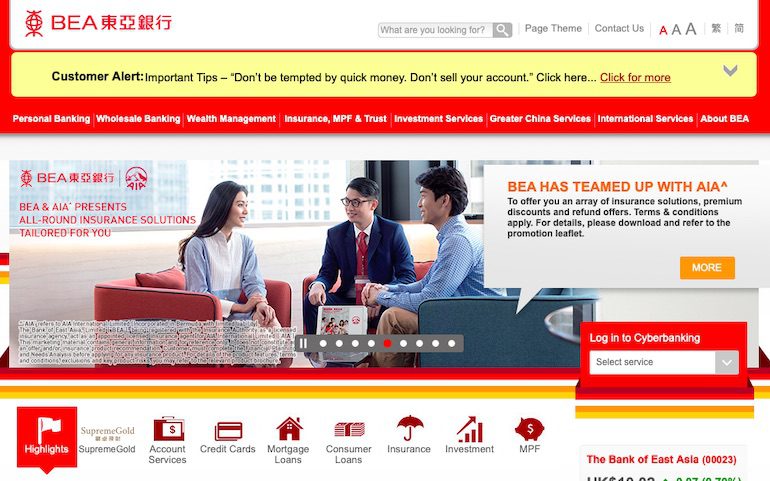 Incorporated in Hong Kong in 1918, The Bank of East Asia, Limited ("BEA") is dedicated to providing comprehensive wholesale banking, personal banking, wealth management, and investment services to its customers in Hong Kong, Mainland China, and other major markets around the world.  BEA is a leading Hong Kong-based financial services group listed on The Stock Exchange of Hong Kong, serving the needs of customers throughout Greater China and beyond, with total consolidated assets of HK$908.2 billion (US$115.8 billion) as of 30th June, 2022. BEA also operates one of the largest branch networks in Hong Kong, with 53 branches, 45 SupremeGold Centres, and 3 i-Financial Centres throughout the city.  In Mainland China, BEA's operational presence dates back to the opening of the Bank's Shanghai Branch in 1920.  Today, the BEA Group operates one of the most extensive networks of any foreign bank on the Mainland, with outlets in about 40 cities nationwide.  Over the years, BEA has built its reputation as a pioneer in the provision of innovative, value-added banking services to customers on the Mainland. Among its major achievements, the Bank is recognised as:
one of the first foreign banks to receive approval from the China Banking Regulatory Commission to establish a locally-incorporated bank in Mainland China (2007). This wholly-owned subsidiary, namely The Bank of East Asia (China) Limited, offers a full range of banking and financial services to a broad customer base that includes local residents and businesses.
the first foreign bank to launch Renminbi debit cards and credit cards in Mainland China (2008).
the first foreign bank to issue Renminbi retail bonds in Hong Kong (2009).
Overseas, BEA has established a presence in Southeast Asia, the United Kingdom, and the United States. Worldwide, including Hong Kong and the rest of Greater China, BEA operates about 150 outlets and employs over 8,000 people.
Products & Services
BEA has long been known for the comprehensive range of wholesale and personal banking, financial, and insurance services that it provides to a diverse customer base. Wholesale and personal banking services are delivered through the Bank's Wholesale Banking, Personal Banking, Wealth Management, Insurance & Retirement Benefits, Treasury Markets, China, and International divisions.
Products and services include syndicated loans, trade finance, deposit-taking, foreign currency savings, remittances, mortgage loans, consumer loans, credit cards, Cyberbanking, retail investment and wealth management services, private banking, Renminbi services, foreign exchange margin trading, broking services, Mandatory Provident Fund services, and general and life insurance.
BEA keeps abreast of the latest market trends and strives to leverage developments in the marketplace to offer new or enhanced products and services that suit customers' needs. For more details on BEA's products and services, please browse the pages of this website.
---
---
For CEOs, Heads, Senior Management, Market Heads, Desk Heads, Financial Professionals, Investment Managers, Asset Managers, Fund Managers, Hedge Funds, Boutique Funds, Analysts, Advisors, Wealth Managers, Private Bankers, Family Offices, Investment Bankers, Private Equity, Institutional Investors, Professional Investors
Get Ahead in 60 Seconds. Join 10,000 +
Save 2 to 8 hours weekly. Organised for Success.
Subscribe / Sign Up / Contact Us
Caproasia | Driving the future of Asia a financial information technology co. since 2014
Web links may be disabled on mobile for security. Please click on desktop.






---