Caproasia.com | The leading source of data, research, information & resource for investment managers, professional investors, UHNW & HNW investors, and advisors to institutions, billionaires, UHNWs & HNWs. Covering capital markets, investments and private wealth in Asia. How do you invest $3 million to $300 million? How do you manage $20 million to $3 billion of assets? Caproasia -
Learn more
This site is for accredited investors, professional investors, investment managers and financial professionals only. You should have assets around $3 million to $300 million or managing $20 million to $3 billion.


---
Jeff Bezos Ex-Wife MacKenzie Scott Files for Divorce after 2 Years of Marriage, $33 Billion Personal Fortune & Signer of Giving Pledge to Donate Majority of Wealth
29th September 2022 | Hong Kong
Amazon founder Jeff Bezos ex-wife MacKenzie Scott ($33 billion personal fortune) had filed for divorce after 2 years of marriage to science teacher Dan Jewett.  In 2019, MacKenzie Scott and Amazon founder Jeff Bezos had divorced in one of the largest asset split ($150 billion to $200 billion fortune).  In the same year 2019, MacKenzie Scott who had been an active philanthropist with more than $20 billion personal fortune in 2019, signed the Giving Pledge to donate majority of her wealth & assets.  See below for MacKenzie Scott Giving Pledge
" Jeff Bezos Ex-Wife MacKenzie Scott Files for Divorce after 2 Years of Re-Marriage, $33 Billion Personal Fortune & Signer of Giving Pledge to Donate Majority of Wealth "
MacKenzie Scott Giving Pledge on May 25, 2019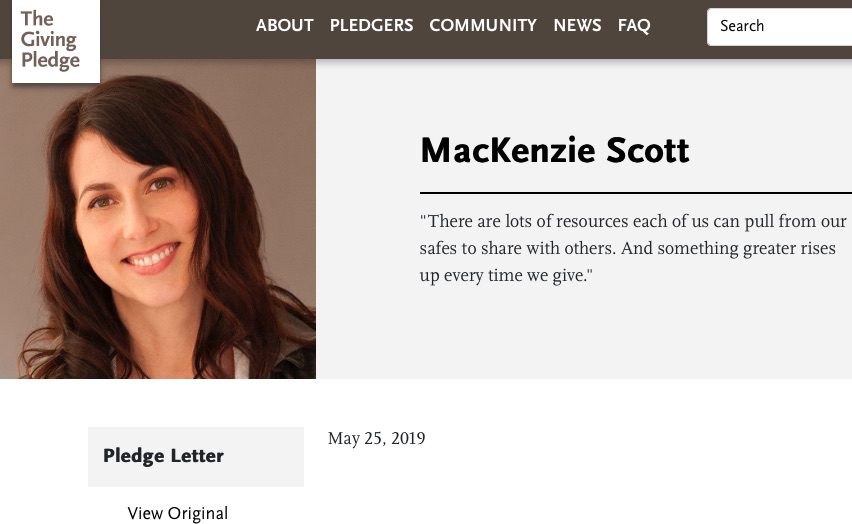 Thinking about the Giving Pledge, my mind kept searching its folds for a passage I once read about writing, something about not saving our best ideas for later chapters, about using them now.
I found it this morning on a shelf of my books from college, toward the end of Annie Dillard's The Writing Life. It was underlined and starred like all of the words that have inspired me most over the years, words that felt true in context, and also true in life:
"Do not hoard what seems good for a later place in the book, or for another book… The impulse to save something good for a better place later is the signal to spend it now. Something more will arise for later, something better… Anything you do not give freely and abundantly becomes lost to you. You open your safe and find ashes."
I have no doubt that tremendous value comes when people act quickly on the impulse to give. No drive has more positive ripple effects than the desire to be of service. There are lots of resources each of us can pull from our safes to share with others — time, attention, knowledge, patience, creativity, talent, effort, humor, compassion. And sure enough, something greater rises up every time we give: the easy breathing of a friend we sit with when we had other plans, the relief on our child's face when we share the story of our own mistake, laughter at the well-timed joke we tell to someone who is crying, the excitement of the kids in the school we send books to, the safety of the families who sleep in the shelters we fund. These immediate results are only the beginning. Their value keeps multiplying and spreading in ways we may never know.
We each come by the gifts we have to offer by an infinite series of influences and lucky breaks we can never fully understand. In addition to whatever assets life has nurtured in me, I have a disproportionate amount of money to share. My approach to philanthropy will continue to be thoughtful. It will take time and effort and care. But I won't wait. And I will keep at it until the safe is empty.
MacKenzie Scott
---
---
For CEOs, Heads, Senior Management, Market Heads, Desk Heads, Financial Professionals, Investment Managers, Asset Managers, Fund Managers, Hedge Funds, Boutique Funds, Analysts, Advisors, Wealth Managers, Private Bankers, Family Offices, Investment Bankers, Private Equity, Institutional Investors, Professional Investors
Get Ahead in 60 Seconds. Join 10,000 +
Save 2 to 8 hours weekly. Organised for Success.
Subscribe / Sign Up / Contact Us
Caproasia | Driving the future of Asia a financial information technology co. since 2014
Web links may be disabled on mobile for security. Please click on desktop.






---