---
Uniqlo Parent Fast Retailing Reports Record $15.7 Billion Revenue & $2.8 Billion Profit, Market Value of $61 Billion with Founder & Chairman Tadashi Yanai with $22 Billion Personal Fortune
14th October 2022 | Hong Kong
Uniqlo Parent Fast Retailing has reported a record $15.7 billion revenue & $2.8 billion profit for Financial Year 2022 (1/9/21 to 31/8/22).  Headquartered in Japan, Fast Retailing is one of the leading fashion & apparel company in the world and today has a market capitalisation of around $61 billion (14/10/22).  Tadashi Yanai, who is Fast Retailing Founder (Chairman, President & CEO), has a personal fortune of around $22 billion (21.5% of Fast Retailing shareholding). Fast Retailing was founded as Ogori Shoji Co. in 1963 by Hitoshi Yanai, father of Tadashi Yanai (Fast Retailing Chairman, President & CEO).  Tadashi Yanai joined his father's roadside tailor shop in 1972 and in 1984, opened a new casual-wear store named Unique Clothing Warehouse in Hiroshima (Japan).  In 1991, Tadashi Yanai renamed Ogori Shoji Co. to Fast Retailing and list the company on the Hiroshima Stock Exchange in 1994.  See below for FY2022 info and more info on Fast Retailing, and latest 2022 letter from Tadashi Yanai, who is Fast Retailing Founder
" Uniqlo Parent Fast Retailing Reports Record $15.7 Billion Revenue & $2.8 Billion Profit, Market Value of $61 Billion with Founder & Chairman Tadashi Yanai with $22 Billion Personal Fortune "
- Article continues below - Web links may be disabled on mobile for security. Please click on desktop.
The first UNIQLO store
Fast Retailing: "Looking now at the future outlook for our individual business segments, we expect UNIQLO Japan will generate higher revenue and profit in both the first and second halves of fiscal 2023. While we expect cost of sales to continue to broadly worsen, we plan to improve discounting rates and contain any decline in the gross profit margin within a minimal level. We expect UNIQLO International will generate large increases in revenue and profit in fiscal 2023. We also expect our GU segment to produce significantly higher revenue and profit, while the Global Brand segments is reporting a large increase in full-year revenue and a move into the black.  We plan to accelerate new store openings in fiscal 2023, especially at UNIQLO International. We forecast the Fast Retailing Group network will boast a total of 3,747 stores by the end of August 2023: 809 stores (including franchise stores) at UNIQLO Japan, 1,740 stores at UNIQLO International, 469 stores at GU, and 729 stores at Global Brands(including franchise stores)."
FY2022 consolidated results: Fast Retailing achieves another record performance on higher revenue and a sharp increase in profit
Achieved a record result. Full-year consolidated revenue: 2.3011 trillion yen (+7.9% year-on-year), operating profit: 297.3 billion yen (+19.4%), and profit attributable to owners of the parent: 273.3 billion yen (+60.9%). If we strip out the impact of the weaker yen, which inflated performance, operating profit increased by approximately 14% and profit attributable to owners of the parent increased by approximately 16% year-on-year.
Sales recovered steadily in all markets as demand for clothing picked up globally, and we consistently strengthened the branding of our LifeWear (ultimate everyday clothing) and responded flexibly to changes in production and distribution environments.
Scheduled to offer a year-end dividend of 340 yen per share. When added to the 280 yen interim dividend, that would generate a scheduled annual dividend of 620 yen for FY2022, an increase of 140 yen compared to the previous year.
About FAST RETAILING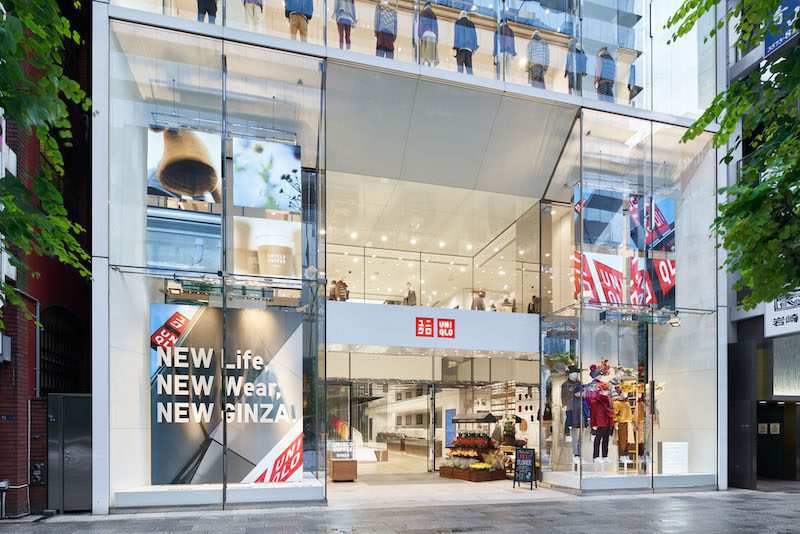 Fast Retailing seeks to deliver the joy, happiness, and satisfaction of wearing great clothes to all people worldwide. Our corporate philosophy is: Changing clothes. Changing conventional wisdom. Change the world. As the world's third-largest manufacturer and retailer of private-label apparel in terms of sales, Fast Retailing operates multiple fashion brands including UNIQLO, GU, and Theory. UNIQLO, the Group's pillar brand, generated approximately ¥1.77 trillion in annual sales from 2,312 stores in 25 countries and regions in FY2021. Driven by our LifeWear concept for ultimate everyday clothing, UNIQLO offers unique products made from high-quality, highly functional materials at reasonable prices by managing everything from procurement and design to production and retail sales. The main drivers of UNIQLO growth have expanded beyond Japan to Greater China (Mainland China, Hong Kong, and Taiwan) and Southeast Asia. Meanwhile, our fun, low-priced GU fashion brand is generating annual global sales of approximately ¥250 billion, primarily in Japan.
In terms of our broader strategy, the entire Fast Retailing Group is currently pressing ahead with the Ariake Project, which seeks to transform the apparel industry into a new digital retail industry that focuses on the commercialization of information. We are leveraging various advanced technologies to build a seamless supply chain connecting Fast Retailing and our partner factories, warehouses, and stores worldwide. This Ariake Project transformation also seeks to achieve greater sustainability, through initiatives that minimize the environmental impact of our business and create a manufacturing environment that upholds human rights. Fast Retailing is driven by a passionate desire to harness the power of clothing to enrich the lives of people around the world and create a more sustainable society.
Letter from Tadashi Yanai Chairman, President and CEO – May 2022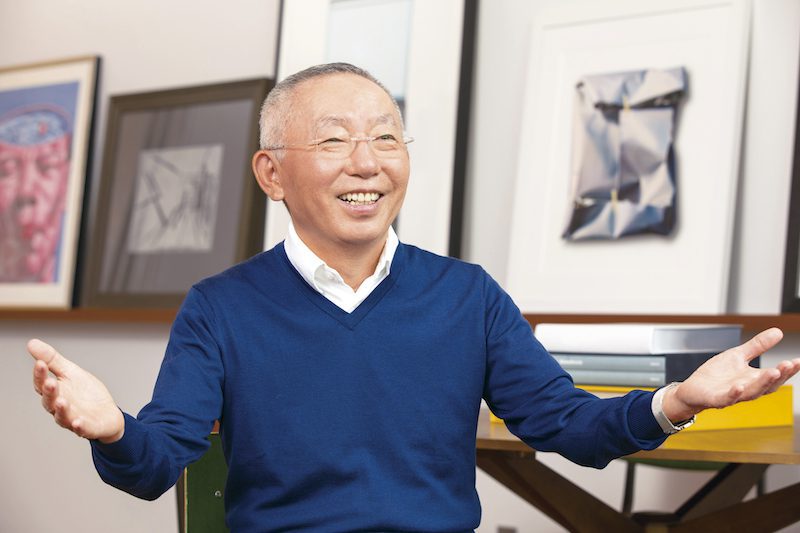 The world is currently experiencing a variety of difficult challenges and many people are facing great difficulties. I truly hope that those people will once again experience peace and stability in their lives at the earliest possible opportunity.
Our clothing business is a peaceful one that seeks to enrich people's lives and make daily living more comfortable. Our mission is to consistently deliver comfortable everyday clothing to people worldwide. The reason why I chose "Win Globally, Without Borders" as the annual Guiding Principle for the Fast Retailing Group at the beginning of 2022 was because I wanted to pursue even more thoroughly our quest to make and sell together with local teams high-quality LifeWear everyday clothing that offers ultimate comfort and enriches people's lives.
Fast Retailing currently operates a network of over 3,500 stores in 27 markets around the world. While we managed to achieve higher-than-expected revenue and profit gains in the first half of fiscal 2022, the COVID-19 pandemic greatly dampened new store opening plans for our UNIQLO brand, so we want to accelerate those openings from this fiscal year and successfully fuse our physical store and e-commerce network around the world. I also want to press ahead with progress on initiatives designed to help solve social issues, such as protecting human rights and working environments in our supply chain, addressing climate change and other environmental problems, employing people with disabilities, and supporting refugees.
I believe true corporate governance involves pursuing a style of management that focuses on what would be required 10, 20, 30 years from now, and even beyond. The most significant requisite for any company is continuity, and the most important purpose of a listed company is to grow and generate profits. To achieve that, a company must serve as a worthwhile entity that benefits the world we all live in.
Fast Retailing conducts stable operations, promotes growth, and creates employment in different locations around the world. In March, we donated 10 million US dollars and 200,000 items of clothing through the United Nation's High Commissioner for Refugees (UNHCR) to Ukraine. We all need to strive to achieve a peaceful world and an environment in which global companies can grow and provide global benefits. We have to draw on our own sources of power to create a better future by cooperating with different people around the world. I stand by that firm belief and intend to continue to act on it going forward.
LifeWear that is Made for All embodies our strong commitment to "Changing clothes. Changing conventional wisdom. Change the world." Whatever happens, I intend to honor this spirit and do everything in my power to create a more peaceful world and a better society.
Tadashi Yanai
Chairman, President and CEO
Managing $20 million to $3 billion. Investing $3 million to $300 million.
For Investment Managers, Hedge Funds, Boutique Funds, Private Equity, Venture Capital, Professional Investors, Family Offices, Private Bankers & Advisors, sign up today. Subscribe to Caproasia and receive the latest news, data, insights & reports, events & programs daily at 2 pm.
Join Events & Find Services
Join Investments, Private Wealth, Family Office events in Hong Kong, Singapore, Asia-wide. Find hard-to-find $3 million to $300 million financial & investment services at The Financial Centre | TFC. Find financial, investment, private wealth, family office, real estate, luxury investments, citizenship, law firms & more.  List hard-to-find financial & private wealth services. Have a product launch? Promote a product or service? List your service at The Financial Centre | TFC. Join interviews & editorial and be featured on Caproasia.com or join Investments, Private Wealth, Family Office events. Contact us at
[email protected]
or
[email protected]
Caproasia.com
| The leading source of data, research, information & resource for financial professionals, investment managers, professional investors, family offices & advisors to institutions, billionaires, UHNWs & HNWs. Covering capital markets, investments and private wealth in Asia. How do you invest $3 million to $300 million? How do you manage $20 million to $3 billion of assets?
Quick Links
2021 Data Release
2020 List of Private Banks in Hong Kong
2020 List of Private Banks in Singapore
2020 Top 10 Largest Family Office
2020 Top 10 Largest Multi-Family Offices
2020 Report: Hong Kong Private Banks & Asset Mgmt - $4.49 Trillion
2020 Report: Singapore Asset Mgmt - $3.48 Trillion AUM
For Investors | Professionals | Executives
Latest data, reports, insights, news, events & programs Everyday at 2 pm Direct to your inbox Save 2 to 8 hours per week. Organised for success
Register Below
For CEOs, Heads, Senior Management, Market Heads, Desk Heads, Financial Professionals, Investment Managers, Asset Managers, Fund Managers, Hedge Funds, Boutique Funds, Analysts, Advisors, Wealth Managers, Private Bankers, Family Offices, Investment Bankers, Private Equity, Institutional Investors, Professional Investors
Get Ahead in 60 Seconds. Join 10,000 +
Save 2 to 8 hours weekly. Organised for Success.
Sign Up / Register
Web links may be disabled on mobile for security. Please click on desktop.



---
Caproasia Users
Manage $20 million to $3 billion of assets
Invest $3 million to $300 million
Advise institutions, billionaires, UHNWs & HNWs
Caproasia Platforms | 10,000 Investors & Advisors
Monthly Roundtable & Networking
Family Office Programs
The 2023 Investment Day
28th March 2023 - Hong Kong
4th April 2023 - Singapore
April 2023 - Virtual
6th June 2023 - Hong Kong
13th June 2023 - Singapore
Sept 2023 - Hong Kong
Oct 2023 - Singapore
Oct 2023 - Hong Kong
Visit: The Investment Day | Register: Click here
Caproasia Summits
Contact Us
For Enquiries, Membership
[email protected]
,
[email protected]
For Listing, Subscription
[email protected]
,
[email protected]
For Press Release, send to:
[email protected]
For Events & Webinars
[email protected]
For Media Kit, Advertising, Sponsorships, Partnerships
[email protected]
For Research, Data, Surveys, Reports
[email protected]
For General Enquiries
[email protected]
---
Caproasia | Driving the future of Asia a financial information technology co. since 2014
---