---
HSBC Sells Canada Banking Operations to Royal Bank of Canada for $10.1 Billion, Gross Assets of $94.6 Billion
1st December 2022 | Hong Kong
HSBC, one of the largest banking group in the world with $2.9 trillion assets, is selling HSBC Canada banking operations to Royal Bank of Canada for $10.1 billion, with gross assets of $94.6 billion (HSBC Canada banking operations).  HSBC has been in Canada for over 40 years and has more than 130 branches and over 780,000 retail and commercial customers.  HSBC: "The review considered HSBC Canada's relatively low market share and the Group's ability to invest in HSBC Canada's expansion and growth in the context of opportunities in other markets, and concluded that the best course of action strategically for the HSBC Group and HSBC Canada was to sell the business. The transaction will unlock significant value for the HSBC Group."  Noel Quinn, CEO of HSBC Group: "HSBC Canada is a high performing and profitable bank, with strong leadership and exceptional people. I am grateful to the whole team for their hard work in supporting our clients over many years. We decided to sell following a thorough review of the business, which assessed its relative market position within the Canadian market and its strategic fit within the HSBC portfolio, and concluded that there was a material value upside from selling the business."
" HSBC Sells Canada Banking Operations to Royal Bank of Canada for $10.1 Billion, Gross Assets of $94.6 Billion "
- Article continues below - Web links may be disabled on mobile for security. Please click on desktop.
HSBC Sells Canada Banking Operations to Royal Bank of Canada for $10.1 Billion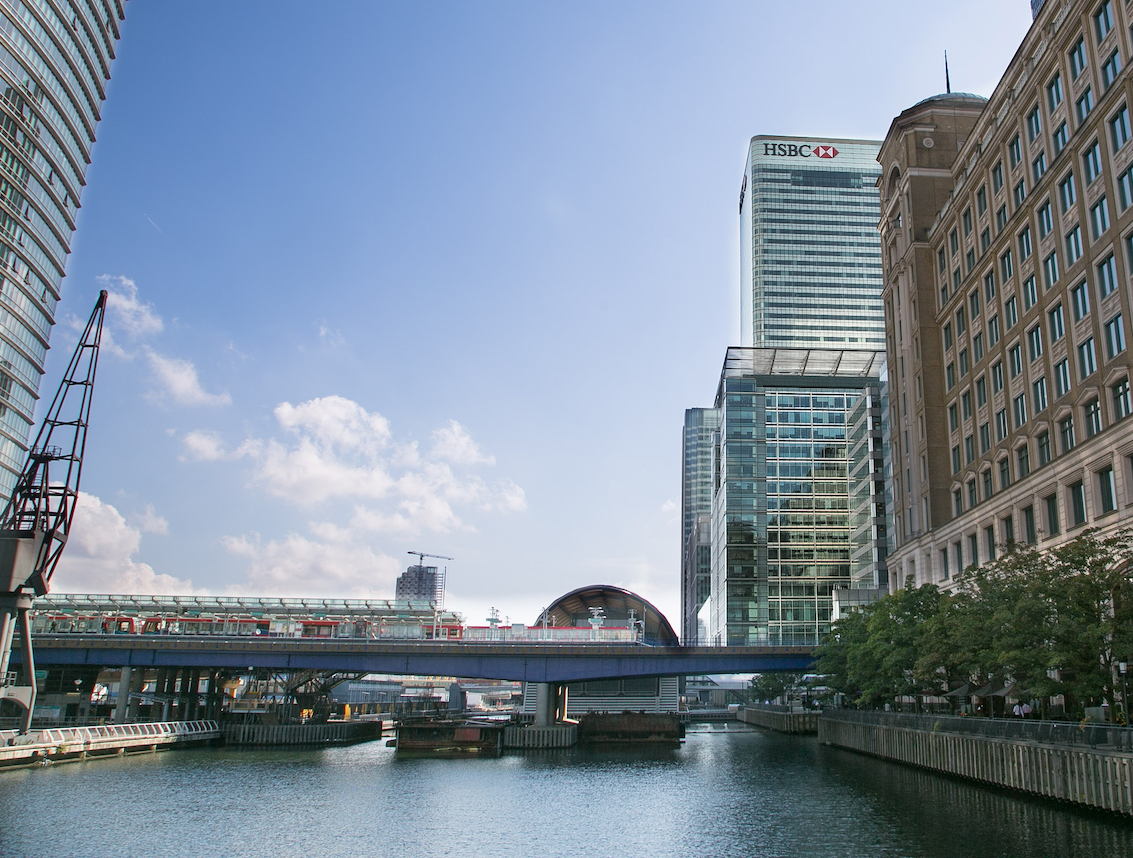 HSBC – We've agreed to sell our banking operations in Canada to Royal Bank of Canada (RBC) – one of the largest banks in the country.  The deal is worth CA$13.5bn (US$10.1bn) and is expected to be completed in late 2023, subject to regulatory and governmental approvals.  As a result of the deal:
HSBC Group will generate an estimated pre-tax gain of c.US$5.7bn
Our common equity tier 1 ratio is expected to get a boost of c.130 basis points over and above existing capital plans
The HSBC Board will consider opportunities for organic growth and investment and how much of the proceeds should be used for a one-off dividend and/or share buybacks (in addition to any existing share buyback programme)
We continue to target a return on average tangible equity of at least 12% from 2023, excluding the gain on this transaction. We remain committed to this target after completion of the sale.
Noel Quinn, HSBC Group Chief Executive: "HSBC Canada is a high performing and profitable bank, with strong leadership and exceptional people. I am grateful to the whole team for their hard work in supporting our clients over many years.  The deal makes strategic sense for both parties, and RBC will take the business to the next level. We look forward to working closely with RBC's leadership team to ensure a smooth transition for our clients and colleagues.  Our Group strategy is unchanged, and closing this transaction will free up additional capital to invest in growing our core businesses and to return to shareholders."
Strategic review
The sale agreement follows a strategic review of HSBC Canada, which is among Canada's premier international banks with more than 130 branches and over 780,000 retail and commercial customers.  The review took into account:
Our relatively low market share in Canada
Our ability to invest in HSBC Canada's expansion and growth in the context of opportunities in other markets
Strong expected interest from other banks in purchasing a successful business
It's business as usual for HSBC in Canada until the transaction completes.
Linda Seymour, HSBC Canada CEO:  "Thank you to our valued clients in Canada who have trusted us to fulfil their ambitions in both good and challenging times for over 40 years.  It's our privilege to work with you and we look forward to serving you through the transition and beyond."
HSBC Holdings plc 
HSBC Holdings plc, the parent company of HSBC, is headquartered in London. HSBC serves customers worldwide from offices in 63 countries and territories in its geographical regions: Europe, Asia, North America, Latin America, and Middle East and North Africa. With assets of US$2,992bn at 30 September 2022, HSBC is one of the world's largest banking and financial services organisations. 
About RBC 
Royal Bank of Canada is one of Canada's biggest banks, and among the largest in the world based on market capitalisation. It has over 92,000 employees serving 17m clients in Canada, the US and 27 other countries. It is one of North America's leading diversified financial services companies, and provides personal and commercial banking, wealth management, insurance, investor services and capital markets products and services on a global basis. 
Managing $20 million to $3 billion. Investing $3 million to $300 million.
For Investment Managers, Hedge Funds, Boutique Funds, Private Equity, Venture Capital, Professional Investors, Family Offices, Private Bankers & Advisors, sign up today. Subscribe to Caproasia and receive the latest news, data, insights & reports, events & programs daily at 2 pm.
Join Events & Find Services
Join Investments, Private Wealth, Family Office events in Hong Kong, Singapore, Asia-wide. Find hard-to-find $3 million to $300 million financial & investment services at The Financial Centre | TFC. Find financial, investment, private wealth, family office, real estate, luxury investments, citizenship, law firms & more.  List hard-to-find financial & private wealth services. Have a product launch? Promote a product or service? List your service at The Financial Centre | TFC. Join interviews & editorial and be featured on Caproasia.com or join Investments, Private Wealth, Family Office events. Contact us at
[email protected]
or
[email protected]
Caproasia.com
| The leading source of data, research, information & resource for financial professionals, investment managers, professional investors, family offices & advisors to institutions, billionaires, UHNWs & HNWs. Covering capital markets, investments and private wealth in Asia. How do you invest $3 million to $300 million? How do you manage $20 million to $3 billion of assets?
Quick Links
2021 Data Release
2020 List of Private Banks in Hong Kong
2020 List of Private Banks in Singapore
2020 Top 10 Largest Family Office
2020 Top 10 Largest Multi-Family Offices
2020 Report: Hong Kong Private Banks & Asset Mgmt - $4.49 Trillion
2020 Report: Singapore Asset Mgmt - $3.48 Trillion AUM
For Investors | Professionals | Executives
Latest data, reports, insights, news, events & programs Everyday at 2 pm Direct to your inbox Save 2 to 8 hours per week. Organised for success
Register Below
For CEOs, Heads, Senior Management, Market Heads, Desk Heads, Financial Professionals, Investment Managers, Asset Managers, Fund Managers, Hedge Funds, Boutique Funds, Analysts, Advisors, Wealth Managers, Private Bankers, Family Offices, Investment Bankers, Private Equity, Institutional Investors, Professional Investors
Get Ahead in 60 Seconds. Join 10,000 +
Save 2 to 8 hours weekly. Organised for Success.
Sign Up / Register
Web links may be disabled on mobile for security. Please click on desktop.



---
Caproasia Users
Manage $20 million to $3 billion of assets
Invest $3 million to $300 million
Advise institutions, billionaires, UHNWs & HNWs
Caproasia Platforms | 10,000 Investors & Advisors
Monthly Roundtable & Networking
Family Office Programs
The 2023 Investment Day
28th March 2023 - Hong Kong
4th April 2023 - Singapore
April 2023 - Virtual
6th June 2023 - Hong Kong
13th June 2023 - Singapore
Sept 2023 - Hong Kong
Oct 2023 - Singapore
Oct 2023 - Hong Kong
Visit: The Investment Day | Register: Click here
Caproasia Summits
Contact Us
For Enquiries, Membership
[email protected]
,
[email protected]
For Listing, Subscription
[email protected]
,
[email protected]
For Press Release, send to:
[email protected]
For Events & Webinars
[email protected]
For Media Kit, Advertising, Sponsorships, Partnerships
[email protected]
For Research, Data, Surveys, Reports
[email protected]
For General Enquiries
[email protected]
---
Caproasia | Driving the future of Asia a financial information technology co. since 2014
---