---
Vietnam Electric Car VinFast Files for United States Nasdaq IPO, Backed by Vietnam Largest Conglomerate $35 Billion Vingroup & Vingroup President Pham Nhat Vuong with $5 Billion Fortune
8th December 2022 | Hong Kong
Vietnam multi-billion dollar & first electric car company & automaker VinFast has filed for a United States Nasdaq IPO, with VinFast backed by $35 billion Vingroup (Vietnam largest conglomerate) & Vingroup President Pham Nhat Vuong with $4.5 billion to $5 billion personal fortune.  Depending on market condition and ongoing discussion, Vingroup may raise more than $1 billion and IPO in United States in January 2023.  Earlier in November 2022, VinFast announced the first batch of 999 VF 8s exported to the United States.  The first VinFast customers in the US can expect their cars by the end of December 2022.  The international export is the first batch of the 65,000 global orders already made for VinFast's VF 8 and VF 9. Following this first batch of cars for the American market, VinFast will continue to export more VF 8 lots to Canada and Europe for customer deliveries in early 2023.  The first VF 9 models will be handed over to customers in Vietnam and international markets in the first quarter of 2023.  VinFast was founded in 2017, and registered in Singapore under VinFast Trading & Investment Pte Ltd.
" Vietnam Electric Car VinFast Files for United States Nasdaq IPO, Backed by Vietnam Largest Conglomerate $35 Billion Vingroup & Vingroup President Pham Nhat Vuong with $5 Billion Fortune "
- Article continues below - Web links may be disabled on mobile for security. Please click on desktop.
Citigroup Global Markets Inc., Morgan Stanley & Co. LLC, Credit Suisse Securities (USA) LLC and J.P. Morgan Securities LLC will act as lead book-running managers and as representatives of the underwriters for the proposed offering. BNP Paribas Securities Corp., HSBC Securities (USA) Inc., Nomura Securities International, Inc., WR Securities, LLC and RBC Capital Markets, LLC will also be book-running managers. Robert W. Baird & Co. Incorporated will act as co-manager for the proposed offering. 
VinFast VF 8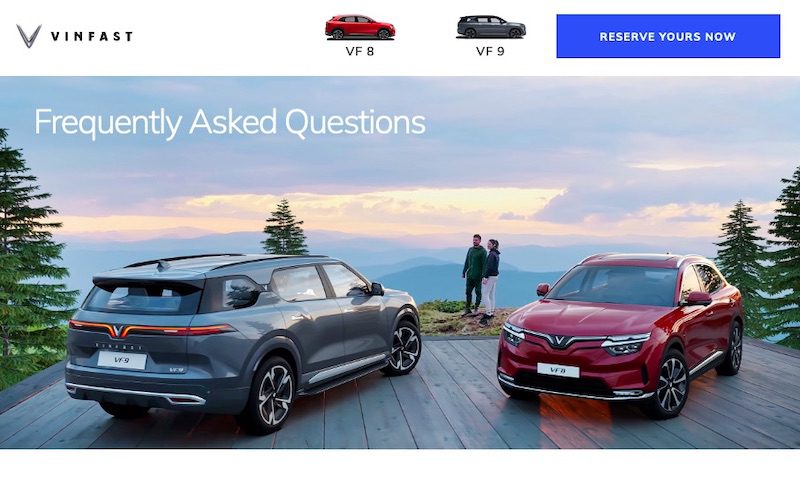 The VinFast VF 8 is a 5-seater electric SUV in the D segment with overall length, width, and height dimensions of 4,750 mm x 1,934 mm x 1,667 mm, respectively. Vehicles are equipped with advanced driver assistance system (ADAS), including a series of advanced features that will be added and updated regularly, such as highway assist, automated lane changing assist, smart parking assist, smart summon mode, remote parking assist, and many more. In addition, a suite of Smart Services with integrated in-car entertainment and utility features such as vehicle voice control, remote vehicle management via the VinFast application, online shopping, playing video games on the car screen that sync passenger phones, and much more to bring an immersive experience to users.
The VF 8 has two trims, Eco and Plus. The VF 8 Eco version is equipped with an electric motor with a maximum power of 260kW, a maximum torque of 500Nm, and a battery with a target full-charge range estimate of 420km (WLTP standard). The VF 8 Plus version is equipped with an electric motor with a maximum power of 300kW, a maximum torque of 620Nm, and a battery with a target full-charge range estimate of 400km (WLTP standard). The absolute advantage of an electric motor over an internal combustion engine is its ability to instantly achieve maximum torque, which helps the VinFast VF 8 accelerate impressively, operate smoothly, and bring a completely different driving experience.
About VinFast
VinFast – a member of Vingroup – envisioned to drive the movement of global smart electric vehicle revolution. Established in 2017, VinFast owns a state-of-the-art automotive manufacturing complex with globally leading scalability that boasts up to 90% automation in Hai Phong, Vietnam. Strongly committed to the mission for a sustainable future for everyone, VinFast constantly innovates to bring high-quality products, advanced smart services, seamless customer experiences, and pricing strategy for all to inspire global customers to jointly create a future of smart mobility and a sustainable planet. Learn more at: https://vinfastauto.com.
About Vingroup
Established in 1993, Vingroup is one of the leading private conglomerates in the region, with a total capitalization of $35 billion USD from three publicly traded companies (as of November 4, 2021). Vingroup currently focuses on three main areas: Technology and Industry, Services and Social Enterprise. Find out more at: https://www.vingroup.net/en.
Quick Links
2021 Data Release
2020 List of Private Banks in Hong Kong
2020 List of Private Banks in Singapore
2020 Top 10 Largest Family Office
2020 Top 10 Largest Multi-Family Offices
2020 Report: Hong Kong Private Banks & Asset Mgmt - $4.49 Trillion
2020 Report: Singapore Asset Mgmt - $3.48 Trillion AUM
For Investors | Professionals | Executives
Latest data, reports, insights, news, events & programs Everyday at 2 pm Direct to your inbox Save 2 to 8 hours per week. Organised for success
Register Below
---
Caproasia Users
Manage $20 million to $3 billion of assets
Invest $3 million to $300 million
Advise institutions, billionaires, UHNWs & HNWs
Caproasia Platforms | 10,000 Investors & Advisors
Monthly Roundtable & Networking
Family Office Programs
The 2023 Investment Day
28th March 2023 - Hong Kong
4th April 2023 - Singapore
April 2023 - Virtual
Sept 2023 - Hong Kong
Oct 2023 - Singapore
Oct 2023 - Hong Kong
Visit: The Investment Day | Register: Click here
Caproasia Summits
Contact Us
For Enquiries, Membership mail@caproasia.com, angel@caproasia.com For Listing, Subscription mail@caproasia.com, claire@caproasia.com For Press Release, send to: press@caproasia.com For Events & Webinars events@caproasia.com For Media Kit, Advertising, Sponsorships, Partnerships angel@caproasia.com For Research, Data, Surveys, Reports research@caproasia.com For General Enquiries mail@caproasia.com
---
Make Better Business & Investment Decisions
For CEOs, Heads, Senior Management, Market Heads, Desk Heads, Financial Professionals, Investment Managers, Asset Managers, Fund Managers, Hedge Funds, Boutique Funds, Analysts, Advisors, Wealth Managers, Private Bankers, Family Offices, Investment Bankers, Private Equity, Institutional Investors, Professional Investors
Get Ahead in 60 Seconds. Join 10,000 +
Save 2 to 8 hours weekly. Organised for Success.
Sign Up / Register
Caproasia | Driving the future of Asia a financial information technology co. since 2014
Web links may be disabled on mobile for security. Please click on desktop.



---