---
IMF Head Kristalina Georgieva: We Expect One Third of the World Economy to be in Recession
5th January 2023 | Hong Kong
Expert Comment – International Monetary Fund (IMF) Chief & Managing Director Kristalina Georgieva on global economy in 2023: "We expect one third of the world economy to be in recession.  And yes, as you said, even countries that are not in recession, it would feel like recession for hundreds of millions of people …  … Half of the European Union will be in recession next year.  China is going to slow down this year further. Next year will be a tough year for China.  And that translates into negative trends globally. When we look at the emerging markets in developing economies, there, the picture is even direr. Why? Because on top of everything else, they get hit by high interest rates and by the appreciation of the dollar. For those economies that have high level of that, this is a devastation."  The comments was made by IMF Head & Managing Director Kristalina Georgieva during an interview on aired on CBS News (1/1/23).  Read the full transcript here
- Article continues below -
" We Expect One Third of the World Economy to be in Recession "
IMF Managing Director Kristalina Georgieva on "Face the Nation"
IMF Head Kristalina Georgieva Warns of Greater Global Instability, Aggressive Central Banks Tightening Will Trigger Prolonged Economic Downturn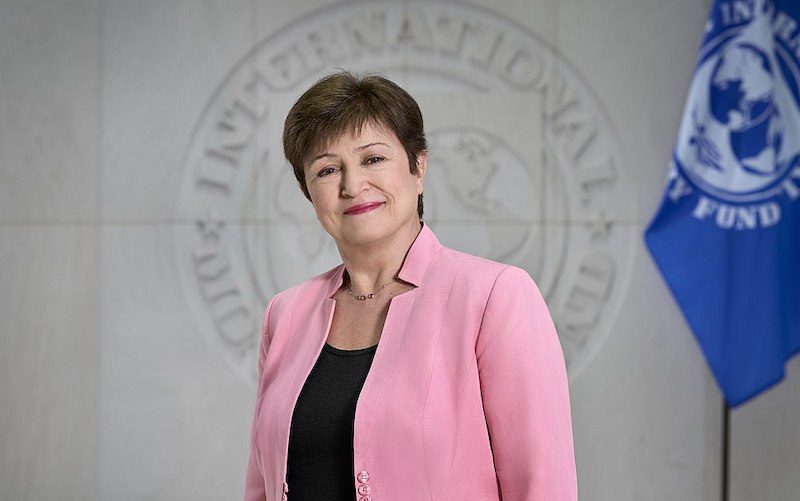 7th October 2022 | International Monetary Fund (IMF) Head Kristalina Georgieva has warned of greater global instability, and aggressive central banks tightening will trigger a prolonged economic downturn.  IMF Head Head Kristalina Georgieva: "The world faces growing recession risks and a fundamental shift away from relative stability to an age of breakdown in international relations and more frequent natural disasters … … if central banks move too aggressively to tamp down price pressures, it could trigger a prolonged economic downturn."
Kristalina Georgieva, IMF Managing Director
Kristalina Georgieva currently serves as Managing Director of the International Monetary Fund, a position she was selected for on September 25, 2019 and has served as since October 1, 2019.  Before joining the IMF, Ms. Georgieva was CEO of the World Bank from January 2017 to September 2019, during which time she also served as Interim President of the World Bank Group for three months.
Previously, Ms. Georgieva helped shape the agenda of the European Union while serving as European Commission Vice President for Budget and Human Resources. In this capacity she oversaw the EU's €161 billion (US $175bn) budget and 33,000 staff, as well as the EU's response to the Euro Area debt crisis and the 2015 refugee crisis. Before that, she was Commissioner for International Cooperation, Humanitarian Aid and Crisis Response, managing one of the world's largest humanitarian aid budgets.
Ms. Georgieva began her career in public service at the World Bank as an environmental economist in 1993. After serving for 17 years, and in many senior positions, including Director for Sustainable Development, Director for the Russian Federation, Director for Environment, and Director for Environment and Social Development for the East Asia and Pacific Region, her career culminated in her appointment as Vice President and Corporate Secretary in 2008. In this role, she served as the interlocutor between the World Bank Group's senior management, its Board of Directors, and its shareholder countries.
Ms. Georgieva serves on many international panels including as co-Chair of the Global Commission on Adaptation, and as co-chair of the United Nations Secretary-General's High-Level Panel on Humanitarian Financing. She has authored and co-authored over 100 publications on environmental and economic policy, including textbooks on macro- and microeconomics.
Born in Sofia, Bulgaria, in 1953, Ms. Georgieva holds a Ph.D in Economic Science and a M.A. in Political Economy and Sociology from the University of National and World Economy, Sofia, where she was an Associate Professor between 1977 and 1993. During her academic career, she was visiting fellow at the London School of Economics and at the Massachusetts Institute of Technology.
In 2010, she was named "European of the Year" and "Commissioner of the Year" by European Voice in recognition for her leadership in the EU's response to humanitarian crises. In October 2020, she received the Atlantic Council's Distinguished International Leadership Award in acknowledgement of exceptional and distinctive contributions during her career of public service.
Managing $20 million to $3 billion. Investing $3 million to $300 million.
For Investment Managers, Hedge Funds, Boutique Funds, Private Equity, Venture Capital, Professional Investors, Family Offices, Private Bankers & Advisors, sign up today. Subscribe to Caproasia and receive the latest news, data, insights & reports, events & programs daily at 2 pm.
Join Events & Find Services
Join Investments, Private Wealth, Family Office events in Hong Kong, Singapore, Asia-wide. Find hard-to-find $3 million to $300 million financial & investment services at The Financial Centre | TFC. Find financial, investment, private wealth, family office, real estate, luxury investments, citizenship, law firms & more.  List hard-to-find financial & private wealth services. Have a product launch? Promote a product or service? List your service at The Financial Centre | TFC. Join interviews & editorial and be featured on Caproasia.com or join Investments, Private Wealth, Family Office events. Contact us at
[email protected]
or
[email protected]
Caproasia.com
| The leading source of data, research, information & resource for financial professionals, investment managers, professional investors, family offices & advisors to institutions, billionaires, UHNWs & HNWs. Covering capital markets, investments and private wealth in Asia. How do you invest $3 million to $300 million? How do you manage $20 million to $3 billion of assets?
Quick Links
2021 Data Release
2020 List of Private Banks in Hong Kong
2020 List of Private Banks in Singapore
2020 Top 10 Largest Family Office
2020 Top 10 Largest Multi-Family Offices
2020 Report: Hong Kong Private Banks & Asset Mgmt - $4.49 Trillion
2020 Report: Singapore Asset Mgmt - $3.48 Trillion AUM
For Investors | Professionals | Executives
Latest data, reports, insights, news, events & programs Everyday at 2 pm Direct to your inbox Save 2 to 8 hours per week. Organised for success
Register Below
For CEOs, Heads, Senior Management, Market Heads, Desk Heads, Financial Professionals, Investment Managers, Asset Managers, Fund Managers, Hedge Funds, Boutique Funds, Analysts, Advisors, Wealth Managers, Private Bankers, Family Offices, Investment Bankers, Private Equity, Institutional Investors, Professional Investors
Get Ahead in 60 Seconds. Join 10,000 +
Save 2 to 8 hours weekly. Organised for Success.
Sign Up / Register
Web links may be disabled on mobile for security. Please click on desktop.



---
Caproasia Users
Manage $20 million to $3 billion of assets
Invest $3 million to $300 million
Advise institutions, billionaires, UHNWs & HNWs
Caproasia Platforms | 10,000 Investors & Advisors
Monthly Roundtable & Networking
Family Office Programs
The 2023 Investment Day
28th March 2023 - Hong Kong
4th April 2023 - Singapore
April 2023 - Virtual
6th June 2023 - Hong Kong
13th June 2023 - Singapore
Sept 2023 - Hong Kong
Oct 2023 - Singapore
Oct 2023 - Hong Kong
Visit: The Investment Day | Register: Click here
Caproasia Summits
Contact Us
For Enquiries, Membership
[email protected]
,
[email protected]
For Listing, Subscription
[email protected]
,
[email protected]
For Press Release, send to:
[email protected]
For Events & Webinars
[email protected]
For Media Kit, Advertising, Sponsorships, Partnerships
[email protected]
For Research, Data, Surveys, Reports
[email protected]
For General Enquiries
[email protected]
---
Caproasia | Driving the future of Asia a financial information technology co. since 2014
---