---
$1 Trillion Asset Manager Natixis Investment Managers Appoints APAC Head Fabrice Chemouny as Head of International Distribution, Christophe Lanne Takes on Additional Global Roles in International Distribution & Natixis IM Solutions
19th January 2023 | Hong Kong
Natixis Investment Managers, the Paris & Boston headquartered asset manager with over $1 trillion AUM (Assets under Management), has appointed APAC Head Fabrice Chemouny as Natixis Investment Managers Head of International Distribution, and Chief Administration Officer for Asset & Wealth Management Christophe Lanne taking on additional global roles in International Distribution & Natixis IM Solutions.  Natixis Investment Managers: "Fabrice Chemouny and Christophe Lanne will both report to Tim Ryan, Head of Asset & Wealth Management within Groupe BPCE's Global Financial Services and will continue to serve on the Management Committee of Asset & Wealth Management."  Tim Ryan, Head of Asset & Wealth Management within Groupe BPCE's Global Financial Services: "We remain committed to becoming the most client-centric asset and wealth manager, delivering the best experience for our clients throughout their investment journey. Fabrice and Christophe bring their robust experience and expertise to Natixis Investment Managers' commercial development and operational excellence, in the benefits of our clients."
" $1 Trillion Asset Manager Natixis Investment Managers Appoints APAC Head Fabrice Chemouny as Head of International Distribution, Christophe Lanne Takes on Additional Global Roles in International Distribution & Natixis IM Solutions "
- Article continues below - Web links may be disabled on mobile for security. Please click on desktop.
Tim Ryan, Head of Asset & Wealth Management within Groupe BPCE's Global Financial Services: "We remain committed to becoming the most client-centric asset and wealth manager, delivering the best experience for our clients throughout their investment journey. Fabrice and Christophe bring their robust experience and expertise to Natixis Investment Managers' commercial development and operational excellence, in the benefits of our clients."
Natixis Investment Managers Head of International Distribution, Fabrice Chemouny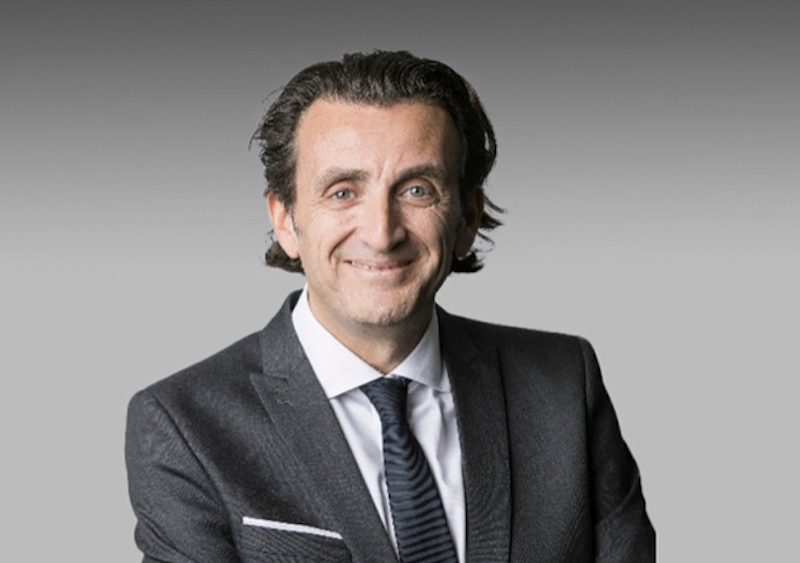 Fabrice Chemouny joined Natixis from CDC IXIS Group in 2000 as Senior Analyst in the Strategy Department. In 2003, Fabrice was appointed Executive Vice President, Head of International Strategy & Marketing at Natixis Investment Managers before becoming Head of Business Development and Affiliate Coordination. He was then appointed Executive Vice President, Global Head of Institutional Sales. In 2017, Fabrice became Head of Asia Pacific for Natixis Investment Managers. 
Christophe Lanne began his career in 1990 with Banque Indosuez (now Crédit Agricole Corporate and Investment Bank) in the General Inspection department. In 1995, he first joined Global Markets in Paris, and later was named Head of Global Markets activities for the London platform. After holding several senior positions in Paris, in 2002 he became CEO of Crédit Agricole Indosuez Securities Japan and Head of Global Markets. Christophe joined Credit Suisse in 2005 as Managing Director and COO for France. He joined Natixis in 2010 as COO for Corporate & Investment Banking. He became Chief Risk Officer for Natixis in 2015, before joining Asset & Wealth Management in 2018 as Chief Transformation & Talent Officer and was appointed Chief Administration Officer in 2021.
About Natixis Investment Managers
Natixis Investment Managers' multi-affiliate approach connects clients to the independent thinking and focused expertise of more than 20 active managers. Ranked among the world's largest asset managers with more than $1 trillion assets under management (€1 trillion), Natixis Investment Managers delivers a diverse range of solutions across asset classes, styles, and vehicles, including innovative environmental, social, and governance (ESG) strategies and products dedicated to advancing sustainable finance. The firm partners with clients in order to understand their unique needs and provide insights and investment solutions tailored to their long-term goals.
Headquartered in Paris and Boston, Natixis Investment Managers is part of the Global Financial Services division of Groupe BPCE, the second-largest banking group in France through the Banque Populaire and Caisse d'Epargne retail networks. Natixis Investment Managers' affiliated investment management firms include AEW; AlphaSimplex Group; DNCA Investments; Dorval Asset Management; Flexstone Partners; Gateway Investment Advisers; Harris Associates; Investors Mutual Limited; Loomis, Sayles & Company; Mirova; MV Credit; Naxicap Partners; Ossiam; Ostrum Asset Management; Seventure Partners; Thematics Asset Management; Vauban Infrastructure Partners; Vaughan Nelson Investment Management; and WCM Investment Management. Additionally, investment solutions are offered through Natixis Investment Managers Solutions and Natixis Advisors, LLC. Not all offerings are available in all jurisdictions.
Quick Links
2021 Data Release
2020 List of Private Banks in Hong Kong
2020 List of Private Banks in Singapore
2020 Top 10 Largest Family Office
2020 Top 10 Largest Multi-Family Offices
2020 Report: Hong Kong Private Banks & Asset Mgmt - $4.49 Trillion
2020 Report: Singapore Asset Mgmt - $3.48 Trillion AUM
For Investors | Professionals | Executives
Latest data, reports, insights, news, events & programs Everyday at 2 pm Direct to your inbox Save 2 to 8 hours per week. Organised for success
Register Below
---
Caproasia Users
Manage $20 million to $3 billion of assets
Invest $3 million to $300 million
Advise institutions, billionaires, UHNWs & HNWs
Caproasia Platforms | 10,000 Investors & Advisors
Monthly Roundtable & Networking
Family Office Programs
The 2023 Investment Day
28th March 2023 - Hong Kong
4th April 2023 - Singapore
April 2023 - Virtual
Sept 2023 - Hong Kong
Oct 2023 - Singapore
Oct 2023 - Hong Kong
Visit: The Investment Day | Register: Click here
Caproasia Summits
Contact Us
For Enquiries, Membership mail@caproasia.com, angel@caproasia.com For Listing, Subscription mail@caproasia.com, claire@caproasia.com For Press Release, send to: press@caproasia.com For Events & Webinars events@caproasia.com For Media Kit, Advertising, Sponsorships, Partnerships angel@caproasia.com For Research, Data, Surveys, Reports research@caproasia.com For General Enquiries mail@caproasia.com
---
Make Better Business & Investment Decisions
For CEOs, Heads, Senior Management, Market Heads, Desk Heads, Financial Professionals, Investment Managers, Asset Managers, Fund Managers, Hedge Funds, Boutique Funds, Analysts, Advisors, Wealth Managers, Private Bankers, Family Offices, Investment Bankers, Private Equity, Institutional Investors, Professional Investors
Get Ahead in 60 Seconds. Join 10,000 +
Save 2 to 8 hours weekly. Organised for Success.
Sign Up / Register
Caproasia | Driving the future of Asia a financial information technology co. since 2014
Web links may be disabled on mobile for security. Please click on desktop.



---