---
Leading Artificial Intelligence Computing & Chip-Maker NVIDIA Market Value at $963 Billion with +172% YTD, Co-Founder & CEO Jensen Huang Personal Fortune at $35 Billion
27th May 2023 | Hong Kong
The world's leading Artificial Intelligence (AI) computing & chip-maker NVIDIA market capitalization has increased to $963 billion (26/5/23: +172% year-to-date), and NVIDIA co-founder & CEO Jensen Huang personal fortune is now estimated at $35 billion.  Jenson Huang was born in Taiwan (1963) and migrated to the United States at the age of 9, graduating from Oregon State University in 1984 (Bachelor in Electrical Engineering) and Stanford University in 1992 (Masters in Electrical Engineering).  He was a Director at LSI Logic and Microprocessor designer at AMD (Advanced Micro Devices).  In 1993, Jensen Huang, Curtis Priem & Chris Malachowsky co-founded NVIDIA, producing graphics processing units (GPU).  In 1999, NVIDIA IPO on Nasdaq (Initial Public Offering).   NVIDIA was incorporated in California in April 1993 and reincorporated in Delaware in April 1998.  Jensen Huang wife is Lori Huang (Oregon State University) and have 2 children. 
" Leading Artificial Intelligence Computing & Chip-Maker NVIDIA Market Value at $963 Billion with +172% YTD, Founder & CEO Jensen Huang Personal Fortune at $35 Billion "
- Article continues below -
NVIDIA Co-Founder, President & CEO Jensen Huang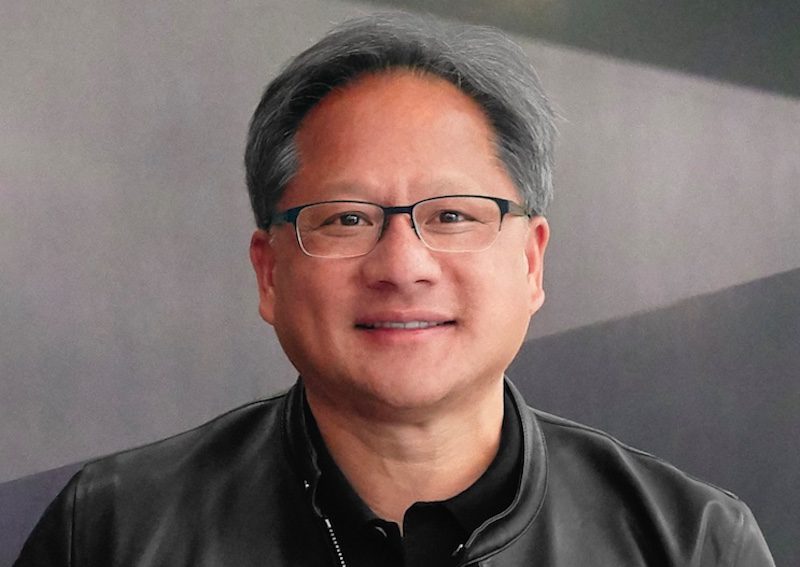 Jensen Huang founded NVIDIA in 1993 and has served since its inception as president, chief executive officer and a member of the board of directors.  Starting out in PC graphics, NVIDIA helped build the gaming market into the largest entertainment industry in the world today. The company's invention of the GPU in 1999 made possible real-time programmable shading, which defines modern computer graphics, and later revolutionized parallel computing. More recently, GPU deep learning ignited modern AI — the next era of computing — with the GPU acting as the brain of computers, robots and self-driving cars that can perceive and understand the world.
Huang is a recipient of the Semiconductor Industry Association's highest honor, the Robert N. Noyce Award; IEEE Founder's Medal; the Dr. Morris Chang Exemplary Leadership Award; and honorary doctorate degrees from Taiwan's National Chiao Tung University, National Taiwan University, and Oregon State University. He has been named the world's best CEO by Harvard Business Review and Brand Finance, as well as Fortune's Businessperson of the Year and one of TIME magazine's 100 most influential people.  Prior to founding NVIDIA, Huang worked at LSI Logic and Advanced Micro Devices. He holds a BSEE degree from Oregon State University and an MSEE degree from Stanford University.
About NVIDIA 
Since its founding in 1993, NVIDIA (NASDAQ: NVDA) has been a pioneer in accelerated computing. The company's invention of the GPU in 1999 sparked the growth of the PC gaming market, redefined computer graphics, ignited the era of modern AI and is fueling the creation of the industrial metaverse. NVIDIA is now a full-stack computing company with data-center-scale offerings that are reshaping industry. 
Managing $20 million to $3 billion. Investing $3 million to $300 million.
For Investment Managers, Hedge Funds, Boutique Funds, Private Equity, Venture Capital, Professional Investors, Family Offices, Private Bankers & Advisors, sign up today. Subscribe to Caproasia and receive the latest news, data, insights & reports, events & programs daily at 2 pm.
Join Events & Find Services
Join Investments, Private Wealth, Family Office events in Hong Kong, Singapore, Asia-wide. Find hard-to-find $3 million to $300 million financial & investment services at The Financial Centre | TFC. Find financial, investment, private wealth, family office, real estate, luxury investments, citizenship, law firms & more.  List hard-to-find financial & private wealth services. Have a product launch? Promote a product or service? List your service at The Financial Centre | TFC. Join interviews & editorial and be featured on Caproasia.com or join Investments, Private Wealth, Family Office events. Contact us at
[email protected]
or
[email protected]
Caproasia.com
| The leading source of data, research, information & resource for financial professionals, investment managers, professional investors, family offices & advisors to institutions, billionaires, UHNWs & HNWs. Covering capital markets, investments and private wealth in Asia. How do you invest $3 million to $300 million? How do you manage $20 million to $3 billion of assets?
Quick Links
2021 Data Release
2020 List of Private Banks in Hong Kong
2020 List of Private Banks in Singapore
2020 Top 10 Largest Family Office
2020 Top 10 Largest Multi-Family Offices
2020 Report: Hong Kong Private Banks & Asset Mgmt - $4.49 Trillion
2020 Report: Singapore Asset Mgmt - $3.48 Trillion AUM
For Investors | Professionals | Executives
Latest data, reports, insights, news, events & programs Everyday at 2 pm Direct to your inbox Save 2 to 8 hours per week. Organised for success
Register Below
For CEOs, Heads, Senior Management, Market Heads, Desk Heads, Financial Professionals, Investment Managers, Asset Managers, Fund Managers, Hedge Funds, Boutique Funds, Analysts, Advisors, Wealth Managers, Private Bankers, Family Offices, Investment Bankers, Private Equity, Institutional Investors, Professional Investors
Get Ahead in 60 Seconds. Join 10,000 +
Save 2 to 8 hours weekly. Organised for Success.
Sign Up / Register
Web links may be disabled on mobile for security. Please click on desktop.



---
Caproasia Users
Manage $20 million to $3 billion of assets
Invest $3 million to $300 million
Advise institutions, billionaires, UHNWs & HNWs
Caproasia Platforms | 10,000 Investors & Advisors
Monthly Roundtable & Networking
Family Office Programs
The 2023 Investment Day
28th March 2023 - Hong Kong
4th April 2023 - Singapore
April 2023 - Virtual
6th June 2023 - Hong Kong
13th June 2023 - Singapore
Sept 2023 - Hong Kong
Oct 2023 - Singapore
Oct 2023 - Hong Kong
Visit: The Investment Day | Register: Click here
Caproasia Summits
Contact Us
For Enquiries, Membership
[email protected]
,
[email protected]
For Listing, Subscription
[email protected]
,
[email protected]
For Press Release, send to:
[email protected]
For Events & Webinars
[email protected]
For Media Kit, Advertising, Sponsorships, Partnerships
[email protected]
For Research, Data, Surveys, Reports
[email protected]
For General Enquiries
[email protected]
---
Caproasia | Driving the future of Asia a financial information technology co. since 2014
---