---
Hong Kong Chief Executive John Lee 2023 Policy Address: Reduce Stamp Duty on Stock Transfer from 0.13% to 0.1%, Strengthen Offshore RMB Business, Deepen Cooperation in Greater Bay Area, New Platform for Fund Distribution in 2024, Develop Green & Sustainable Finance, Attract Companies to Re-domicile in Hong Kong, Investment Migration Residence Program with Minimum $3.8 Million Investment via Capital Investment Entrance Scheme with Investments in Local Asset Market Excluding Properties
28th October 2023 | Hong Kong
Hong Kong Chief Executive John Lee 2023 Policy Address on financial sector: 1) Reduce stamp duty on stock transfer from 0.13% to 0.1% by end of November, 2) Strengthen offshore RMB business 3) Deepen cooperation in Greater Bay Area, 4) New platform for fund distribution in 2024 5) Develop green & sustainable finance 6) Attract companies to re-domicile in Hong Kong 7) Investment migration residence program with minimum $3.8 million investment (HKD 30 million) via Capital Investment Entrance Scheme with investments in local asset market excluding properties (Details to be released at the end of 2023).  See below for extracted foreword & key address on the financial sector | View Hong Kong Chief Executive 2023 Policy Address here
" Reduce Stamp Duty on Stock Transfer from 0.13% to 0.1%, Strengthen Offshore RMB Business, Deepen Cooperation in Greater Bay Area, New Platform for Fund Distribution in 2024, Develop Green & Sustainable Finance, Attract Companies to Re-domicile in Hong Kong, Investment Migration Residence Program with Minimum $3.8 Million Investment via Capital Investment Entrance Scheme with Investments in Local Asset Market Excluding Properties "
- Article continues below -
Hong Kong Chief Executive John Lee 2023 Policy Address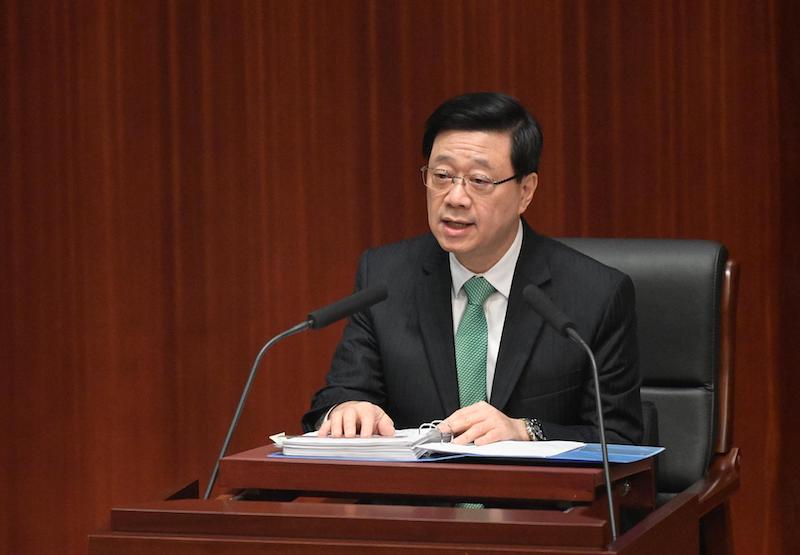 Attract and Retain Talents
implement the Capital Investment Entrant Scheme – Under the scheme, eligible investors who make investments of $30 million or above in assets such as stocks, funds, bonds, etc. (excluding real estate) can apply for entry into Hong Kong. This will strengthen the development of our asset and wealth management business, financial services and related professional services. Details of the scheme will be announced by the end of this year
International Financial Centre
70. Hong Kong is a leading international financial centre. It is also a global offshore Renminbi (RMB) business hub, an international asset management centre and a risk management centre. We will capitalise and unleash our advantages. 
Strengthen the Competitiveness of the Stock Market
71. A vibrant stock market is vital for upholding Hong Kong's status as an international financial centre and maintaining our competitiveness. The Task Force on Enhancing Stock Market Liquidity has submitted its report. I have accepted the Task Force's recommendations, and will implement the following: 
(i)  reduce stamp duty on stock transfer – We will reduce the rate of Stamp Duty on Stock Transfer from the current 0.13% to 0.1% of the consideration or value of each transaction payable by buyers and sellers respectively. The target is to complete the legislative procedures by the end of November;
(ii)  review stock trading spread – The HKEX and the financial regulators will review and explore reducing the minimum trading spreads to facilitate the market prices of those liquid but spread‐constrained stocks to better reflect market circumstances and reduce bid‐ask spreads. The HKEX will consult the market on the specific measures in the second quarter of next year;
(iii)  reduce market data fees – The HKEX will provide fixed fee enterprise data packages, and review the fee structure of its real‐time data services so as to facilitate investors obtaining real‐time market data and reduce relevant costs. The new fee structure will be implemented later this year;
(iv)  reform GEM – The HKEX has put forward its recommendations on GEM (formerly known as the Growth Enterprise Market) reform and commenced consultation. It has proposed to streamline the transfer mechanism to the Main Board and add a new listing route for R&D‐focused companies, among other proposals. After considering public views, the HKEX plans to implement the revised Listing Rules in the first quarter of next year; and
(v)  continue to promote stock market development – As for the other recommendations from the Task Force for enhancing the competitiveness of the stock market and promoting its sustainable development, including promoting the listing of overseas issuers, facilitating share repurchase by issuers, maintaining trading under severe weather, improving transaction mechanism, strengthening market promotion etc., as well as those on future directions for continuous market enhancement, I have asked the Securities and Futures Commission to work with the HKEX closely to comprehensively examine how to implement the recommendations. 
Other Measures to Reinforce the Competitiveness as the Financial Centre
72. We will strengthen the connection with domestic and overseas investors and markets to forge an innovative and diversified financial market. We will also seek to deepen mutual access with the Mainland financial market. Measures include the following: 
(i)  strengthen the offshore RMB business – The Government will continue to press ahead with the inclusion of RMB counters under the Southbound Trading of Stock Connect to facilitate the trading of Hong Kong stocks in RMB. We will take forward the introduction of offshore Mainland government bond futures and enrich the variety of RMB investment products, with a view to strengthening Hong Kong's position as an offshore RMB centre;
(ii)  deepen financial co‐operation in the GBA – We will take advantage of the financial reform and innovation measures in the Qianhai Co‐operation Zone to expand the businesses of Hong Kong financial institutions in Qianhai. Relevant measures include facilitating Hong Kong's limited partnership funds to be qualified under the Qianhai Qualified Foreign Limited Partnerships (QFLP) to participate in private equity investment in the Mainland; and co‐establishing the Shenzhen‐Hong Kong Financial Co‐operation Committee with the Shenzhen authorities in the first half of 2024. The committee will advise and offer suggestions in respect of bolstering mutual access to the financial markets, co‐operation on financial technologies (Fintech) and green finance, and exchange of financial talents;
(iii)  establish a new platform to expand fund distribution – We will establish a new integrated fund platform within next year to expand Hong Kong's fund distribution network, enhance market efficiency and lower transaction costs; and
(iv)  promote the development of green and sustainable finance in Hong Kong – Drawing on the successful experience in the implementation of the Fintech Proof‐of‐Concept Subsidy Scheme over the past two years, we will launch a dedicated proof‐of‐concept subsidy scheme for green Fintech in the first half of 2024. The new scheme will promote the development of technological solutions and provide early‐stage funding support for pre‐commercialised green Fintech, conducive to expanding the green Fintech ecosystem and developing Hong Kong into a green Fintech hub.
Hong Kong Chief Executive John Lee 2023 Policy Address
Foreword
1. This is my second Policy Address as your Chief Executive. In putting pen to paper for the 2023 Policy Address, I pondered what measures implemented over the past year have been most well‐received by our community. I contemplated, too, which areas we should deepen and what new areas and development directions we should pursue. Throughout the process, I felt the weight of my responsibilities on my shoulders.
2. Since I took office, I have led the Government to embrace a result‐oriented culture, building an administration with the focus on actions and delivery of results, as well as strengthening our co‐operation and team spirit.
3. Over the past year, we have led Hong Kong out of the pandemic, with society returning to full normalcy. We have enhanced governance on various fronts, strengthening co‐ordination and improving the civil service management system. We have formulated strategies to tackle the issues of intergenerational poverty, district environmental hygiene, land and housing supply, etc., and we have attained the targeted outcomes. We have rendered support and help to the elderly and the disadvantaged, established Care Teams, enhanced the Elderly Health Care Voucher Scheme and strengthened public hospital services. We have devised an improved district governance system, and promulgated the Youth Development Blueprint, the Hong Kong Innovation and Technology Development Blueprint and the Primary Healthcare Blueprint. We have enhanced the talent admission schemes and have been creating strong impetus for growth through more proactive integration into our country's development and expansion of international co‐operation. These, and other, efforts have yielded some positive results, but I feel that much more can be done and achieved. Blessed with the strong support of our country and the close connection to the world, Hong Kong is the only world‐class city that can capitalise on both the China advantage and the international advantage.
4. In preparing for this Policy Address, I have conducted more than 40 consultation sessions and visited numerous districts over the past three months to gather views from members of the public. I am thankful for their valuable suggestions and grateful for the general recognition of my policy directions and strategies in the community. This Policy Address comprises measures consolidating work introduced over the past year – areas in which we need to delve deeper and wider – as well as new fields and directions we should pursue. It carries my vision and my pledge for the future of Hong Kong. It is a Policy Address for each and every one of us.
Challenges and Opportunities
5. Our governing tenets are to uphold "One Country, Two Systems", strengthen the economy and improve people's livelihoods. Our policy directions are to sharpen our edge and grasp the opportunities, while addressing our shortcomings and any potential risks. Our policy objectives are to make Hong Kong a better place for all – for people to enjoy a better living environment, students to receive quality education, young people to fully realise their potential, and the elderly to be well taken care of. We aspire to create a cohesive and caring community, with a vibrant economy where everyone can enjoy life.
6. This year, Hong Kong came out of the pandemic with strength. The Government has launched a host of campaigns and measures, including "Hello Hong Kong", "Happy Hong Kong" and "Night Vibes Hong Kong", to attract visitors and boost local consumption. The economy is recovering and people's incomes are improving. The real Gross Domestic Product (GDP) in the first half of the year saw a 2.2% increase, year‐on‐year, and the latest unemployment rate dropped to 2.8%, reflecting nearly full employment. The economy is set to reverse last year's negative results and resume growth this year.
7. Inbound tourism and local consumption have been the key drivers of our economic recovery. Average daily visitor arrivals are steadily rising, and reached nearly 70% of the level over the same period in 2018 this summer. Private consumption expenditure grew by 8.2%, year‐on‐year, in real terms in the second quarter, and total value of retail sales increased by more than 15%, year‐on‐year, in July and August, resuming to 85% of the level over the same period in 2018. As the aviation and related sectors gradually resume handling capacity, the number of visitor arrivals is expected to increase. The improvement of the economy and the labour market, alongside measures launched by the Government to sustain economic recovery, will boost private consumption.
8. Nevertheless, the external environment remains challenging. The world is undergoing unprecedented changes. Coupled with the successive interest rate hikes of advanced economies, designed to tame high inflation, the outlook of the global economy has been undermined, putting pressure on Hong Kong's economy. Our total goods exports and our investment and assets markets have been negatively impacted. At the same time, we face keen competition from other economies, while tackling internal challenges such as our ageing population and manpower shortage.
9. Despite the near‐term challenges, abundant opportunities and our advantages remain. I will lead Hong Kong to grasp these opportunities and capitalise on our advantages, and develop new areas of growth. Hong Kong's future will be as bright, energetic, competitive and prosperous as ever.
10. The global economic shift to the east will continue, and Asia will remain an important driver of global economic growth. Steady growth – and well above the global average – is forecast for the Mainland economy this year and next. This will create continuing opportunities for Hong Kong.
11. The Central People's Government has rendered firm support to Hong Kong for our economic development to fully capitalise on our distinctive advantages under the "One Country, Two Systems" principle. We must fully leverage these advantages. That means proactively integrating into our country's development, serving well as the hub connecting the domestic and global markets, participating in and promoting such national strategies as the Guangdong‐Hong Kong‐Macao Greater Bay Area (GBA) and the Belt and Road (B&R) Initiative. It also means making good use of the Closer Economic Partnership Arrangement (CEPA) and related measures, while realising Hong Kong's development of "eight centres" as outlined in the 14th Five‐Year Plan. Given our country's pursuit of high‐quality development and market expansion, these, and other initiatives, present unlimited, long‐term promise for Hong Kong.
12. Hong Kong must sustain and reinforce its distinctive advantages as a global city. We must maintain our international reputation, strengthen regional collaborations, pursue the markets of the Association of Southeast Asian Nations (ASEAN) and the Middle East etc., and strive for early accession to the Regional Comprehensive Economic Partnership (RCEP), giving full play to our role as the bridge between the Mainland and the rest of the world.
13. The Government will continue to trawl for talents and retain talents. We will also nurture local talents, strengthen labour training and enhance the productivity of our workers. The Government will step up efforts to promote tourism development, boost local consumption and improve the liquidity and investment sentiment of the asset markets, creating a wealth effect and propelling economic growth. We will continue to be proactive in competing for enterprises, attracting companies and investment to Hong Kong, diversifying our economy and supporting small and medium enterprises (SMEs).
14. We will reinforce the strengths of such traditional sectors as finance, trading, logistics, shipping and professional services. We will, as well, explore new growth potential with industry‐oriented approach, developing such emerging strategic areas as innovation and technology (I&T), creative industries, pharmaceutical research and development (R&D), Chinese medicine and new energy transport.
15. In the medium to long term, the Government will reinforce Hong Kong's competitive edge, with the Northern Metropolis as the new engine for growth and the industry‐oriented approach as our policy priority. We will boost the economy and drive growth through infrastructural creation, moving ahead with land and transport development projects to expand Hong Kong's economic capacity.
16. President Xi Jinping, speaking last year at the 25th anniversary of the Hong Kong SAR, put forward "four musts" and "four proposals" for this administration, and said that "Hong Kong will prosper only when its young people thrive". I will continue to take heed of his advice as the basis of my governance blueprint. This will, I am confident, lead Hong Kong to new heights as an economy and a community.
Continue to Create Strong Impetus for Growth Raise Competitiveness
50. The measures we launched last year to attract enterprises, investment and talents have generated positive results. On the trawl for talents, we have attracted about 160 000 applications, among which over 100 000 have been approved and around 60 000 talents have already arrived at Hong Kong as at end‐September.
51. On our efforts to attract enterprises, the Office for Attracting Strategic Enterprises (OASES) has reached out to over 200 strategic enterprises, of which 30 are planning to establish their foothold or expand their operations in Hong Kong. A total of about $30 billion of new investment is involved, with around 10 000 employment opportunities expected to be created. In the first nine months of this year, Invest Hong Kong (InvestHK) assisted over 300 Mainland and overseas enterprises in establishing or expanding their operations in Hong Kong, representing an increase of more than 25% over the same period last year.
52. We must nonetheless sustain our efforts to strengthen Hong Kong's competitiveness in view of the fierce global competition.
Trawl for Enterprises
53. The Government will continue its endeavours to attract enterprises, particularly those pertinent to Hong Kong's development as the "eight centres", including key enterprises and leading representatives in advanced technology, innovation and strategic industries.
Develop "Headquarters Economy"
54. We will develop "headquarters economy" to attract enterprises from outside Hong Kong to set up headquarters and/or corporate divisions in Hong Kong, bringing in quality enterprises to explore the immense opportunities brought about by the national and international dual circulation. We will facilitate foreign enterprises to tap into the Mainland market, and also assist Mainland enterprises in expanding abroad. The HKSAR Government will explore with the relevant central authorities feasible measures to facilitate Mainland enterprises in setting up headquarters and/or corporate divisions in Hong Kong, such as arrangements for investments relating to capital account.
Attract Companies to Re‐domicile in Hong Kong
55. The Government will introduce a mechanism to facilitate companies domiciled overseas, in particular those with a business focus in the Asia‐Pacific region, for re‐domiciliation to Hong Kong. We aim to introduce the legislative amendments into the LegCo in the first half of next year. InvestHK and the Hong Kong Exchanges and Clearing Limited (HKEX) will reach out to major Hong Kong listed companies domiciled overseas and encourage them to re‐domicile to Hong Kong.
"Multiple‐entry Visa" to the Mainland for Foreigners Working in Companies Registered in Hong Kong
56. To attract more overseas companies to set up operations in Hong Kong and facilitate foreigners working in these companies to travel to the Mainland for business purposes, reinforcing our role to connect the Mainland with the world, foreign staff of companies registered in Hong Kong may, starting from tomorrow, apply with the Chinese Visa Application Service Centre in Hong Kong for "multiple‐entry visas" valid for two or more years to the Mainland, enjoying priority processing.
Establish the Hong Kong International Academy Against Corruption
59. The Independent Commission Against Corruption will establish the Hong Kong International Academy Against Corruption in the first quarter of 2024. The academy will organise professional training for graft fighters worldwide, as well as local public and private sectors, to promote the exchange of anti‐corruption experience among experts and scholars from Hong Kong, the Mainland and overseas, strengthening Hong Kong's international status in integrity building.
Managing $20 million to $3 billion. Investing $3 million to $300 million.
For Investment Managers, Hedge Funds, Boutique Funds, Private Equity, Venture Capital, Professional Investors, Family Offices, Private Bankers & Advisors, sign up today. Subscribe to Caproasia and receive the latest news, data, insights & reports, events & programs daily at 2 pm.
Join Events & Find Services
Join Investments, Private Wealth, Family Office events in Hong Kong, Singapore, Asia-wide. Find hard-to-find $3 million to $300 million financial & investment services at The Financial Centre | TFC. Find financial, investment, private wealth, family office, real estate, luxury investments, citizenship, law firms & more.  List hard-to-find financial & private wealth services. Have a product launch? Promote a product or service? List your service at The Financial Centre | TFC. Join interviews & editorial and be featured on Caproasia.com or join Investments, Private Wealth, Family Office events. Contact us at
[email protected]
or
[email protected]
Caproasia.com
| The leading source of data, research, information & resource for financial professionals, investment managers, professional investors, family offices & advisors to institutions, billionaires, UHNWs & HNWs. Covering capital markets, investments and private wealth in Asia. How do you invest $3 million to $300 million? How do you manage $20 million to $3 billion of assets?
Quick Links
2021 Data Release
2020 List of Private Banks in Hong Kong
2020 List of Private Banks in Singapore
2020 Top 10 Largest Family Office
2020 Top 10 Largest Multi-Family Offices
2020 Report: Hong Kong Private Banks & Asset Mgmt - $4.49 Trillion
2020 Report: Singapore Asset Mgmt - $3.48 Trillion AUM
For Investors | Professionals | Executives
Latest data, reports, insights, news, events & programs Everyday at 2 pm Direct to your inbox Save 2 to 8 hours per week. Organised for success
Register Below
For CEOs, Heads, Senior Management, Market Heads, Desk Heads, Financial Professionals, Investment Managers, Asset Managers, Fund Managers, Hedge Funds, Boutique Funds, Analysts, Advisors, Wealth Managers, Private Bankers, Family Offices, Investment Bankers, Private Equity, Institutional Investors, Professional Investors
Get Ahead in 60 Seconds. Join 10,000 +
Save 2 to 8 hours weekly. Organised for Success.
Sign Up / Register
Web links may be disabled on mobile for security. Please click on desktop.



---
Caproasia Users
Manage $20 million to $3 billion of assets
Invest $3 million to $300 million
Advise institutions, billionaires, UHNWs & HNWs
Caproasia Platforms | 11,000 Investors & Advisors
Monthly Roundtable & Networking
Family Office Programs
The 2024 Investment Day
March 2024 - Hong Kong
March 2024 - Singapore
June 2024 - Hong Kong
June 2024 - Singapore
Sept 2024 - Hong Kong
Sept 2024 - Singapore
Visit: The Investment Day | Register: Click here
Caproasia Summits
Contact Us
For Enquiries, Membership
[email protected]
,
[email protected]
For Listing, Subscription
[email protected]
,
[email protected]
For Press Release, send to:
[email protected]
For Events & Webinars
[email protected]
For Media Kit, Advertising, Sponsorships, Partnerships
[email protected]
For Research, Data, Surveys, Reports
[email protected]
For General Enquiries
[email protected]
---
Caproasia | Driving the future of Asia a financial information technology co. since 2014
---