---
UBS Chief Investment Office Outlines 5 Recommendations for 2024: Manage Liquidity, Buy Quality, Trade the Range in Currencies & Commodities, Hedge Market Risks, Diversify with Alternative Credit
18th November 2023 | Hong Kong
UBS Chief Investment Office has outlined 5 recommendations for 2024: 1) Manage Liquidity, 2) Buy Quality, 3) Trade the Range in Currencies & Commodities, 4) Hedge Market Risks, 5) Diversify with Alternative Credit.  UBS: " Chief Investment Office (CIO) outlines what investors should expect as they enter, what it set out to be, "a new world". According to the report, this new world – defined by economic uncertainty and geopolitical instability, but also profound technological change – leads to three key conclusions for the year ahead. First, the strength of the US economy in 2023 is likely to give way to slower, though still positive, growth in 2024, while European growth should remain subdued, and China enters a "new normal" of lower, but potentially higher quality growth. Second, central banks are expected to start their rate-cutting cycles next year. And finally, politics will have an outsized role in 2024, with the upcoming US elections, and ongoing geopolitical tensions and wars."
" UBS Chief Investment Office Outlines 5 Recommendations for 2024: Manage Liquidity, Buy Quality, Trade the Range in Currencies & Commodities, Hedge Market Risks, Diversify with Alternative Credit "
- Article continues below -
Mark Haefele, Chief Investment Officer at UBS GWM: "We see 2024 mark the beginning of a new world. And while it can be easy to feel a sense of trepidation when faced with new challenges, years of adversity reinforce three things in terms of investing – the value of global diversification, the virtue of patience, and, most important, the resilience of humankind."
UBS Chief Investment Office Outlines 5 Recommendations for 2024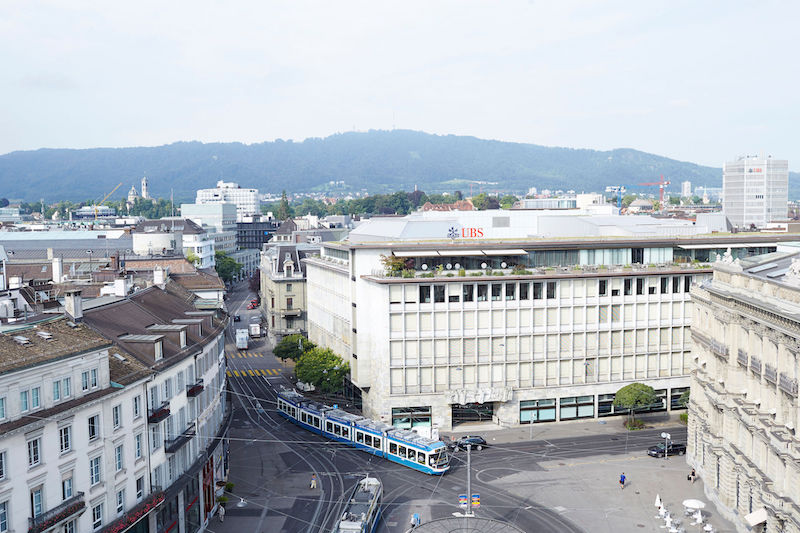 Report's core recommendations for the year ahead include:
Manage liquidity. With interest rates expected to fall in 2024, investors should consider limiting overall cash balances and take opportunities to optimize yields, using fixed term deposits, bond ladders, and structured solutions.
Buy quality. Quality bonds should deliver both yield and capital appreciation, while stocks with stable balance sheets and sustainable profit margins are likely best positioned to generate earnings despite weaker economic growth.
Trade the range in currencies and commodities. With the USD expected to remain well supported around current levels, and oil prices to trade in a USD 90–100/bbl band, yield generation strategies, or strategies that enable investors to systematically buy currencies below current levels offer opportunity.
Hedge market risks. Geopolitical uncertainty means investors need to prepare for volatility ahead. In addition to diversification, investors can further insulate portfolios against specific risks through capital preservation strategies, using alternatives, or with positions in oil and gold.
Diversify with alternative credit. The backdrop of lower interest rates and elevated price and spread volatility caused by high global debt balances is supportive for various credit strategies including credit arbitrage and distressed debt.
About UBS
UBS is a leading and truly global wealth manager and the leading universal bank in Switzerland. It also provides diversified asset management solutions and focused investment banking capabilities. With the acquisition of Credit Suisse, UBS manages 5.5 trillion dollars of invested assets as per second quarter 2023. UBS helps clients achieve their financial goals through personalized advice, solutions and products. Headquartered in Zurich, Switzerland, the firm is operating in more than 50 countries around the globe. UBS Group shares are listed on the SIX Swiss Exchange and the New York Stock Exchange (NYSE). 
Managing $20 million to $3 billion. Investing $3 million to $300 million.
For Investment Managers, Hedge Funds, Boutique Funds, Private Equity, Venture Capital, Professional Investors, Family Offices, Private Bankers & Advisors, sign up today. Subscribe to Caproasia and receive the latest news, data, insights & reports, events & programs daily at 2 pm.
Join Events & Find Services
Join Investments, Private Wealth, Family Office events in Hong Kong, Singapore, Asia-wide. Find hard-to-find $3 million to $300 million financial & investment services at The Financial Centre | TFC. Find financial, investment, private wealth, family office, real estate, luxury investments, citizenship, law firms & more.  List hard-to-find financial & private wealth services. Have a product launch? Promote a product or service? List your service at The Financial Centre | TFC. Join interviews & editorial and be featured on Caproasia.com or join Investments, Private Wealth, Family Office events. Contact us at
[email protected]
or
[email protected]
Caproasia.com
| The leading source of data, research, information & resource for financial professionals, investment managers, professional investors, family offices & advisors to institutions, billionaires, UHNWs & HNWs. Covering capital markets, investments and private wealth in Asia. How do you invest $3 million to $300 million? How do you manage $20 million to $3 billion of assets?
Quick Links
2021 Data Release
2020 List of Private Banks in Hong Kong
2020 List of Private Banks in Singapore
2020 Top 10 Largest Family Office
2020 Top 10 Largest Multi-Family Offices
2020 Report: Hong Kong Private Banks & Asset Mgmt - $4.49 Trillion
2020 Report: Singapore Asset Mgmt - $3.48 Trillion AUM
For Investors | Professionals | Executives
Latest data, reports, insights, news, events & programs Everyday at 2 pm Direct to your inbox Save 2 to 8 hours per week. Organised for success
Register Below
For CEOs, Heads, Senior Management, Market Heads, Desk Heads, Financial Professionals, Investment Managers, Asset Managers, Fund Managers, Hedge Funds, Boutique Funds, Analysts, Advisors, Wealth Managers, Private Bankers, Family Offices, Investment Bankers, Private Equity, Institutional Investors, Professional Investors
Get Ahead in 60 Seconds. Join 10,000 +
Save 2 to 8 hours weekly. Organised for Success.
Sign Up / Register
Web links may be disabled on mobile for security. Please click on desktop.



---
Caproasia Users
Manage $20 million to $3 billion of assets
Invest $3 million to $300 million
Advise institutions, billionaires, UHNWs & HNWs
Caproasia Platforms | 11,000 Investors & Advisors
Monthly Roundtable & Networking
Family Office Programs
The 2024 Investment Day
March 2024 - Hong Kong
March 2024 - Singapore
June 2024 - Hong Kong
June 2024 - Singapore
Sept 2024 - Hong Kong
Sept 2024 - Singapore
Visit: The Investment Day | Register: Click here
Caproasia Summits
Contact Us
For Enquiries, Membership
[email protected]
,
[email protected]
For Listing, Subscription
[email protected]
,
[email protected]
For Press Release, send to:
[email protected]
For Events & Webinars
[email protected]
For Media Kit, Advertising, Sponsorships, Partnerships
[email protected]
For Research, Data, Surveys, Reports
[email protected]
For General Enquiries
[email protected]
---
Caproasia | Driving the future of Asia a financial information technology co. since 2014
---