---
About Hang Seng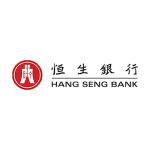 Founded in 1933, Hang Seng is one of Hong Kong's largest listed companies. Our market capitalisation as at 31 December 2016 was HKD275.9 billion. In keeping with our name, which means "ever-growing" in Chinese, we are growing alongside our customers. The Bank's major business activities comprise retail banking and wealth management, commercial banking, global banking and markets, and private banking. The Bank also offers a comprehensive range of renminbi services.
Since our founding, our main focus has been the pursuit of excellence for our customers. In Hong Kong, our vast network of around 260 service outlets provides you with quality services. Established on 28 May 2007, our wholly owned subsidiary Hang Seng Bank (China) Limited operates a mainland China network with outlets in Beijing, Shanghai, Guangzhou, Shenzhen, Fuzhou, Nanjing, Dongguan, Hangzhou, Ningbo, Tianjin, Kunming, Xiamen, Chengdu, Jinan, Foshan, Zhongshan, Huizhou, Zhuhai, Jiangmen and Shantou.
Origin : Hong Kong
Assets : HKD 20,347 billion
Revenue : HKD 20,347 million
Employees : 9,680
Official Website: www.bank.hangseng.com
Web links may be disabled on mobile for security. Please click on desktop.


Scroll Below for Sign Up / Contact Us Form
Web links may be disabled on mobile for security. Please click on desktop.





---
Caproasia.com
| The leading financial website for investment managers, professional investors, UHNW & HNW investors and advisors to institutions, billionaires, UHNWs & HNWs.
Covering capital markets, investments and private wealth in Asia. How do you invest $3 million to $300 million? How do you manage $20 million to $3 billion of assets?
Caproasia
is a financial information technology co. founded in 2014. We have 4 businesses in Media, Information, Services and Technology. We created 3 solutions: Membership, Events & Platforms to drive investment decisions in Asia through information, services, technology & people, that impact economies, societies & people. Our Mission: Driving the future of Asia For 2022 Investment Day: mail@caproasia.com For Family Office, Professional Investor, HNW Investor Events: mail@caproasia.com For Membership, Events, Networking, Roundtable, Summits: mail@caproasia.com For Investment Relations Network: mail@caproasia.com For Platforms, Media Kit, Advertising, Campaigns, Partnerships: angel@caproasia.com For press release: press@caproasia.com For all other enquiries: mail@caproasia.com
---
Sign Up / Contact Us
Caproasia | Get Ahead in 60 Seconds. Join 10,000 +
Caproasia | Driving the future of Asia
a financial information technology co. since 2014
---
Caproasia Users
Manage $20 million to $3 billion of assets
Invest $3 million to $300 million
Advise institutions, billionaires, UHNWs & HNWs
Learn More | Caproasia Users
Caproasia Platforms | Join 10,000 Investors & Advisors
Monthly Networking & Roundtables:
Membership | Join a Powerful Network:
Family Office Programs:
Caproasia Summits:
Special Coverage