Caproasia.com | The leading source of data, research, information & resource for investment managers, professional investors, UHNW & HNW investors, and advisors to institutions, billionaires, UHNWs & HNWs. Covering capital markets, investments and private wealth in Asia. How do you invest $3 million to $300 million? How do you manage $20 million to $3 billion of assets? Caproasia -
Learn more
This site is for accredited investors, professional investors, investment managers and financial professionals only. You should have assets around $3 million to $300 million or managing $20 million to $3 billion.

---
Xiaomi Founder & Billionaire Lei Jun Donates $2.2 Billion of Shares to Charity
22nd July 2021 | Hong Kong
Xiaomi founder & billionaire Lei Jun has donated $2.2 billion of Xiaomi shares to 2 charitable foundations co-founded by him (HKEX filing 16/7/21), with his shareholding at 10.6% after the share transfer.  Lei Jun is one of China's richest man and the founder of the 2nd largest smartphone maker in the world, with a net worth of more than $22 billion.  The largest smartphone maker in the world is Samsung, followed by Xiaomi and Apple.  
" Xiaomi Founder & Billionaire Lei Jun Donates $2.2 Billion of Shares to Charity "
Xiaomi Founder & Billionaire Lei Jun, Philanthropist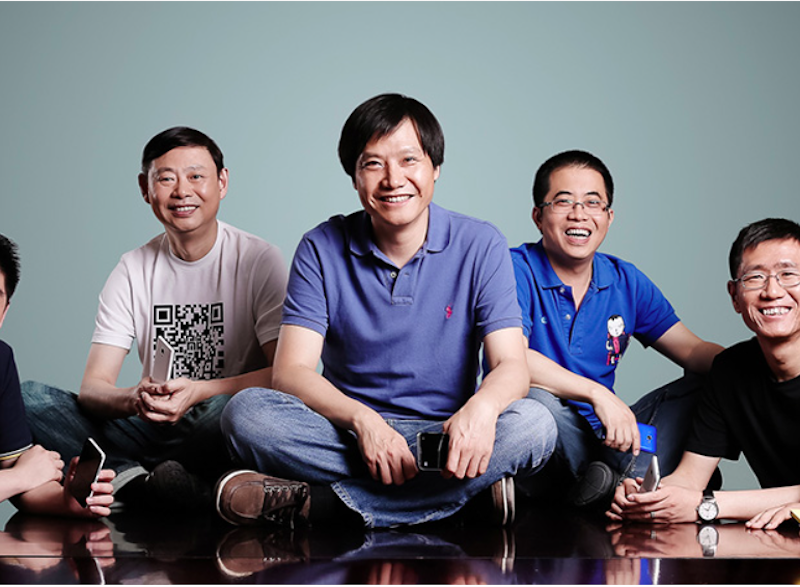 Lei Jun's $2.2 billion donation, joins the growing list of billionaires in giving their money away. 
In March 2021, now South Korean richest billionaire and Chairman of South Korean internet and technology giant Kakao Kim Beom-Su and his wife (Miseon Hyeong) signed The Giving Pledge to donate more than half of their $10 billion assets to society.  In the same month, South Korean billionaire Kim Bong-Jin and his wife Bomi Sul also signed The Giving Pledge. Kim Bong-jin is the founder & CEO of Woowa Brothers, which started the largest food delivery app (Baedal Minjok) in South Korea.
The Giving Pledge – For Billionaires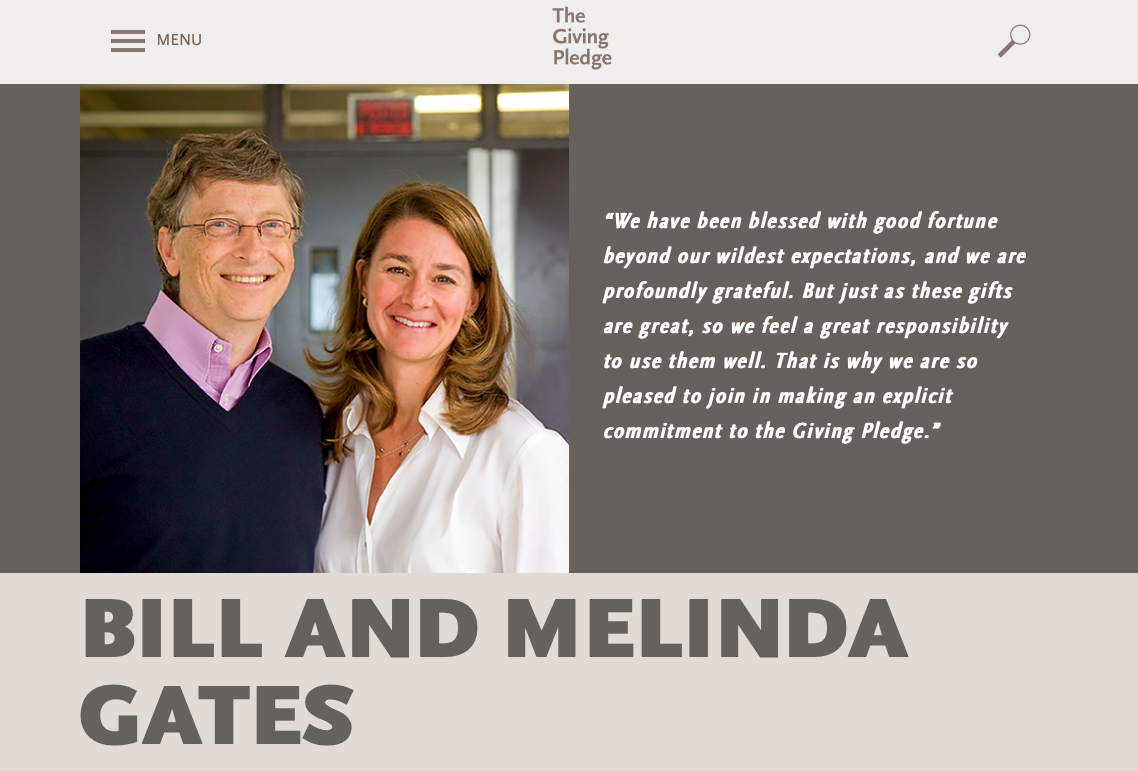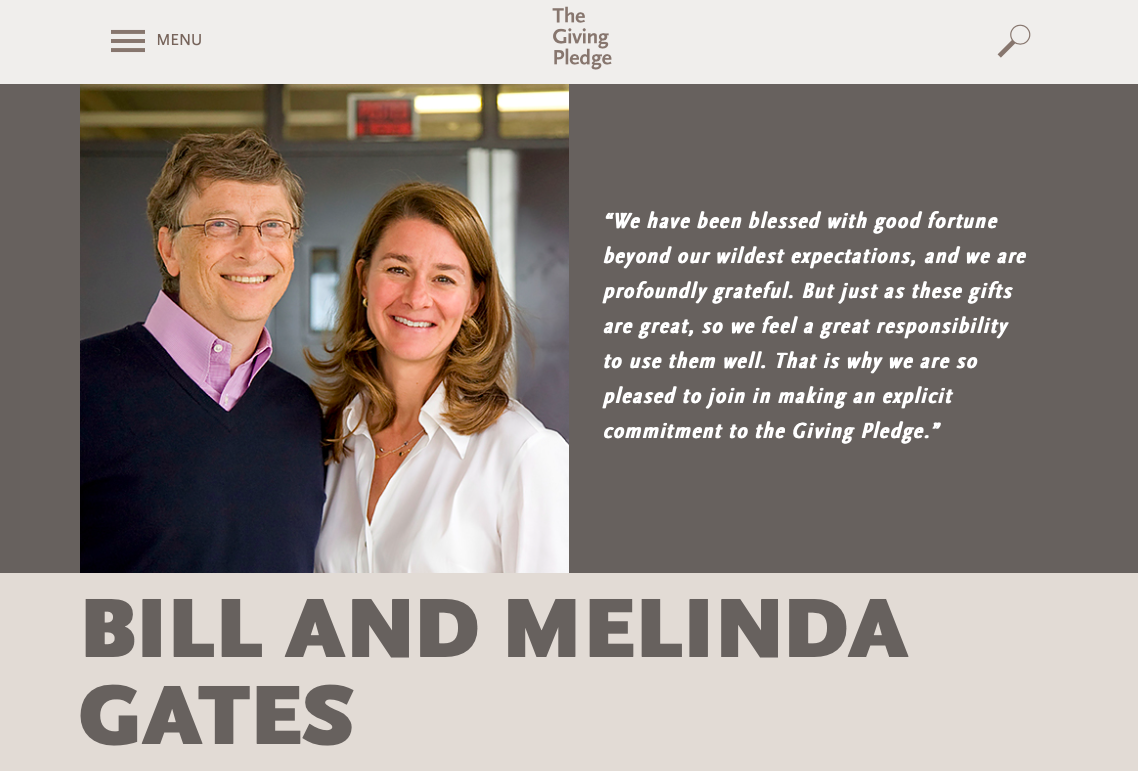 The Giving Pledge is a global philanthropic movement launched in 2010 by Microsoft chairman Bill Gates and his wife Melinda Gates along with Berkshire Hathaway chairman Warren Buffett with a total of 40 billionaires.  The Giving Pledge is a moral commitment by the world's wealthiest to give the majority of their wealth to charitable causes.
Currently, there are 220 pledgers from 25 countries.
Notable names are:
Facebook founder Mark Zuckerberg and Priscilla Chan ($103 billion)
Tesla founder Elon Musk ($162 billion)
Oracle founder Larry Ellison ($90 billon)
Virgin Group founder Richard Branson and Joan Branson. ($5 billion)
Linkedin founder Reid Hoffman and Michelle Yee ($2 billion)
David Rockefeller, deceased 2017 (3.8 billion)
Notable names from finance are:
Bridgewater Associates founder Ray Dalio & Barbara Dalio ($20 billion)
Blackstone founder Stephen Schwarzman ($23 billion)
Carlyle Group founder David Rubeinstein ($4 billion)
Bloomberg founder Michael Bloomberg ($59 billion)
Icahn Enterprises founder Carl Icahn ($15 billion)
Tudor Investment founder Paul Tudor Jones and Sonia ($7 billion)
(est. current networth)
Signers of the Giving Pledge
Signers of the Giving Pledge commit to give the majority of their wealth to philanthropy, either during their lifetimes or in their wills.
To Join the Giving Pledge
To join the Giving Pledge, billionaires will need to have at least $1 billion in personal net worth and and are ready to make a public pledge to donate the majority of their personal wealth to philanthropy.  Visit: The Giving Pledge
Billionaires:
---
---
For CEOs, Heads, Senior Management, Market Heads, Desk Heads, Financial Professionals, Investment Managers, Asset Managers, Fund Managers, Hedge Funds, Boutique Funds, Analysts, Advisors, Wealth Managers, Private Bankers, Family Offices, Investment Bankers, Private Equity, Institutional Investors, Professional Investors
Get Ahead in 60 Seconds. Join 10,000 +
Save 2 to 8 hours weekly. Organised for Success.
Subscribe / Sign Up / Contact Us
Caproasia | Driving the future of Asia a financial information technology co. since 2014
Web links may be disabled on mobile for security. Please click on desktop.





---
Caproasia.com
| The leading financial website for investment managers, professional investors, UHNW & HNW investors and advisors to institutions, billionaires, UHNWs & HNWs.
Covering capital markets, investments and private wealth in Asia. How do you invest $3 million to $300 million? How do you manage $20 million to $3 billion of assets?
Caproasia
is a financial information technology co. founded in 2014. We have 4 businesses in Media, Information, Services and Technology. We created 3 solutions: Membership, Events & Platforms to drive investment decisions in Asia through information, services, technology & people, that impact economies, societies & people. Our Mission: Driving the future of Asia For 2022 Investment Day: mail@caproasia.com For Family Office, Professional Investor, HNW Investor Events: mail@caproasia.com For Membership, Events, Networking, Roundtable, Summits: mail@caproasia.com For Investment Relations Network: mail@caproasia.com For Platforms, Media Kit, Advertising, Campaigns, Partnerships: angel@caproasia.com For press release: press@caproasia.com For all other enquiries: mail@caproasia.com
2022 Upcoming Events
Join Events in Hong Kong & Singapore. Investments, Alternatives, Private MarketsHedge Funds, Private Equity, Private Wealth, Family Office & more. View:
2022 Upcoming Events
| Register
here
Join as Delegate, Speaker, Moderator, Host, Sponsor & Partner Contact: events@caproasia.com or mail@caproasia.com
---
Caproasia Users
Manage $20 million to $3 billion of assets
Invest $3 million to $300 million
Advise institutions, billionaires, UHNWs & HNWs
Learn More | Caproasia Users
Caproasia Platforms | Join 10,000 Investors & Advisors
Monthly Networking & Roundtables:
Membership | Join a Powerful Network:
Family Office Programs:
Caproasia Summits:
Special Coverage