Caproasia.com | The leading source of data, research, information & resource for investment managers, professional investors, UHNW & HNW investors, and advisors to institutions, billionaires, UHNWs & HNWs. Covering capital markets, investments and private wealth in Asia. How do you invest $3 million to $300 million? How do you manage $20 million to $3 billion of assets? Caproasia -
Learn more
This site is for accredited investors, professional investors, investment managers and financial professionals only. You should have assets around $3 million to $300 million or managing $20 million to $3 billion.


---
IMF World Economic Outlook Report: 2021 to Grow at 6%, 2022 at 4.9%
Hong Kong | 6th August 2021
The International Monetary Fund (IMF) has released the World Economic Outlook July 2021 update, forecasting global economy to grow at 6% in 2021 and 4.9% in 2022, with the world's 2 largest economy United States growing at 7% (2021) & 4.9% (2022) and China growing at 8.1% (2021) & 5.7% (2022).  In the update by IMF, although global economy is growing, there is widening gaps between advanced economies and many emerging market and developing economies.  With the emergence of the Delta variant, close to 40% of population in advanced economies has been fully vaccinated, just 11% in emerging market economies has been fully vaccinated and figures are much lower for low-income countries.  Pent-up demand and supply chain bottlenecks are putting upward pressure on prices, and inflation is expected to subside to pre-pandemic ranges in 2022 in most advanced economies.  The recovery is not assured until the pandemic is beaten globally, and well-directed policy actions at the multilateral and national levels and ensure economies can achieve durable recoveries, failing which where divergences intensify, the poor gets poorer, and social unrest and geopolitical tensions will grow.  View: 2021 IMF Report | Info Page
" IMF World Economic Outlook: 2021 to Grow at 6%, 2022 at 4.9% "
IMF World Economic Outlook 2021 Growth Projection – July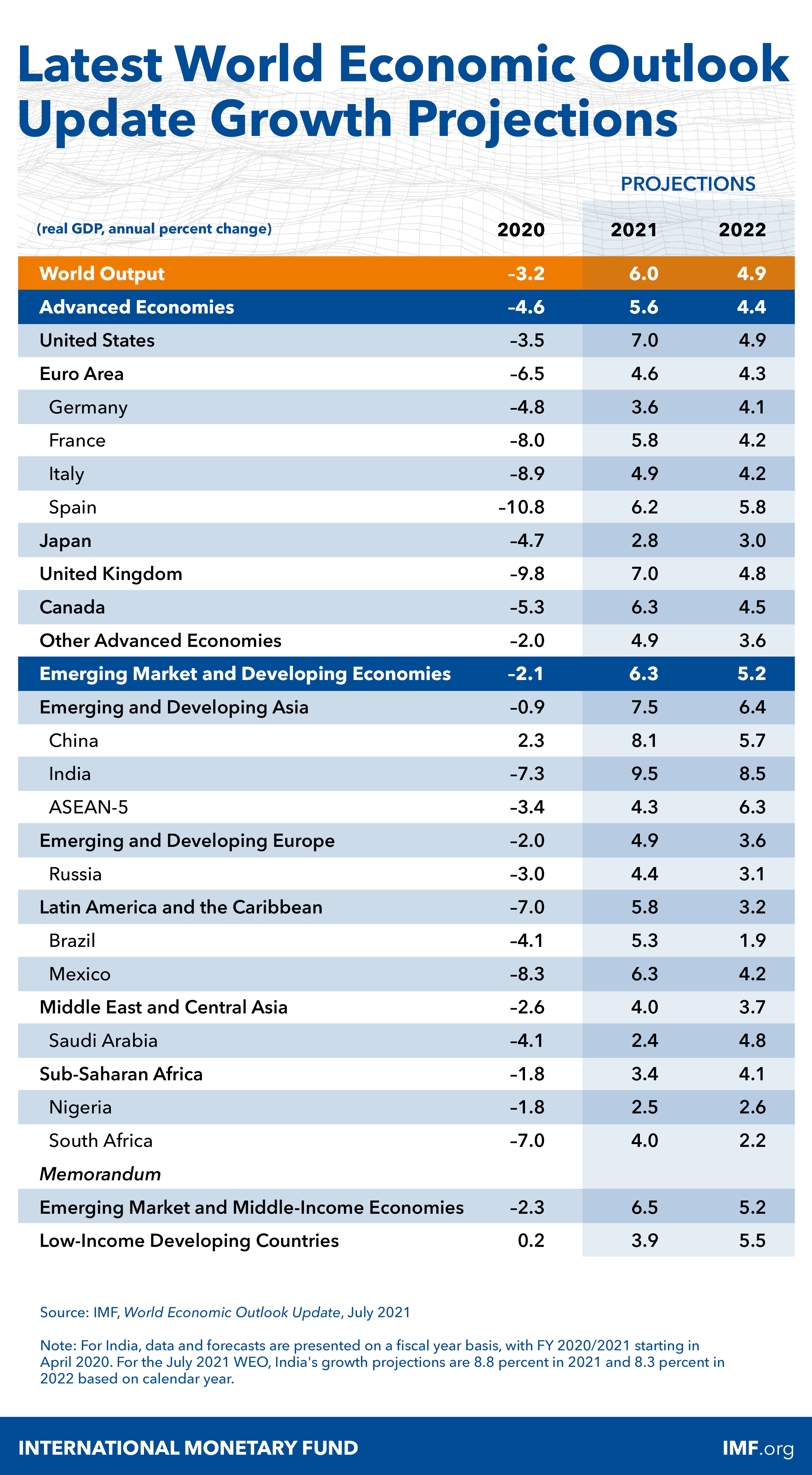 Gita Gopinath, IMF Chief Economist:
"Global growth is projected to be 6 percent this year, which is unchanged from our April forecast. However, the composition has changed. We are upgrading growth for advanced economies, and that's almost entirely offset by a downgrade for emerging markets and developing economies. Next year, we have upgraded growth to 4.9 percent, and that's mainly driven by anticipated further fiscal support in the US.
One of the major fault lines remains the pandemic, if we see newer virus variants, which are far more transmissible, like the Delta variant that we're seeing right now. In a world where vaccine access remains highly inequitous, that will have a big hit to the economic recovery. Another major risk and fault line is with respect to financial conditions. If inflation in, for instance, the US were to be more persistent than we expected, that could lead to a faster tightening in monetary policy and that could then again disrupt financial market conditions. So, these are some of the major risks we are concerned about.
"First and foremost, the world needs to be more fully vaccinated, this requires multilateral action to make sure that sufficient vaccine doses are made available to developing countries. Individual governments will need to tailor their policy support to the stage of the crisis. They will have to do this by nesting their fiscal policies, incredible medium-term fiscal frameworks. Now, in the case of monetary policy, central banks should look through what are transitory inflation movements. However, it's very important that they remain prepared and strongly communicate what they will do if it turns out that inflation goes up even more higher and is much more persistent than expected."
View: 2021 IMF Report | Info Page
Related:
---
About IMF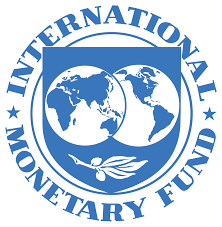 The IMF was conceived in July 1944 at the United Nations Bretton Woods Conference in New Hampshire, United States. The 44 countries in attendance sought to build a framework for international economic cooperation and avoid repeating the competitive currency devaluations that contributed to the Great Depression of the 1930s.
The IMF's primary mission is to ensure the stability of the international monetary system—the system of exchange rates and international payments that enables countries and their citizens to transact with each other.
Visit: IMF
---
---
For CEOs, Heads, Senior Management, Market Heads, Desk Heads, Financial Professionals, Investment Managers, Asset Managers, Fund Managers, Hedge Funds, Boutique Funds, Analysts, Advisors, Wealth Managers, Private Bankers, Family Offices, Investment Bankers, Private Equity, Institutional Investors, Professional Investors
Get Ahead in 60 Seconds. Join 10,000 +
Save 2 to 8 hours weekly. Organised for Success.
Subscribe / Sign Up / Contact Us
Caproasia | Driving the future of Asia a financial information technology co. since 2014
Web links may be disabled on mobile for security. Please click on desktop.






---