Caproasia.com | The leading source of data, research, information & resource for financial professionals, institutional investors, professional investors and private investors (UHNWs, & HNWs). Covering capital markets, investments and private wealth in Asia. How do you invest $3 million to $300 million? How do you manage $20 million to $3 billion of assets? This site is for accredited investors, professional investors, investment managers and financial professionals only. You should have assets around $3 million to $300 million or managing $20 million to $3 billion.
---
China Social Media Weibo Secondary Listing on Hong Kong Exchange, Decline 7% on Day 1 with $15 Billion Market Value
10th December 2021 | Hong Kong
China social media giant Weibo has been listed on Hong Kong Stock Exchange in a secondary listing, with share price declining 7.18% on Day 1 (8/12/21) and a market capitalization of around $15 billion. Weibo had became listed on Nasdaq in 2014, and the secondary listing on Hong Kong Exchange (HKEX) raised $385 million for Weibo. Weibo was launched in 2009 by Sina Corporation and grew to become one of the largest social media platforms in China. In 2021 Q3, the company reported revenue of $607.4 million, net income of $181.7 million, monthly active users of 573 million and average daily active users of 248 million.
" China Social Media Weibo Secondary Listing on Hong Kong Exchange, Decline 7% on Day 1 with $15 Billion Market Value "
Weibo, China Social Media Giant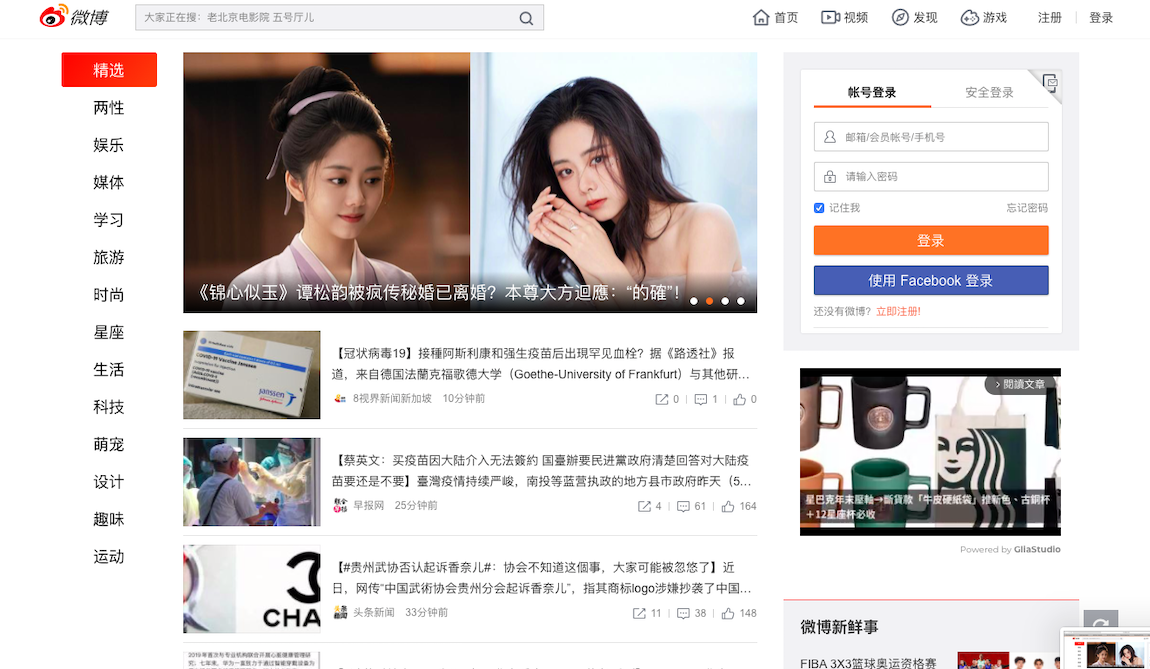 Weibo is a leading social media for people to create, discover and distribute content. Weibo combines the means of public self-expression in real time with a powerful platform for social interaction, content aggregation and content distribution. Any user can create and post a feed and attach multi-media and long-form content. User relationships on Weibo may be asymmetric; any user can follow any other user and add comments to a feed while reposting. This simple, asymmetric and distributed nature of Weibo allows an original feed to become a live viral conversation stream.
Weibo enables its advertising and marketing customers to promote their brands, products and services to users. Weibo offers a wide range of advertising and marketing solutions to companies of all sizes. The Company generates a substantial majority of its revenues from the sale of advertising and marketing services, including the sale of social display advertisement and promoted marketing offerings. Designed with a "mobile first" philosophy, Weibo displays content in a simple information feed format and offers native advertisement that conform to the information feed on our platform. To support the mobile format, we have developed and continuously refining our social interest graph recommendation engine, which enables our customers to perform people marketing and target audiences based on user demographics, social relationships, interests and behaviors, to achieve greater relevance, engagement and marketing effectiveness.
Related:
Data Release
Caproasia Platforms:
Caproasia Events & Coverage:
---
Caproasia.com | The leading financial website for financial professionals, professional investors and HNW investors. Covering capital markets, investments and private wealth in Asia. How do you invest $3 million to $300 million? How do you manage $20 million to $3 billion of assets? Quicklinks: Caproasia Access | TFC | Caproasia | Jobs
Join 14,000+ leading financial professionals and professional investors in Asia. Stay ahead of your peers & competition. For press release, email to press@caproasia.com For editorial, media kit, listing on TFC, events, seminars or research & data services, email to mail@caproasia.com
---