Caproasia.com | The leading source of data, research, information & resource for investment managers, professional investors, UHNW & HNW investors, and advisors to institutions, billionaires, UHNWs & HNWs. Covering capital markets, investments and private wealth in Asia. How do you invest $3 million to $300 million? How do you manage $20 million to $3 billion of assets? Caproasia -
Learn more
This site is for accredited investors, professional investors, investment managers and financial professionals only. You should have assets around $3 million to $300 million or managing $20 million to $3 billion.


---
China AI Sensetime IPO in Hong Kong Rising 42%, Co-Founder Tang Xiao'ou Becomes Billionaire with $4.7 Billion
31st December 2021 | Hong Kong
SenseTime Group, a Chinese startup and largest artificial intelligence (AI) company in Asia, has IPO on Hong Kong Exchange (HKEX), rising 42.8% (30/12/21 & 31/12/21) in the 1st week of trading (IPO Thursday: 30/12/21) to a market value of $23 billion, and with co-founder Tang Xiao'ou (Age 53) becoming a billionaire with $4.7 billion fortune.  Tang Xiao'ou had graduated from University of Science and Technology of China, University of Rochester in New York and a PhD from Massachusetts Institute of Technology in 1996 (Underwater Robotics & Computer Vision).  He worked for Microsoft Research Asia, and co-founded SenseTime in 2014 with Xu Li, who was a research scientist at Lenovo Group and is now the Executive Chairman of the Board and Chief Executive Officer of SenseTime.  Early investors in the company includes IDG Capital, SoftBank, Alibaba and SilverLake.  The IPO raised $740 million, valuing SenseTime at $16.4 billion at IPO.  United States investor are not able to invest in SenseTime as the group is in the blacklist of United States "Chinese military-industrial complex companies." (IPO ~ Initial Public Offering)
" China AI Sensetime IPO in Hong Kong Rising 42%, Co-Founder Tang Xiao'ou Becomes Billionaire with $4.7 Billion "
Dr. Xu Li, Co-Founder & CEO SenseTime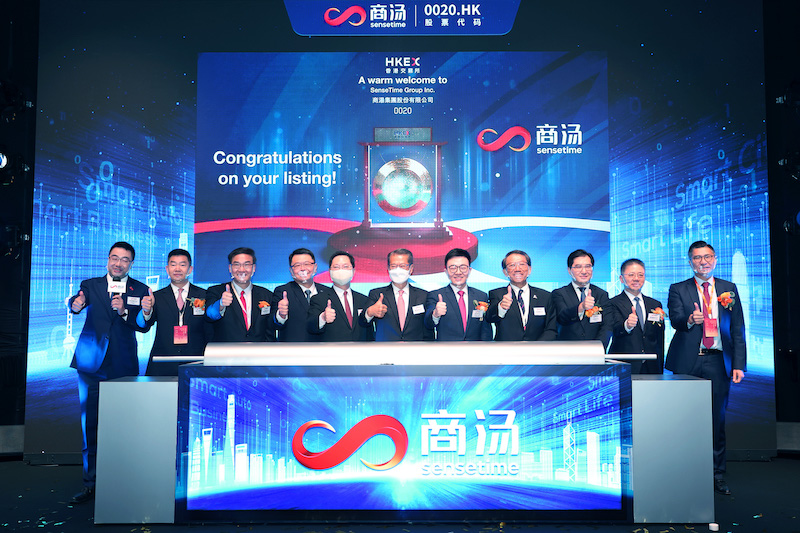 Dr. Xu Li, Co-Founder, Executive Chairman of the Board and Chief Executive Officer of SenseTime, in his welcoming remarks at the listing ceremony, said, "Every company will have their own challenges and objectives. For us, it's about getting back on the front foot as creators and pioneers. At SenseTime, we strive to achieve technological breakthroughs to bring AI to life, redefine how it's applied in our everyday lives and enhance the public perception towards AI. We firmly believe that we are in the right place, at the right time to contribute towards an AI-driven revolution defined by fairness and inclusiveness. We look forward to joining hands with our investors and partners to build the AI infrastructure needed to create a better AI-empowered future."
SenseTime has been committed to applying AI technology across various industries. The Company's prospectus embeds cutting-edge Augmented Reality (AR) technology powered by SenseTime's proprietary and pioneering SenseMARS AR platform. It allows investors to interactively understand the Company's technologies in Smart Business, Smart City, Smart Life and Smart Auto, following a virtual introduction by the company's astronaut sheep mascot.
Harnessing AI+AR technologies, SenseTime held a special AR Gong-strike at the listing ceremony, allowing guests who attended this event physically and virtually to witness this milestone seamlessly with a convergence of reality and virtuality. SenseTime also presented limited edition digital souvenirs as a gift to the guests.
Adhering to its mission 'To create a better AI-empowered future through innovation' since its inception in 2014, the Company has long been focused on original and cutting-edge research and innovation. AI software will be one of the fastest growing business sectors in the next decade and a defining chapter for the coming era. The listing heralds a new beginning for SenseTime and is of great significance in the future development and sustainability of AI.
---
---
For CEOs, Heads, Senior Management, Market Heads, Desk Heads, Financial Professionals, Investment Managers, Asset Managers, Fund Managers, Hedge Funds, Boutique Funds, Analysts, Advisors, Wealth Managers, Private Bankers, Family Offices, Investment Bankers, Private Equity, Institutional Investors, Professional Investors
Get Ahead in 60 Seconds. Join 10,000 +
Save 2 to 8 hours weekly. Organised for Success.
Subscribe / Sign Up / Contact Us
Caproasia | Driving the future of Asia a financial information technology co. since 2014
Web links may be disabled on mobile for security. Please click on desktop.






---