---
Top Private Equity Firm Blackstone Chairman Stephen Schwarzman Receives $1.1 Billion Payout for 2021, Pledged to Donate Half His Wealth in 2020
26th February 2022 | Hong Kong
Top private equity firm Blackstone Founder, Chairman & CEO Stephen Schwarzman has received a total of $1.1 billion in payout for 2021.  Stephen Schwarzman, who founded Blackstone alongside Peter Peterson with $400,000 in seed capital, had received $350,000 in salary, $160.3 million of compensation in various forms and $941.6 million in dividends from his 19% shareholding in Blackstone in 2021.  Today, Blackstone is a leading global investment manager with $881 billion in managed assets, including $279 billion in real estates, $261 billion in private equity, $81 billion in hedge funds, and $259 billion in credit & insurance.  In 2007, Blackstone Group went public on New York Stock Exchange (NYSE) and has a market capitalization of $154 billion (25/2/22).  Stephen Schwarzman, one of the world's top 50 billionaire with $37 billion estimated fortune, is a signer of The Giving Pledge founded by Bill Gates,  Melinda Gates & Warren Buffett, for billionaires to give majority of their wealth away during their lifetime or in their estate.  View The Giving Pledge below:
" Blackstone Chairman Stephen Schwarzman Receives $1.1 Billion Payout for 2021 "
- Article continues below - Web links may be disabled on mobile for security. Please click on desktop.
Stephen A. Schwarzman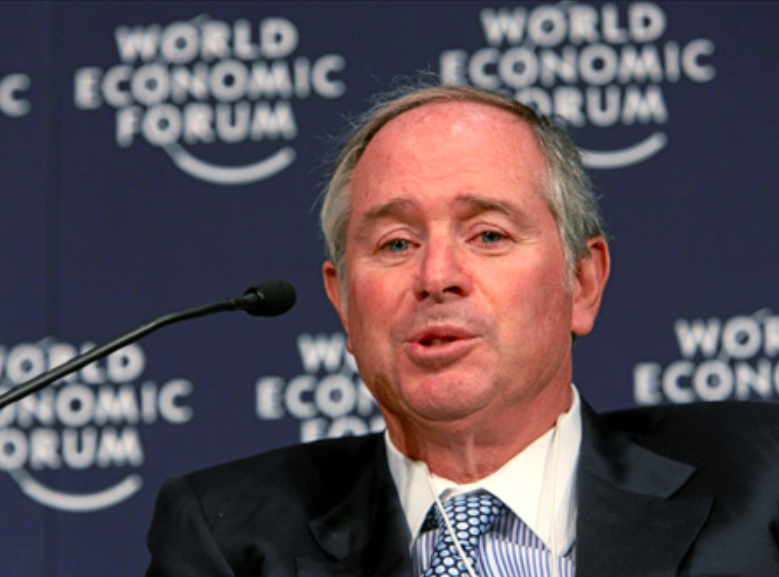 Stephen A. Schwarzman is Chairman, CEO and Co-Founder of Blackstone, one of the world's leading investment firms with $881 billion Assets Under Management (as of December 31, 2021). Mr. Schwarzman has been involved in all phases of Blackstone's development since its founding in 1985. The firm has established leading investing businesses across asset classes, including private equity, where it is a global leader in traditional buyout, growth equity, special situations and secondary investing; real estate, where it is currently the largest owner of property in the world; hedge fund solutions, where it is the world's largest discretionary hedge fund investor; and credit, where it is a global leader and major provider of credit for small, middle-market and other companies. Blackstone has also recently launched major new businesses dedicated to infrastructure and life sciences investing, as well as delivering the firm's investment management expertise and products to insurance companies.Mr. Schwarzman holds a B.A. from Yale University and an M.B.A. from Harvard Business School. He has served as an adjunct professor at the Yale School of Management and on the Harvard Business School Board of Dean's Advisors.
The Giving Pledge – January 2020
January 2020
Dear Bill,
I'm very pleased to join the Giving Pledge, having been an active philanthropist, in one way or another, for most of my life. I remember being a young boy and watching my grandfather pack prosthetics, wheelchairs, clothes, books, and toys to send to children in Israel every month. When I asked him why, he explained that it was not only his obligation, but also his privilege to help others in need. I also remember my father, a storeowner in Philadelphia, regularly extending credit to newly arrived immigrants. "Buy what you need," he would tell them, and "pay me when you can." 
These powerful memories have helped shape who I am and serve as a lasting reminder of the responsibility I have to uphold my family's commitment to giving.
When I co-founded Blackstone in 1985, I never dreamed that we would one day become the world's largest manager of alternative assets. Blackstone's success has changed my life in innumerable ways by giving me the means to pursue many interests, including a variety of philanthropic pursuits. My giving has ranged from helping individuals who need it, to supporting many existing institutions I care about, and more recently, bringing to life transformational ideas and new organizations that address important societal challenges.
In philanthropy, as in business, I enjoy tackling complex challenges that require thoughtful, innovative solutions. The game-changing nature of my major projects has required substantial financial support, as well as my personal long-term involvement. Each project is a unique partnership where I bring to bear the full extent of my knowledge, network, and time to ensure that the new organizations are positioned to meet their objectives as best they can.
For example, the idea for founding Schwarzman Scholars, a highly selective fellowship program at Tsinghua University in Beijing, was born when I realized that future leaders needed to be better educated on the economic, political and cultural factors contributing to China's increasing importance as a global power. The program's mission is to grow a network of young, global influencers who can use their knowledge and connections to improve connectivity between China and their respective countries, ultimately facilitating a more peaceful and prosperous world for all of us.
Similarly, I was struck when I learned of the implications that advances in artificial intelligence and other new computing technologies will have on human development, the workforce and global competitiveness. I saw an urgent need to ensure our society is prepared for the changes to come, which is why I have funded two large-scale programs related to AI, both of which incorporate a focus on AI's ethical and policy considerations. At MIT I helped establish a new, interdisciplinary College of Computing that breaks down traditional academic silos to advance the study of AI, and makes MIT the first AI-enabled university in the world. At Oxford I gave a gift to create a new Humanities Centre which will be designed to encourage cross-disciplinary scholarship and research. The Centre will house several performing art and exhibition venues, and include a major new Institute for Ethics in AI that will help frame relevant issues through a humanities, not technical, lens.
At Yale, where I was an undergraduate and which had the most profound impact on how I think and approach the world, I am helping to build a first-of-its-kind student center that can accommodate a significant number of students, faculty and members of the local community for social and world-class performing art events.
In other instances, I am simply drawn to organizations with a proven track record of achieving results. In this regard, my wife Christine and I are the largest donors to the Catholic school system in the US. We are thrilled to support a system that, in New York City for example, delivers a 98% high school graduation rate despite 70% of students being at, or below, the poverty line.
My philanthropy has brought a tremendous sense of joy and meaning to my life and I anticipate I will find more ways to give back during my lifetime. I'm proud that many of my projects have prompted the philanthropic participation of others, either in terms of giving to the same institution or giving to a similar effort elsewhere. In this way, my philanthropy already strongly echoes the spirit and intended impact of the Giving Pledge. Although plans for my estate have long reflected the principles of the Pledge, I am joining because I think it's an important signal to encourage others to step up philanthropically as well.
You, Melinda and Warren have done a remarkable job of giving as well as inspiring others to commit their wealth to philanthropic causes for the common good. Thank you all for creating the Giving Pledge; it's an honor to partner with you and the other members in this incredible effort.
Stephen A. Schwarzman
Managing $20 million to $3 billion. Investing $3 million to $300 million.
For Investment Managers, Hedge Funds, Boutique Funds, Private Equity, Venture Capital, Professional Investors, Family Offices, Private Bankers & Advisors, sign up today. Subscribe to Caproasia and receive the latest news, data, insights & reports, events & programs daily at 2 pm.
Join Events & Find Services
Join Investments, Private Wealth, Family Office events in Hong Kong, Singapore, Asia-wide. Find hard-to-find $3 million to $300 million financial & investment services at The Financial Centre | TFC. Find financial, investment, private wealth, family office, real estate, luxury investments, citizenship, law firms & more.  List hard-to-find financial & private wealth services. Have a product launch? Promote a product or service? List your service at The Financial Centre | TFC. Join interviews & editorial and be featured on Caproasia.com or join Investments, Private Wealth, Family Office events. Contact us at
[email protected]
or
[email protected]
Caproasia.com
| The leading source of data, research, information & resource for financial professionals, investment managers, professional investors, family offices & advisors to institutions, billionaires, UHNWs & HNWs. Covering capital markets, investments and private wealth in Asia. How do you invest $3 million to $300 million? How do you manage $20 million to $3 billion of assets?
Quick Links
2021 Data Release
2020 List of Private Banks in Hong Kong
2020 List of Private Banks in Singapore
2020 Top 10 Largest Family Office
2020 Top 10 Largest Multi-Family Offices
2020 Report: Hong Kong Private Banks & Asset Mgmt - $4.49 Trillion
2020 Report: Singapore Asset Mgmt - $3.48 Trillion AUM
For Investors | Professionals | Executives
Latest data, reports, insights, news, events & programs Everyday at 2 pm Direct to your inbox Save 2 to 8 hours per week. Organised for success
Register Below
For CEOs, Heads, Senior Management, Market Heads, Desk Heads, Financial Professionals, Investment Managers, Asset Managers, Fund Managers, Hedge Funds, Boutique Funds, Analysts, Advisors, Wealth Managers, Private Bankers, Family Offices, Investment Bankers, Private Equity, Institutional Investors, Professional Investors
Get Ahead in 60 Seconds. Join 10,000 +
Save 2 to 8 hours weekly. Organised for Success.
Sign Up / Register
Web links may be disabled on mobile for security. Please click on desktop.



---
Caproasia Users
Manage $20 million to $3 billion of assets
Invest $3 million to $300 million
Advise institutions, billionaires, UHNWs & HNWs
Caproasia Platforms | 10,000 Investors & Advisors
Monthly Roundtable & Networking
Family Office Programs
The 2023 Investment Day
28th March 2023 - Hong Kong
4th April 2023 - Singapore
April 2023 - Virtual
6th June 2023 - Hong Kong
13th June 2023 - Singapore
Sept 2023 - Hong Kong
Oct 2023 - Singapore
Oct 2023 - Hong Kong
Visit: The Investment Day | Register: Click here
Caproasia Summits
Contact Us
For Enquiries, Membership
[email protected]
,
[email protected]
For Listing, Subscription
[email protected]
,
[email protected]
For Press Release, send to:
[email protected]
For Events & Webinars
[email protected]
For Media Kit, Advertising, Sponsorships, Partnerships
[email protected]
For Research, Data, Surveys, Reports
[email protected]
For General Enquiries
[email protected]
---
Caproasia | Driving the future of Asia a financial information technology co. since 2014
---