---
Bank of Singapore Hires Credit Suisse Steven Lee as Head of Independent Asset Management (IAM)
27th April 2022 | Hong Kong
Bank of Singapore, the independent private banking business of OCBC Bank with $124 billion AUM, has hired Credit Suisse Steven Lee as Head of Independent Asset Management (IAM) based in Hong Kong. Steven Lee joins Bank of Singapore after 6 years at Credit Suisse where he last held the role of Senior Director focusing on External Asset Managers (EAM) and family offices. Before Credit Suisse, Steven Lee was with ABN AMRO Private Banking, Goldman Sachs and CICC (China International Capital Corp). At Bank of Singapore, Steven Lee will lead strategy & development for the Independent Asset Management (IAM) business, and will report to Li Li Lim (Bank of Singapore Head of Global Investors & Family Offices) and Teresa Lee (Bank of Singapore Alternate Chief Executive Hong Kong & Head of Greater China). (AUM ~ Assets under Management)
" Bank of Singapore Hires Credit Suisse Steven Lee as Head of Independent Asset Management (IAM) "
---
Web links may be disabled on mobile for security. Please click on desktop.


---
Bank of Singapore Hires Credit Suisse Steven Lee as Head of Independent Asset Management (IAM)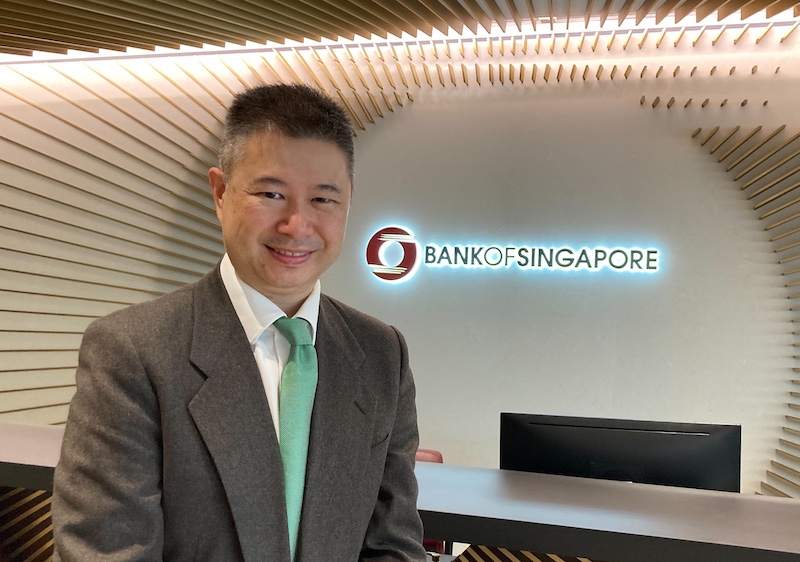 Bank of Singapore is a wholly owned subsidiary of OCBC Bank, Southeast Asia's second largest bank. Headquartered in Singapore, Bank of Singapore operates from a strong and open economy. We are one of the fastest growing private banks in Asia, offering a structured and consistent approach – an open architecture product platform with robust research capabilities to deliver a total risk-based solution customised to each client's needs. As we are strategically positioned to serve our clients across the globe with our network of offices, they also enjoy access to our parent company's full suite of investment and commercial banking solutions such as financing, insurance and brokerage services.
OCBC Bank is formed in 1932 after the merger of three local banks, the oldest of which was founded in 1912, OCBC Bank is the longest established Singapore bank. Recognised for its financial strength and stability, OCBC Bank is now the second largest financial services group in Southeast Asia by assets and one of the world's most highly-rated banks with an Aa1 credit rating from Moody's. It is also consistently ranked Asean's strongest bank and among the world's five strongest banks by Bloomberg Markets.
---
For CEOs, Heads, Senior Management, Market Heads, Desk Heads, Financial Professionals, Investment Managers, Asset Managers, Fund Managers, Hedge Funds, Boutique Funds, Analysts, Advisors, Wealth Managers, Private Bankers, Family Offices, Investment Bankers, Private Equity, Institutional Investors, Professional Investors
Sign Up / Contact Us
Caproasia | Get Ahead in 60 Seconds. Join 10,000 +
Caproasia | Driving the future of Asia
a financial information technology co. since 2014
Web links may be disabled on mobile for security. Please click on desktop.





---
Caproasia.com
| The leading financial website for investment managers, professional investors, UHNW & HNW investors and advisors to institutions, billionaires, UHNWs & HNWs.
Covering capital markets, investments and private wealth in Asia. How do you invest $3 million to $300 million? How do you manage $20 million to $3 billion of assets?
Caproasia
is a financial information technology co. founded in 2014. We have 4 businesses in Media, Information, Services and Technology. We created 3 solutions: Membership, Events & Platforms to drive investment decisions in Asia through information, services, technology & people, that impact economies, societies & people. Our Mission: Driving the future of Asia For 2022 Investment Day: mail@caproasia.com For Family Office, Professional Investor, HNW Investor Events: mail@caproasia.com For Membership, Events, Networking, Roundtable, Summits: mail@caproasia.com For Investment Relations Network: mail@caproasia.com For Platforms, Media Kit, Advertising, Campaigns, Partnerships: angel@caproasia.com For press release: press@caproasia.com For all other enquiries: mail@caproasia.com
---
Caproasia Users
Manage $20 million to $3 billion of assets
Invest $3 million to $300 million
Advise institutions, billionaires, UHNWs & HNWs
Learn More | Caproasia Users
Caproasia Platforms | Join 10,000 Investors & Advisors
Monthly Networking & Roundtables:
Membership | Join a Powerful Network:
Family Office Programs:
Caproasia Summits:
Special Coverage