---
UBS Launches Digital Platform UBS Circle One to Provide Clients with Insights & Actionable Ideas, Phase 1 Launch in Asia-Pacific
27th May 2022 | Hong Kong
UBS has launched a new digital platform UBS Circle One to provide clients with top insights & actionable ideas, with phase 1 to be launched in Asia-Pacific.  UBS Circle One will provide clients with new daily content based on latest UBS CIO House Views through short videos, podcasts and interactive live webinars on a daily & weekly basis, complementing traditional investment reports and physical events, and actionable ideas & investment opportunities at their fingertips, where they can then choose to invest or trade through our mobile banking app.  In phase 2, clients will be able to connect with each other and to experts across the globe in "circles" of interest groups on topics they are passionate about from investing, wealth planning, family advisory to sustainability, art, philanthropy etc.  UBS Circle One will be rolled out to the various regions including the US and Europe in 2023. The app was co-created with 100 digitally savvy clients in Hong Kong and Singapore who provided valuable insights in fine-tuning its features and usability.
" UBS Launches Digital Platform UBS Circle One to Provide Clients with Insights & Actionable Ideas, Phase 1 Launch in Asia-Pacific "
- Article continues below - Web links may be disabled on mobile for security. Please click on desktop.



UBS Circle One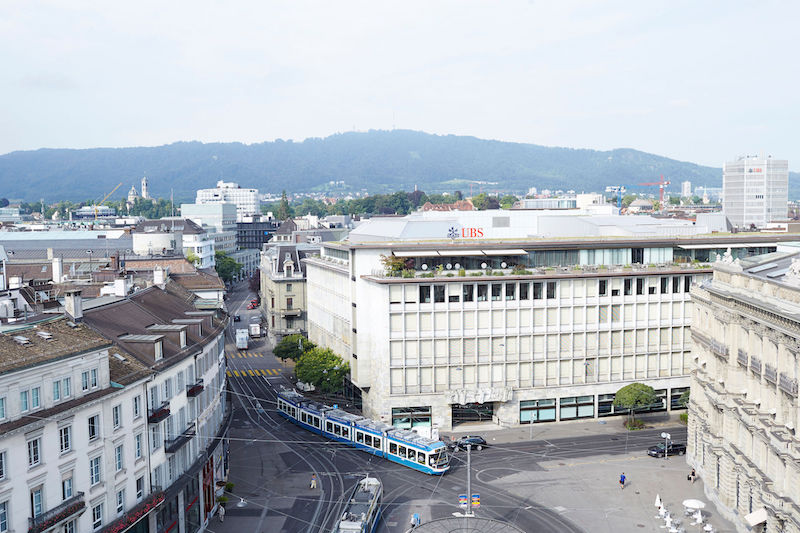 Some examples of the daily and weekly video shows on UBS Circle One include:
Inside Take: Daily insights into the minds of UBS CIO at the moment, based on what is currently happening in the markets
Top Movers: Daily brunch time podcast that summarizes key market moves overnight
Market Wrap: The UBS Knowledge Network team provides daily macro and sector related commentary in a daily podcast
Ask Kelvin: A two-way dialogue with Kelvin Tay, Regional CIO, directly addressing client questions, bringing clarity to market events
CIO Live in 5: Livestream highlighting the key points of CIO Live, sharing investment recommendations, opportunities and challenges
Collector Insights: A glimpse into the passion, purpose and legacy of global collectors
Game changers: Industry experts and leaders discuss game-changing ideas that will shape the future and investment landscape
Big Names: A deep dive with big name speakers, as they share a vision of the world that helps us think differently
The Next Opportunity: Discover emerging themes and trends with experts across various fields such as authors, academics, and analysts
August Hatecke, Co-Head UBS Global Wealth Management APAC:
"UBS Circle One is all about people, content and connections, bringing the best of UBS's global ecosystem to our clients. Our UBS House View drives the investment strategy for USD 3 trillion of invested assets globally and through UBS Circle One, we bring the latest investment views and solutions to our wealth management clients. Singapore continues to grow as a global wealth management hub as well as a center of innovation and talent. I am proud that this leading-edge innovation is first rolled out in Asia, and of our APAC team and Swiss colleagues for their talent and speed in developing this innovative digital platform".
Dorothy Hill, UBS Head of Ecosystems and Global Wealth Management Digital Ventures:
"Looking at how much time people spend on their mobile phones, this is where we want to be with UBS Circle One – always at our clients' fingertips anytime and anywhere. Today, an exciting journey starts, and I am looking forward to hearing from our clients about how we can serve them with relevant insights to make UBS Circle One their go-to for thought leadership".
Amy Lo, Co-Head UBS Global Wealth Management APAC:
"UBS Circle One is not just a mobile app, it is our key differentiator and an extension of our wide array of digital innovations such as UBS Advisor Messaging, Direct Investment Insights etc. Digital is in the DNA of our business. Our Asia clients are digitally savvy, and they enjoy relevant, personalized, on-time and seamless investing. UBS Circle One brings us further ahead in this digital age, offering our clients insights depending on their interests".
Managing $20 million to $3 billion. Investing $3 million to $300 million. For Investment Managers, Hedge Funds, Boutique Funds, Private Equity, Venture Capital, Professional Investors, Family Offices, Private Bankers & Advisors, sign up today. Subscribe to Caproasia and receive the latest news, data, insights & reports, events & programs daily at 2 pm. Join Events & Find Services Join Investments, Private Wealth, Family Office events in Hong Kong, Singapore, Asia-wide. Find hard-to-find $3 million to $300 million financial & investment services at The Financial Centre | TFC. Find financial, investment, private wealth, family office, real estate, luxury investments, citizenship, law firms & more.  List hard-to-find financial & private wealth services. Have a product launch? Promote a product or service? List your service at The Financial Centre | TFC. Join interviews & editorial and be featured on Caproasia.com or join Investments, Private Wealth, Family Office events. Contact us at angel@caproasia.com or mail@caproasia.com Caproasia.com | The leading source of data, research, information & resource for financial professionals, investment managers, professional investors, family offices & advisors to institutions, billionaires, UHNWs & HNWs. Covering capital markets, investments and private wealth in Asia. How do you invest $3 million to $300 million? How do you manage $20 million to $3 billion of assets?
Quick Links
2021 Data Release
2020 List of Private Banks in Hong Kong
2020 List of Private Banks in Singapore
2020 Top 10 Largest Family Office
2020 Top 10 Largest Multi-Family Offices
2020 Report: Hong Kong Private Banks & Asset Mgmt - $4.49 Trillion
2020 Report: Singapore Asset Mgmt - $3.48 Trillion AUM
For Investors | Professionals | Executives
Latest data, reports, insights, news, events & programs Everyday at 2 pm Direct to your inbox Save 2 to 8 hours per week. Organised for success
Register Below
For CEOs, Heads, Senior Management, Market Heads, Desk Heads, Financial Professionals, Investment Managers, Asset Managers, Fund Managers, Hedge Funds, Boutique Funds, Analysts, Advisors, Wealth Managers, Private Bankers, Family Offices, Investment Bankers, Private Equity, Institutional Investors, Professional Investors
Get Ahead in 60 Seconds. Join 10,000 +
Save 2 to 8 hours weekly. Organised for Success.
Sign Up / Register
Web links may be disabled on mobile for security. Please click on desktop.



---
Caproasia Users
Manage $20 million to $3 billion of assets
Invest $3 million to $300 million
Advise institutions, billionaires, UHNWs & HNWs
Caproasia Platforms | 10,000 Investors & Advisors
Monthly Roundtable & Networking
Family Office Programs
The 2023 Investment Day
28th March 2023 - Hong Kong
4th April 2023 - Singapore
April 2023 - Virtual
Sept 2023 - Hong Kong
Oct 2023 - Singapore
Oct 2023 - Hong Kong
Visit: The Investment Day | Register: Click here
Caproasia Summits
Contact Us
For Enquiries, Membership mail@caproasia.com, angel@caproasia.com For Listing, Subscription mail@caproasia.com, claire@caproasia.com For Press Release, send to: press@caproasia.com For Events & Webinars events@caproasia.com For Media Kit, Advertising, Sponsorships, Partnerships angel@caproasia.com For Research, Data, Surveys, Reports research@caproasia.com For General Enquiries mail@caproasia.com
---
Caproasia | Driving the future of Asia a financial information technology co. since 2014
---