---
Dutch Chemical Group DSM & Swiss Fragrance Group Firmenich to Merge into $43 Billion Nutrition Powerhouse
3rd June 2022 | Hong Kong
Dutch chemical group Royal DSM & Swiss fragrance group Firmenich will be merging to form a $43 billion nutrition powerhouse, DSM-Firmenich.  DSM-Firmenich will be leveraging world-class science (Royal DSM) and complementary capabilities in fragrance, taste, texture and nutrition (Firmenich), with dual headquarter in Switzerland and Netherlands.  Key Financial: Attractive annual run rate synergy potential of €350m Adj. EBITDA, including c. €500m annual sales uplift particularly from combining DSM's Food & Beverage and Firmenich's Taste & Beyond businesses, supporting double-digit EPS accretion.  Key Merger Terms: Merger to be effected through public offer for DSM shares in exchange for DSM-Firmenich shares (1:1 exchange ratio) and contribution of Firmenich shares to DSM-Firmenich in exchange for DSM-Firmenich shares and €3.5bn cash (subject to potential adjustment).  DSM's shareholders to own in aggregate 65.5% of DSM-Firmenich and the various Firmenich shareholders to own in aggregate 34.5% at inception.
" Dutch Chemical Group DSM & Swiss Fragrance Group Firmenich to Merge into $43 Billion Nutrition Powerhouse "
Ads & Announcements
The 2023 Investment Day | HK & SG
-
Visit & Register here
Where do you invest $250k, $1 million, $10 million, $100 million or $1 billion? Can you generate IRR of 10% / 15% / 20% or more? Private Equity, Hedge Funds, Boutique Funds, Private Markets & more. Taking place on 28th March 2023 in Hong Kong, 4th April 2023 in Singapore, and Virtual Investment Day in April 2023.




Firmenich and DSM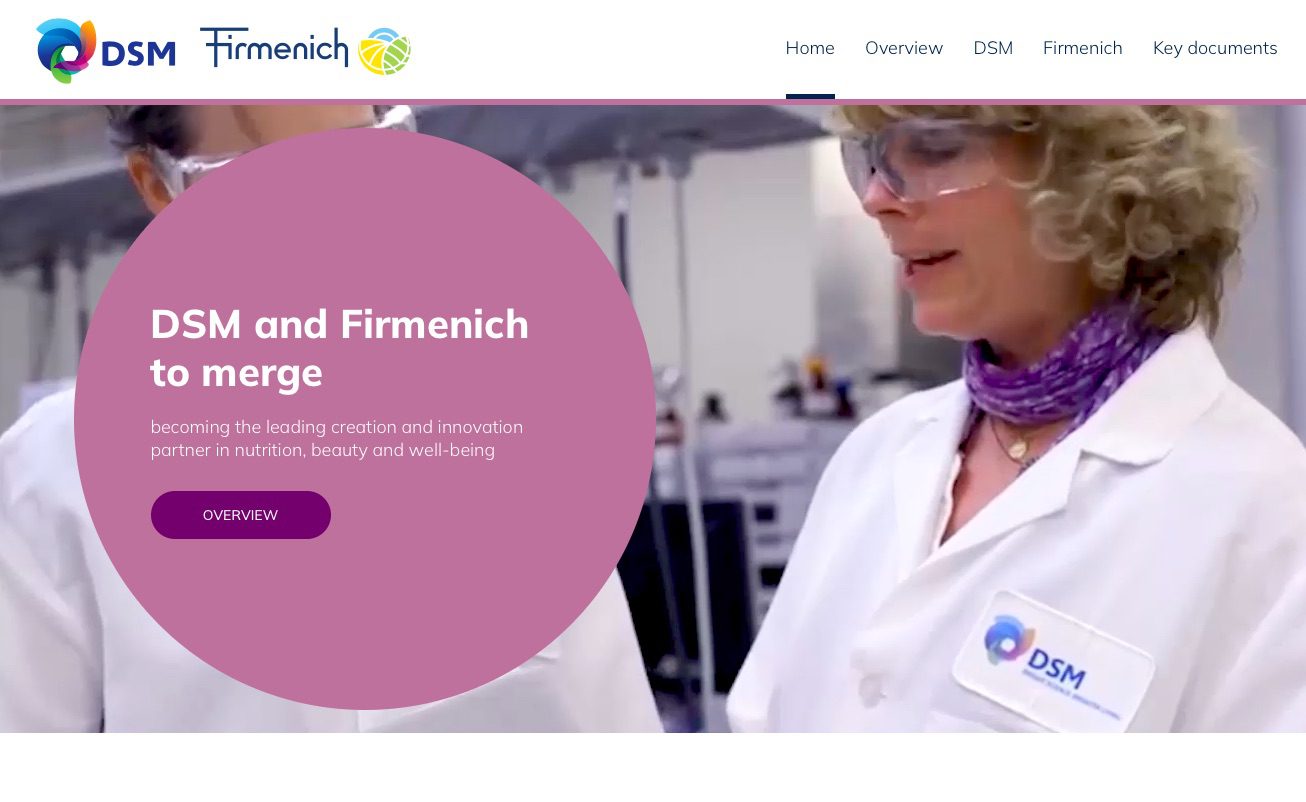 The combination of Firmenich and DSM will establish the leading creation and innovation partner in nutrition, beauty and well-being with four high-performing and complementary businesses, each with pioneering, leadership positions:
Perfumery & Beauty, with combined revenues of €3.3bn, will be the foremost creator of positive fragrances and beauty products and a global aroma ingredients business that together have leadership in renewable, natural, proprietary biodegradable and biotechnology-derived ingredients. Firmenich's leading global Perfumery and Ingredients business will expand into Beauty through the addition of DSM's Personal Care & Aroma business to delight consumers with superior sensorial experiences and differentiated performance, delivering active benefits, addressing clean & hygiene, health & reassurance and emotion & well-being
Food & Beverage / Taste & Beyond, with combined revenues of €2.7bn, will form a global-scale partner to the food and beverage industry with extensive capabilities in taste, nutrition and functionality in order to provide delicious, nutritious and sustainable products that deliver unique and superior consumer experiences. The new business will lead the diet transformation in creating healthier, great-tasting, accessible food and beverages with more natural and sustainable ingredients, including market and innovation leadership in naturals and clean label products; in plant-based foods; and in supporting a superior taste experience whilst enhancing food's nutritional profile (for example with vitamins, probiotics, and lipids and reducing sugar and salt)
Health, Nutrition & Care, with revenues of €2.2bn, will continue its development as an end-to-end partner providing customized quality solutions that support the health of people at every life stage. It will aim to keep the world's growing population healthy through a broad portfolio of sustainable, science-backed innovative solutions, addressing consumers' health and lifestyle needs, for customers in the dietary supplements, early-life nutrition, pharmaceuticals, medical nutrition, nutrition improvement for the under-nourished, and medical devices markets
Animal Nutrition & Health, with revenues of €3.3bn, will continue to focus on specialty science- and technology-driven solutions to the ever-increasing demand for protein such as meat but also eggs, fish and dairy, while also alleviating the pressure on the planet's finite natural resources. The business is leading a robust and achievable transformation to make animal farming worldwide radically more sustainable by empowering farmers with essential products such as vitamins. It is one of the world's largest suppliers of eubiotics, enzymes, and mycotoxin risk management, as well as a wide range of impactful innovations such as methane inhibitor Bovaer® and fish-oil algae-alternative Veramaris®
About Firmenich
Firmenich is the world's largest privately-owned fragrance and taste company and has been family-owned for 127 years. The Swiss company specializes in perfumes, flavors, and ingredients and is renowned for its world-class research as well as leadership in sustainability. Firmenich delivered CHF 4.5bn of sales in the calendar year 2021 with Adjusted EBITDA margin of c. 20%.
About DSM
DSM has transformed during its 150+ year history into today's health, nutrition & bioscience global leader. The Dutch-Swiss company specializes in nutritional ingredients for food and feed with proven world-leading bioscience capabilities and an international network of high-quality manufacturing sites that underpin a business model of global products, local solutions and personalization and precision. For Health, Nutrition & Bioscience (excluding Materials), DSM delivered €7.3bn of sales in the calendar year 2021, with adjusted EBITDA of €1.4bn and an adjusted EBITDA margin of 19%.
---
---
For CEOs, Heads, Senior Management, Market Heads, Desk Heads, Financial Professionals, Investment Managers, Asset Managers, Fund Managers, Hedge Funds, Boutique Funds, Analysts, Advisors, Wealth Managers, Private Bankers, Family Offices, Investment Bankers, Private Equity, Institutional Investors, Professional Investors
Get Ahead in 60 Seconds. Join 10,000 +
Save 2 to 8 hours weekly. Organised for Success.
Subscribe / Sign Up / Contact Us
Caproasia | Driving the future of Asia a financial information technology co. since 2014
Web links may be disabled on mobile for security. Please click on desktop.




---