---
Cosmetic Giant Revlon Files for Chapter 11 Bankruptcy
17th June 2022 | Hong Kong
Revlon, a 90-year-old domestic giant founded in 1932 by brothers Charles Revson & Joseph Revson and chemist Charles Lachman, has filed for Chapter 11 bankruptcy with increasing losses, $3.8 billion of debts, competition, losing shelf space and supply chain issues (product shortages).  With the bankruptcy filing, Revlon will receive $575 million in debtor-in-posession financing to fund its daily operations.   Revlon CEO Debra Perelman: "Today's filing will allow Revlon to offer our consumers the iconic products we have delivered for decades, while providing a clearer path for our future growth."  Revlon had grew to become the 2nd largest makeup company behind Estée Lauder, and featuring top models including Cindy Crawford and Claudia Schiffer.  In 1985, Revlon was acquired by Ron Perelman for $2.7 billion. In 1996, Revlon went public in 1996. In 2016, Revlon acquired luxury beauty brand Elizabeth Arden for $870 million.  Prior to bankruptcy filing on 16th June 2022, Revlon market capitalisation is around $106 million.  
" Cosmetic Giant Revlon Files for Chapter 11 Bankruptcy "
- Article continues below -
Charles Revson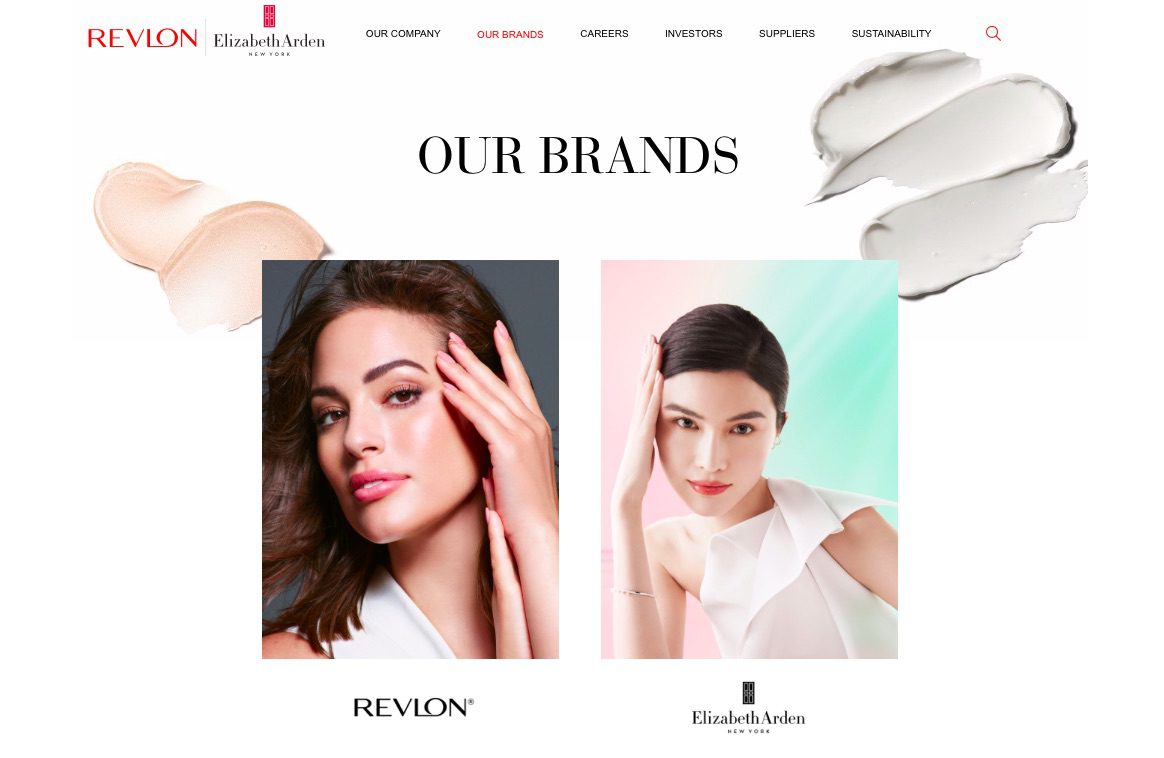 Charles Haskell Revson was born October 11, 1906 in Boston. In 1932, brothers Charles and Joseph Revson, and chemist Charles Lachman, founded Revlon. An American businessman and philanthropist, Revson believed, "in the factory we make cosmetics; in the store we sell hope."
A strategic and skilled salesman, with an eye for color, Revson invented a revolutionary nail "cream enamel," formulated with pigments in a wide variety of fashion shades, providing superior performance to the transparent, dye-based products of the time.  Revlon began with a single product – in salons, with the belief that women would enjoy a manicure after having their hair done. He developed new colors each season to compliment women's apparel. Soon, Revlon nail enamel was seen on fashionable women's nails everywhere—including on the cover of Vogue.
Within a few years, he expanded his business to drug and department stores and had 21 shades of Cream Nail Enamel in 1938. By 1942, Revlon became a multi-million dollar company and, by the end of World War II, it was one of the U.S.'s top five beauty brands.  Focused on quality and driven by fashion, in 1939, Revson introduced a range of lipsticks to match his Creme Nail polish and advertised the two products together as "Seen on the Fingertips and Lips of the nation's smartest women…" This marked the beginning of his expansion into other beauty product categories.
A strong believer in advertising, and a marketing genius, he developed exotic and romantic names for his products, such as Fire and Ice, Cherries in the Snow, Plum Lightning, Moon Drops, and Ultima II. Revson was a pioneer and by 1956, was the sole advertiser of the hit gameshow The $64,000 Question. Revson was the first brand to sign an ambassador, Lauren Hutton for Ultima II, and brought on Richard Avedon as her exclusive photographer.
By the early 1960s, Revlon had subsidiaries in France, Italy, Argentina, Mexico and Asia and had successfully entered the fragrance market. In 1973, Revlon launched Charlie, a fragrance that personified the independent woman of the 1970s and was an instant global success.
Revson managed Revlon for 50 years. He served as the President of Revlon from 1932 to 1962, and then Chairman, until his death in 1975.  Today, Revlon is sold in 150 countries. Known for his perfectionism, relentless drive and attention to detail, Revson created one of the most globally recognized and enduring beauty brands today.
Managing $20 million to $3 billion. Investing $3 million to $300 million.
For Investment Managers, Hedge Funds, Boutique Funds, Private Equity, Venture Capital, Professional Investors, Family Offices, Private Bankers & Advisors, sign up today. Subscribe to Caproasia and receive the latest news, data, insights & reports, events & programs daily at 2 pm.
Join Events & Find Services
Join Investments, Private Wealth, Family Office events in Hong Kong, Singapore, Asia-wide. Find hard-to-find $3 million to $300 million financial & investment services at The Financial Centre | TFC. Find financial, investment, private wealth, family office, real estate, luxury investments, citizenship, law firms & more.  List hard-to-find financial & private wealth services. Have a product launch? Promote a product or service? List your service at The Financial Centre | TFC. Join interviews & editorial and be featured on Caproasia.com or join Investments, Private Wealth, Family Office events. Contact us at
[email protected]
or
[email protected]
Caproasia.com
| The leading source of data, research, information & resource for financial professionals, investment managers, professional investors, family offices & advisors to institutions, billionaires, UHNWs & HNWs. Covering capital markets, investments and private wealth in Asia. How do you invest $3 million to $300 million? How do you manage $20 million to $3 billion of assets?
Quick Links
2021 Data Release
2020 List of Private Banks in Hong Kong
2020 List of Private Banks in Singapore
2020 Top 10 Largest Family Office
2020 Top 10 Largest Multi-Family Offices
2020 Report: Hong Kong Private Banks & Asset Mgmt - $4.49 Trillion
2020 Report: Singapore Asset Mgmt - $3.48 Trillion AUM
For Investors | Professionals | Executives
Latest data, reports, insights, news, events & programs Everyday at 2 pm Direct to your inbox Save 2 to 8 hours per week. Organised for success
Register Below
For CEOs, Heads, Senior Management, Market Heads, Desk Heads, Financial Professionals, Investment Managers, Asset Managers, Fund Managers, Hedge Funds, Boutique Funds, Analysts, Advisors, Wealth Managers, Private Bankers, Family Offices, Investment Bankers, Private Equity, Institutional Investors, Professional Investors
Get Ahead in 60 Seconds. Join 10,000 +
Save 2 to 8 hours weekly. Organised for Success.
Sign Up / Register
Web links may be disabled on mobile for security. Please click on desktop.



---
Caproasia Users
Manage $20 million to $3 billion of assets
Invest $3 million to $300 million
Advise institutions, billionaires, UHNWs & HNWs
Caproasia Platforms | 10,000 Investors & Advisors
Monthly Roundtable & Networking
Family Office Programs
The 2023 Investment Day
28th March 2023 - Hong Kong
4th April 2023 - Singapore
April 2023 - Virtual
6th June 2023 - Hong Kong
13th June 2023 - Singapore
Sept 2023 - Hong Kong
Oct 2023 - Singapore
Oct 2023 - Hong Kong
Visit: The Investment Day | Register: Click here
Caproasia Summits
Contact Us
For Enquiries, Membership
[email protected]
,
[email protected]
For Listing, Subscription
[email protected]
,
[email protected]
For Press Release, send to:
[email protected]
For Events & Webinars
[email protected]
For Media Kit, Advertising, Sponsorships, Partnerships
[email protected]
For Research, Data, Surveys, Reports
[email protected]
For General Enquiries
[email protected]
---
Caproasia | Driving the future of Asia a financial information technology co. since 2014
---