---
Top Venture Capital Firm Sequoia Capital Launches $850 Million Southeast Asia Fund & $2 Billion India Fund, Early Investors of Apple & Atari
17th June 2022 | Singapore
Top venture capital firm Sequoia Capital has launched 2 new funds, a $850 million Southeast Asia Fund and a $2 billion India Fund. Sequoia Capital was founded in 1972 by Don Valentine with a $3 million fund, backing Apple and video game pioneer Atari. Sequoia Capital is also an early investor in many of the world's top technology companies including Cisco, Google, Instagram, Airbnb and Stripe.
" Top Venture Capital Firm Sequoia Capital Launches $850 Million Southeast Asia Fund & $2 Billion India Fund, Early Investors of Apple & Atari "
---
Web links may be disabled on mobile for security. Please click on desktop.


---
Sequoia Capital

History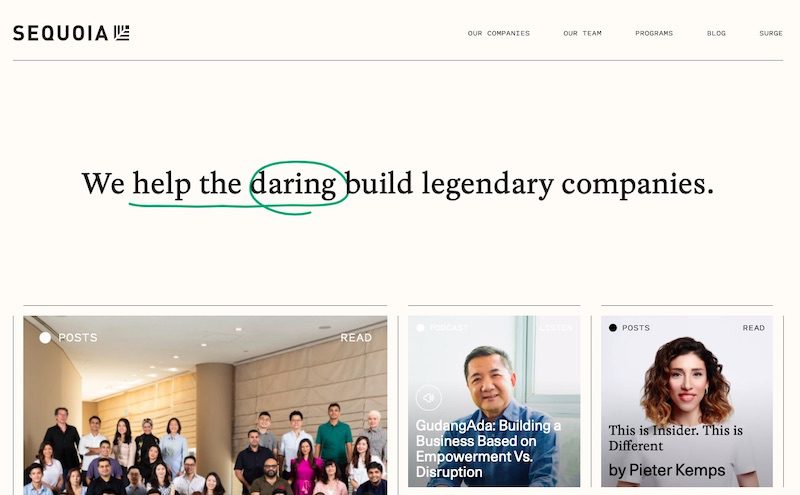 In 1972, when Don Valentine founded Sequoia Capital, the term "Silicon Valley" was less than two years old. A veteran of the nascent semiconductor industry, Don had helped power the growth of personal computing and networking. With Sequoia's first $3 million fund, he backed both Apple and video game pioneer Atari. That Don chose "Sequoia," a tree that lives thousands of years, rather than naming the firm after himself surprises no one who knew him. It was his humility and commitment to empowering the next generation that has enabled our team to stand the test of time. We've partnered with each generation of legendary companies since then, from Cisco to Google to Instagram to Airbnb and Stripe, and beyond. From the start, we have ensured that when our founders win, so do great causes. Sequoia invests primarily on behalf of nonprofits and schools, with organizations such as the Ford Foundation and Boston Children's Hospital forming most of our limited partner base. Working for them gives us a greater sense of responsibility and purpose.
---
For CEOs, Heads, Senior Management, Market Heads, Desk Heads, Financial Professionals, Investment Managers, Asset Managers, Fund Managers, Hedge Funds, Boutique Funds, Analysts, Advisors, Wealth Managers, Private Bankers, Family Offices, Investment Bankers, Private Equity, Institutional Investors, Professional Investors
Sign Up / Contact Us
Caproasia | Get Ahead in 60 Seconds. Join 10,000 +
Caproasia | Driving the future of Asia
a financial information technology co. since 2014
Web links may be disabled on mobile for security. Please click on desktop.





---
Caproasia.com
| The leading financial website for investment managers, professional investors, UHNW & HNW investors and advisors to institutions, billionaires, UHNWs & HNWs.
Covering capital markets, investments and private wealth in Asia. How do you invest $3 million to $300 million? How do you manage $20 million to $3 billion of assets?
Caproasia
is a financial information technology co. founded in 2014. We have 4 businesses in Media, Information, Services and Technology. We created 3 solutions: Membership, Events & Platforms to drive investment decisions in Asia through information, services, technology & people, that impact economies, societies & people. Our Mission: Driving the future of Asia For 2022 Investment Day: mail@caproasia.com For Family Office, Professional Investor, HNW Investor Events: mail@caproasia.com For Membership, Events, Networking, Roundtable, Summits: mail@caproasia.com For Investment Relations Network: mail@caproasia.com For Platforms, Media Kit, Advertising, Campaigns, Partnerships: angel@caproasia.com For press release: press@caproasia.com For all other enquiries: mail@caproasia.com
---
Caproasia Users
Manage $20 million to $3 billion of assets
Invest $3 million to $300 million
Advise institutions, billionaires, UHNWs & HNWs
Learn More | Caproasia Users
Caproasia Platforms | Join 10,000 Investors & Advisors
Monthly Networking & Roundtables:
Membership | Join a Powerful Network:
Family Office Programs:
Caproasia Summits:
Special Coverage