---
World Largest Asset Manager BlackRock AUM Drops 15% from $10 Trillion to $8.5 Trillion in Q2 2022
21st July 2022 | Singapore
The world's largest asset manager BlackRock AUM has dropped 15% from $10 trillion to $8.5 trillion in Q2 2022.  Laurence D. Fink, Chairman and CEO: "The first half of 2022 brought an investment environment that we have not seen in decades. Investors are simultaneously navigating high inflation, rising rates and the worst start to the year for both stocks and bonds in half a century, with global equity and fixed income indexes down 20% and 10%, respectively.  BlackRock generated net inflows of $90 billion in the second quarter demonstrating our ability, once again, to deliver industry-leading organic growth even in the most challenging of environments. Our connectivity with clients has never been stronger. Over the last twelve months, we've delivered over $460 billion of net inflows reflecting 5% organic base fee growth. I cannot think of a time when BlackRock's strategic focus has been more aligned with the needs of our clients than it is today. ETFs generated $52 billion of net inflows, led by fixed income net inflows of $31 billion. Active strategies continued to reflect demand for systematic equity, LifePath target-date solutions and alternatives, where we raised nearly $8 billion across commitments and net inflows. BlackRock's cash platform reached record AUM levels in the quarter, generating $21 billion of net inflows. And, we had record Aladdin client mandates in the first half of 2022. Over the course of BlackRock's 34-year history, we have experienced numerous periods of volatility and uncertainty, and BlackRock has always come through stronger. It is during periods like these that we differentiate ourselves even more with clients and further deepen those relationships. I see more opportunities for BlackRock today than ever before, and remain confident in our ability to deliver long-term growth for our clients, shareholders and employees." (AUM ~ Assets under Management)
" World Largest Asset Manager BlackRock AUM Drops 15% from $10 Trillion to $8.5 Trillion in Q2 2022 "
Ads & Announcements
The 2023 Investment Day | HK & SG
-
Visit & Register here
Where do you invest $250k, $1 million, $10 million, $100 million or $1 billion? Can you generate IRR of 10% / 15% / 20% or more? Private Equity, Hedge Funds, Boutique Funds, Private Markets & more. Taking place on 28th March 2023 in Hong Kong, 4th April 2023 in Singapore, and Virtual Investment Day in April 2023.




About BlackRock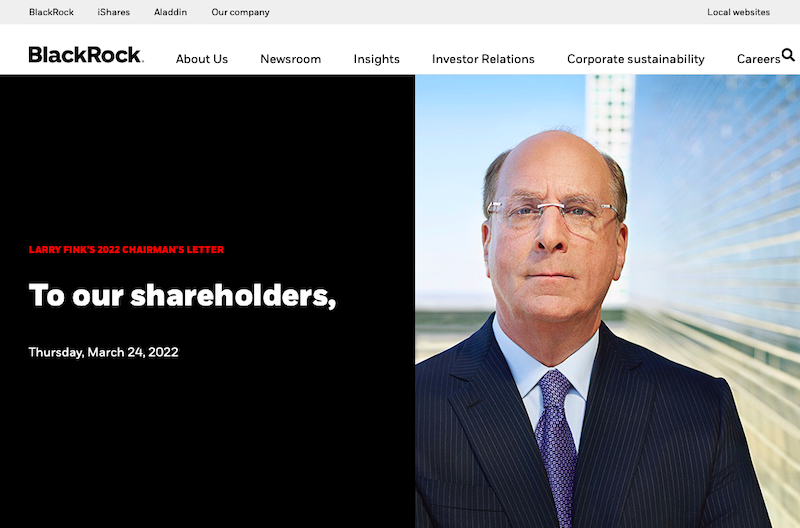 BlackRock's purpose is to help more and more people experience financial well-being. As a fiduciary to investors and a leading provider of financial technology, we help millions of people build savings that serve them throughout their lives by making investing easier and more affordable. 
---
---
For CEOs, Heads, Senior Management, Market Heads, Desk Heads, Financial Professionals, Investment Managers, Asset Managers, Fund Managers, Hedge Funds, Boutique Funds, Analysts, Advisors, Wealth Managers, Private Bankers, Family Offices, Investment Bankers, Private Equity, Institutional Investors, Professional Investors
Get Ahead in 60 Seconds. Join 10,000 +
Save 2 to 8 hours weekly. Organised for Success.
Subscribe / Sign Up / Contact Us
Caproasia | Driving the future of Asia a financial information technology co. since 2014
Web links may be disabled on mobile for security. Please click on desktop.




---