---
UBS Launches New Digital Wealth Management Platform in China with On-boarding in Minutes, Target at 56 Million Affluent Clients
27th October 2022 | Hong Kong
UBS has launched a new digital wealth management platform (mobile APP "WE.UBS") in China with on-boarding of clients in just a few minutes, targeting at 56 million affluent clients in China (mass affluent $50,000 to $1 million, HNW $1 million above).  The mobile APP "WE.UBS" provides clients with access to local & global investment solutions, proactive financial planning based on big data & UBS Chief Investment Office (CIO) views.    UBS: "WE.UBS is collaborating with a number of business partners and fund houses to build an ecosystem that helps clients achieve their own and their family's financial objectives."  Edmund Koh, President, UBS Asia-Pacific:  "China is leading the way in wealth creation and digital transformation globally. As the world's largest wealth manager, it is our goal to be the leading global wealth manager and the #1 digital-first wealth advisor for our targeted clients in China."
" UBS Launches New Digital Wealth Management Platform in China with On-boarding in Minutes, Target at 56 Million Affluent Clients "
Ads & Announcements
The 2023 Investment Day | HK & SG
-
Visit & Register here
Where do you invest $250k, $1 million, $10 million, $100 million or $1 billion? Can you generate IRR of 10% / 15% / 20% or more? Private Equity, Hedge Funds, Boutique Funds, Private Markets & more. Taking place on 28th March 2023 in Hong Kong, 4th April 2023 in Singapore, and Virtual Investment Day in April 2023.




UBS FS
 

in Shenzhen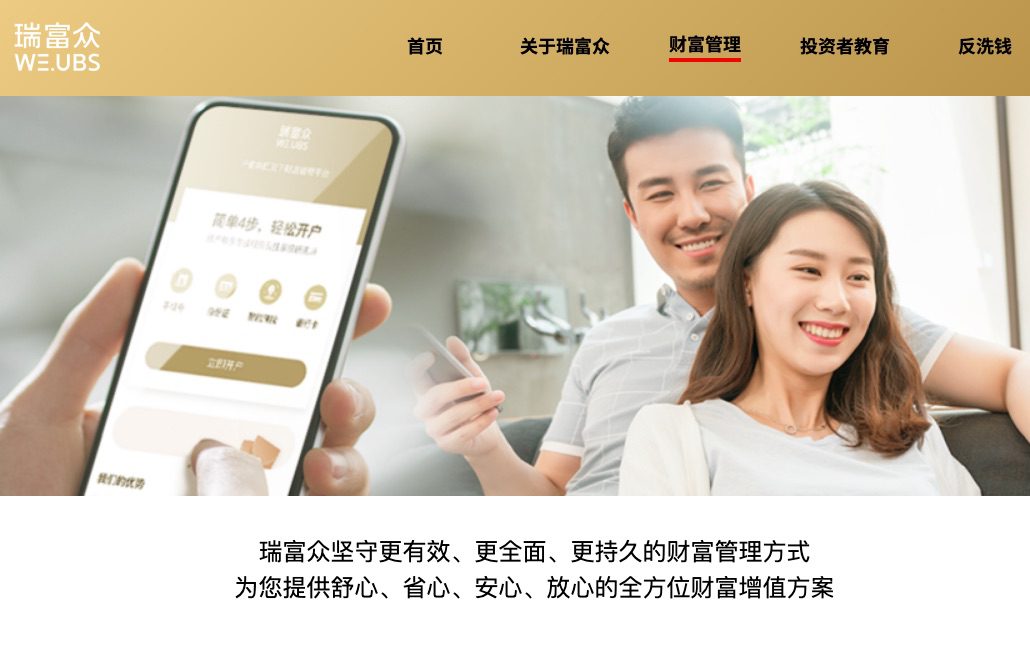 UBS FS has been established in Shenzhen, the key engine behind the Greater Bay Area (GBA), one of the fastest-growing regions in China. The GBA is supported by favourable policies, greater connectivity and population growth with over 86 million inhabitants and a GDP of RMB12.6 trillion (USD1.9 trillion). Chinese affluent individuals will surpass 56 million in 2022, with a significant proportion of them living in the GBA.
Edmund Koh, President, UBS Asia-Pacific:
"China is leading the way in wealth creation and digital transformation globally. As the world's largest wealth manager, it is our goal to be the leading global wealth manager and the #1 digital-first wealth advisor for our targeted clients in China."
Iqbal Khan, President Global Wealth Management UBS:
"Demand for professional wealth management services, delivered digitally, is growing exponentially in China. Following our launch in Shenzhen, we will focus on clients in the GBA before broadening out to other cities."
Andy Ho, General Manager of UBS FS:
"This platform goes beyond a financial institution providing a service or a product. Our ecosystem covers the needs of clients in different aspects of their life with tiered offerings based on the client's relationship with us. This is unique in China."
In addition to Andy Ho, the officiating guests at today's launch ceremony included Jie HE, Director of Shenzhen Municipal Financial Regulatory Bureau; Jean Philippe Praz, Consul General of Switzerland in Guangzhou;  Amy Lo, Co-head, UBS Wealth Management Asia Pacific, UBS Global Wealth Management; Eugene Qian, UBS China Country Head and Chairman of UBS Securities as well as the business partners.
About UBS
UBS convenes the global ecosystem for investing, where people and ideas are connected and opportunities brought to life, and provides financial advice and solutions to wealthy, institutional and corporate clients worldwide, as well as to private clients in Switzerland. UBS offers investment solutions, products and impactful thought leadership, is the leading global wealth manager, provides large-scale and diversified asset management, focused investment banking capabilities, and personal and corporate banking services in Switzerland. The firm focuses on businesses that have a strong competitive position in their target markets, are capital efficient and have an attractive long-term structural growth or profitability outlook.  UBS is present in all major financial centers worldwide. It has offices in more than 50 regions and locations, with about 30% of its employees working in the Americas, 29% in Switzerland, 20% in the rest of Europe, the Middle East and Africa and 21% in Asia Pacific. UBS Group AG employs more than 72,000 people around the world. Its shares are listed on the SIX Swiss Exchange and the New York Stock Exchange (NYSE).
---
---
For CEOs, Heads, Senior Management, Market Heads, Desk Heads, Financial Professionals, Investment Managers, Asset Managers, Fund Managers, Hedge Funds, Boutique Funds, Analysts, Advisors, Wealth Managers, Private Bankers, Family Offices, Investment Bankers, Private Equity, Institutional Investors, Professional Investors
Get Ahead in 60 Seconds. Join 10,000 +
Save 2 to 8 hours weekly. Organised for Success.
Subscribe / Sign Up / Contact Us
Caproasia | Driving the future of Asia a financial information technology co. since 2014
Web links may be disabled on mobile for security. Please click on desktop.




---