---
$120 Billion Private Equity Thoma Bravo Raised Record $32.4 Billion in Technology Buyout Funds, Invested in More than 400 Technology Companies Including McAfee, Qlik & FTX
8th December 2022 | Hong Kong
Top private equity firm Thoma Bravo with $120 billion AUM (Assets under Management) has raised a record $32.4 billion in technology buyout funds, having invested in more than 400 technology & software companies including McAfee (antivirus), Qlik (business analytics) & FTX (crypto exchange).  The $32.4 billion total funds are raised for 3 funds – Thoma Bravo Fund XV ($24.3 billion), Thoma Bravo Discover Fund IV ($6.2 billion) and Thoma Bravo Explore Fund II ($1.8 billion fund).  The investors include sovereign wealth funds, public pension funds, multinational corporations, insurance companies, fund-of-funds, endowments, foundations and family offices.  Thoma Bravo: "Investments in the Funds will advance Thoma Bravo's established strategy and partnership-driven approach of applying operational and sector expertise to investments across healthcare IT, security, financial technology, infrastructure and applications. Thoma Bravo Fund XV will target large equity investments; Thoma Bravo Discover Fund IV will target middle-market equity investments; and Thoma Bravo Explore Fund II will target lower middle-market equity investments … … Each fund surpassed its target, demonstrating the strong support by Thoma Bravo's diverse network of investors for the firm's buyout strategies. Thoma Bravo Fund XV represents the largest tech-focused buyout fund ever raised."
" $120 Billion Private Equity Thoma Bravo Raised Record $32.4 Billion in Technology Buyout Funds, Invested in More than 400 Technology Companies Including McAfee, Qlik & FTX "
- Article continues below - Web links may be disabled on mobile for security. Please click on desktop.
Orlando Bravo, Thoma Bravo Founder & Managing Partner: "We are honored and grateful for the close partnership formed with our long-term investors, and humbled by their continued support of our organization," said . "This fundraise will enable us to further our strategy of collaborating with management teams to build leading software companies. Having invested in more than 400 companies, we have seen firsthand how our partnership with management teams can turn great innovators into great companies, yielding fantastic results."
Jennifer James, Thoma Bravo Managing Director, COO and Head of Investor Relations & Marketing: "We are energized by our investors' strong support of the largest fundraise in Thoma Bravo's history, and of the largest tech fund ever raised, all against the backdrop of a challenging economic and geopolitical environment.  We thank our investors for their continued confidence in Thoma Bravo."
Orlando Bravo, Thoma Bravo Founder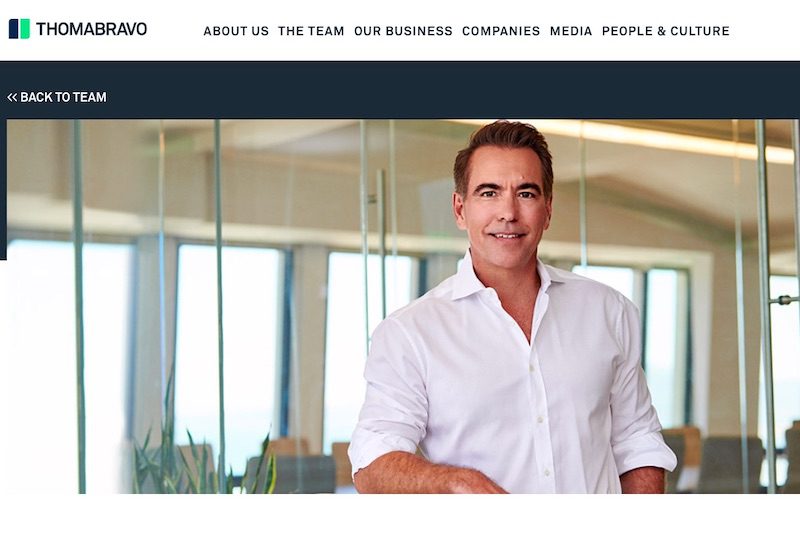 Orlando Bravo is a Founder and Managing Partner of Thoma Bravo. He led Thoma Bravo's early entry into software buyouts and built the firm into one of the top private equity firms in the world. Today, Orlando directs the firm's strategy and investment decisions in accordance with its principles of partnership, innovation, and performance. Orlando has overseen over 420 software acquisitions conducted by the firm, representing more than $235 billion in transaction value. Forbes named him "Wall Street's best dealmaker" in 2019, and he was dubbed "Private equity's king of SaaS" by the Financial Times in 2021.
Orlando was born in Mayaguez, Puerto Rico. He graduated Phi Beta Kappa with a bachelor's degree in economics and political science from Brown University in 1992 and earned a JD from Stanford Law School and an MBA from the Stanford Graduate School of Business in 1998.  
He is the Founder and Chairman of the Bravo Family Foundation, the mission of which is to provide access and opportunities to young adults in Puerto Rico. Orlando directs the organization's various programs and initiatives to promote entrepreneurship, community-based leadership and economic development in Puerto Rico. After Hurricane Maria hit Puerto Rico in 2017, he spearheaded a humanitarian mission to remote communities on the island. In 2019, Orlando committed $100 million to the Foundation's Rising Entrepreneurs Program (REP) with the goal of fostering entrepreneurship in Puerto Rico.  The Orlando Bravo Center for Economics Research at Brown University supports innovative research, training and collaborative projects for faculty and students in the Department of Economics. At Stanford Law School, Orlando created the Bravo Family Public Interest Post-Graduate Fellowship Fund to support students seeking full-time employment in public interest.
Orlando's philanthropic interests also include causes in healthcare. He endowed faculty scholar and fellow positions at Stanford University's Sean N. Parker Center for Allergy Research. He supports a wide range of medical research conducted at Stanford University, at the University of California San Francisco (UCSF) and at the College of Physicians and Surgeons at Columbia University. He is also a member of the Board of Trustees at Memorial Sloan Kettering Cancer Center.  Orlando is a Member of the Board of Trustees of the Corporation of Brown University.
Thoma Bravo in 2022
Thoma Bravo – Thoma Bravo has had an active year on both the buy and sell side, with buyout fund investments and realizations representing approximately $38 billion in combined enterprise value. The firm's buyout funds have invested in more than 400 software companies, and today, the software portfolio includes over 55 companies that generate approximately $20 billion of annual revenue and employ over 75,000 staff globally.
About Thoma Bravo
Thoma Bravo is one of the largest private equity firms in the world, with more than $120 billion in assets under management as of September 30, 2022. The firm invests in growth-oriented, innovative companies operating in the software and technology sectors. Leveraging the firm's deep sector expertise and proven strategic and operational capabilities, Thoma Bravo collaborates with its portfolio companies to implement operating best practices, drive growth initiatives and make accretive acquisitions intended to accelerate revenue and earnings. Over the past 20 years, the firm has acquired or invested in more than 420 companies representing over $235 billion in enterprise value.1 The firm has offices in Chicago, Miami and San Francisco. For more information, visit www.thomabravo.com.
Quick Links
2021 Data Release
2020 List of Private Banks in Hong Kong
2020 List of Private Banks in Singapore
2020 Top 10 Largest Family Office
2020 Top 10 Largest Multi-Family Offices
2020 Report: Hong Kong Private Banks & Asset Mgmt - $4.49 Trillion
2020 Report: Singapore Asset Mgmt - $3.48 Trillion AUM
For Investors | Professionals | Executives
Latest data, reports, insights, news, events & programs Everyday at 2 pm Direct to your inbox Save 2 to 8 hours per week. Organised for success
Register Below
---
Caproasia Users
Manage $20 million to $3 billion of assets
Invest $3 million to $300 million
Advise institutions, billionaires, UHNWs & HNWs
Caproasia Platforms | 10,000 Investors & Advisors
Monthly Roundtable & Networking
Family Office Programs
The 2023 Investment Day
28th March 2023 - Hong Kong
4th April 2023 - Singapore
April 2023 - Virtual
Sept 2023 - Hong Kong
Oct 2023 - Singapore
Oct 2023 - Hong Kong
Visit: The Investment Day | Register: Click here
Caproasia Summits
Contact Us
For Enquiries, Membership mail@caproasia.com, angel@caproasia.com For Listing, Subscription mail@caproasia.com, claire@caproasia.com For Press Release, send to: press@caproasia.com For Events & Webinars events@caproasia.com For Media Kit, Advertising, Sponsorships, Partnerships angel@caproasia.com For Research, Data, Surveys, Reports research@caproasia.com For General Enquiries mail@caproasia.com
---
Make Better Business & Investment Decisions
For CEOs, Heads, Senior Management, Market Heads, Desk Heads, Financial Professionals, Investment Managers, Asset Managers, Fund Managers, Hedge Funds, Boutique Funds, Analysts, Advisors, Wealth Managers, Private Bankers, Family Offices, Investment Bankers, Private Equity, Institutional Investors, Professional Investors
Get Ahead in 60 Seconds. Join 10,000 +
Save 2 to 8 hours weekly. Organised for Success.
Sign Up / Register
Caproasia | Driving the future of Asia a financial information technology co. since 2014
Web links may be disabled on mobile for security. Please click on desktop.



---