Caproasia.com | The leading source of data, research, information & resource for financial professionals, institutional investors, professional investors and private investors (UHNWs, & HNWs). Covering capital markets, investments and private wealth in Asia. How do you invest $3 million to $300 million? How do you manage $20 million to $3 billion of assets? This site is for accredited investors, professional investors, investment managers and financial professionals only. You should have assets around $3 million to $300 million or managing $20 million to $3 billion.
---
Singapore Bank Savings Interest Rate 30 Years History
Period: 1985 – 2015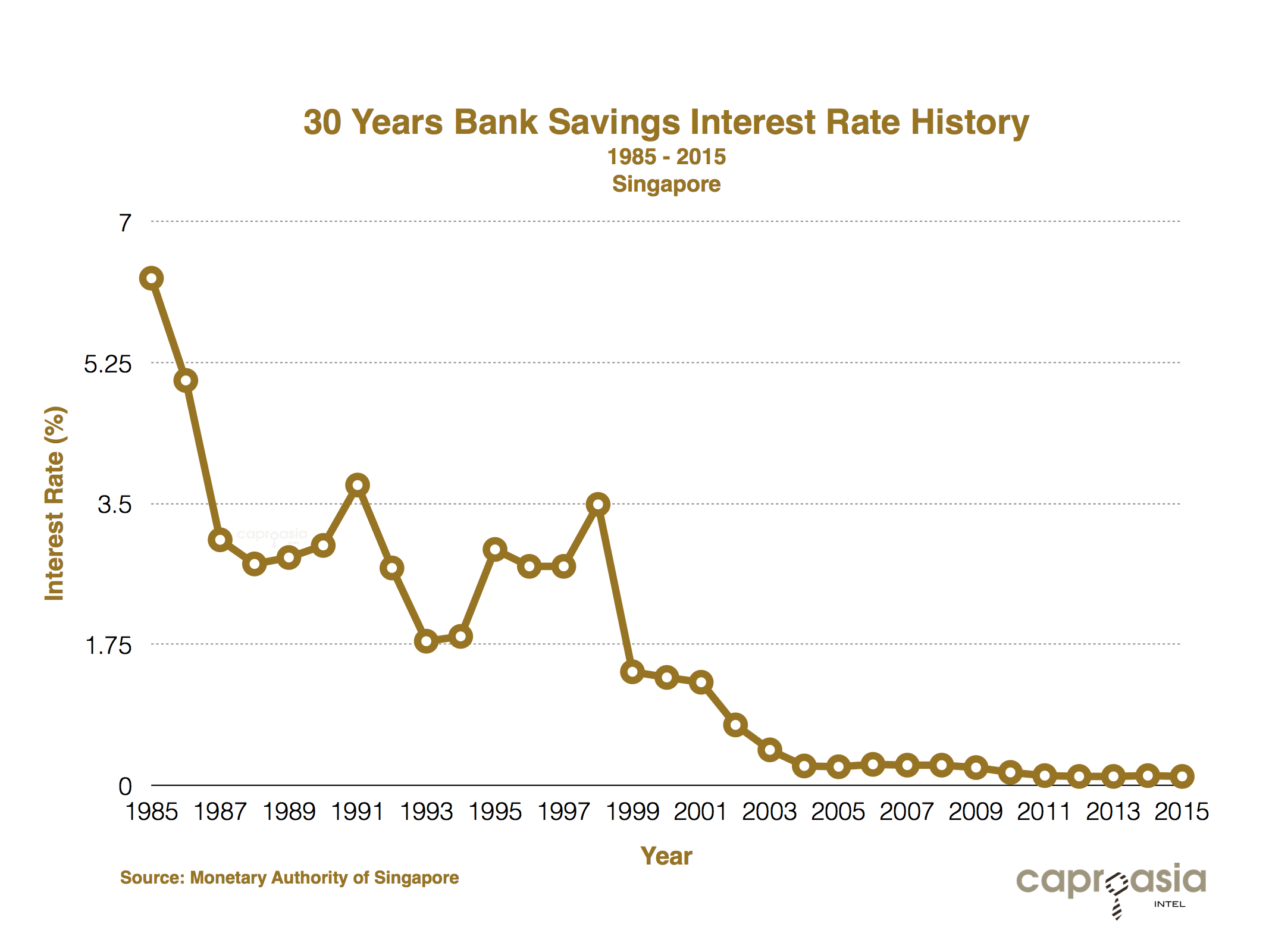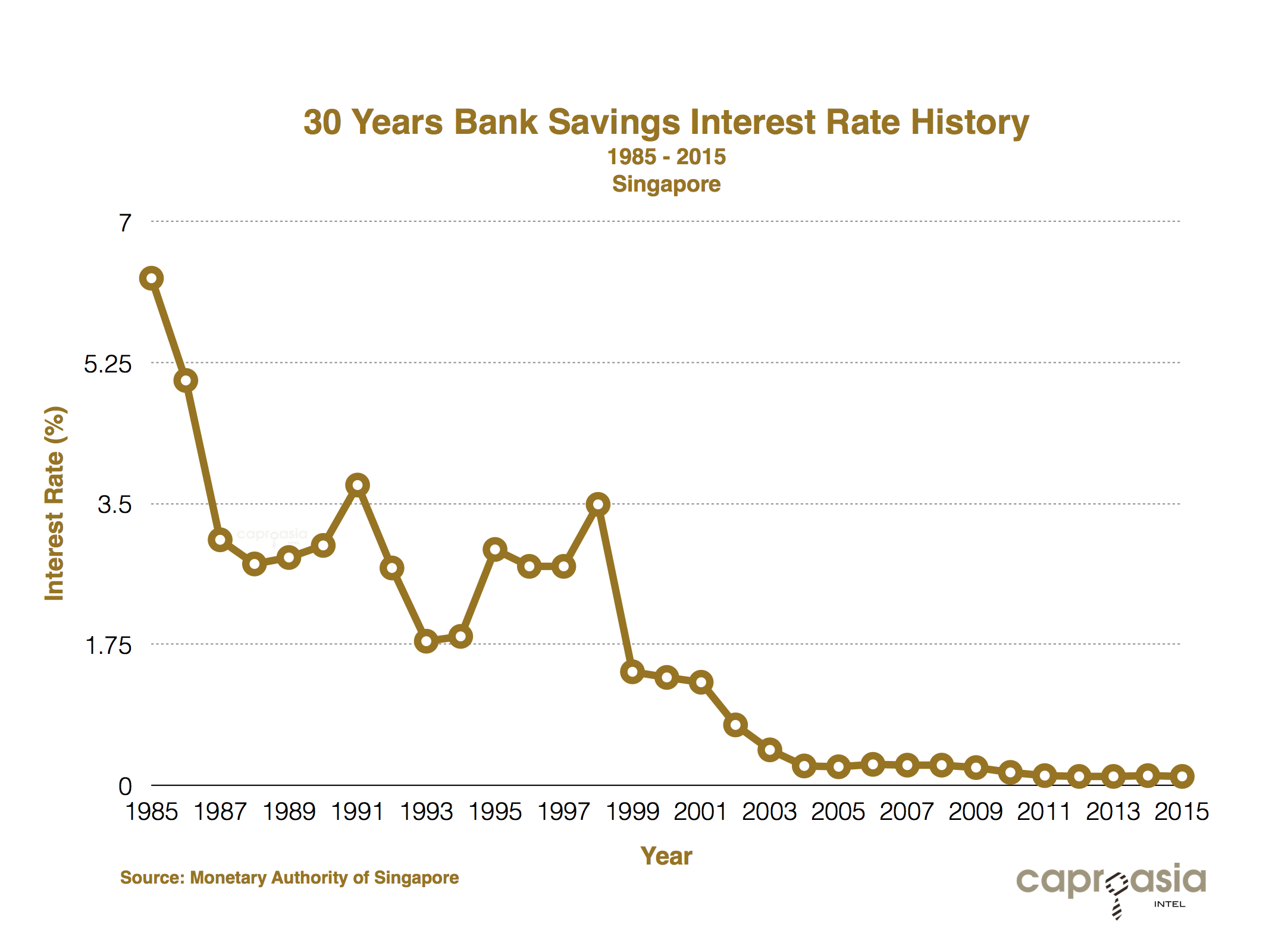 Key Observations:
1985 – 1990: Similar to most developing countries, Singapore had a high interest rate environment during the period. Savings interest rates in banks was 6.3% in 1985 and ended at 2.98% in 1990. Depositors earned a high savings rate during the period.
In 1985, Savings Account Pays 6.3% p.a.
1991 – 1996: As Singapore approached developed nation status, savings interest rates ranged lower: 2.72% – 3.73%.
1997 – 1998: Asia was severely affected by the Asian Financial Crisis in 1997 and interest rate spiked up to 3.49% in 1998.
1999 – 2002: The recovery was short-lived as the dot-com bust in 2000 followed by terrorist bombing of World Trade Centre in United States affected global economic growth. Bank's savings interest rates fell to 1.41%, 1.34% and 1.28% respectively for the period.
2002 – 2015: Bank savings rate stayed the lowest ever in the history of Singapore as savings interest rates fell to 0.75% and in 2015, 0.11%.
Many countries including Singapore had referenced monetary policies after the United States monetary policies. Post-2001, US Federal Reserve was on an ultra-low interest rate policies till 2006. The Federal Reserve Chairman was Alan Greenspan from 1987 – 2006.
As Singapore embarked on a journey to turn Singapore into a financial & wealth management hub, there was huge influx of funds into Singapore banks, keeping banks savings interest rate low for the entire period.
1985: 6.3%
1995: 2.93%
2005: 0.23%
2010: 0.16%
2015: 0.11%
Bank Savings Interest Rates Data 1985 – 2015
| | | | | | |
| --- | --- | --- | --- | --- | --- |
| 1985 | 6.3 | 1995 | 2.93 | 2005 | 0.23 |
| 1986 | 5.03 | 1996 | 2.72 | 2006 | 0.26 |
| 1987 | 3.05 | 1997 | 2.72 | 2007 | 0.25 |
| 1988 | 2.75 | 1998 | 3.49 | 2008 | 0.25 |
| 1989 | 2.83 | 1999 | 1.41 | 2009 | 0.22 |
| 1990 | 2.98 | 2000 | 1.34 | 2010 | 0.16 |
| 1991 | 3.73 | 2001 | 1.28 | 2011 | 0.12 |
| 1992 | 2.7 | 2002 | 0.75 | 2012 | 0.11 |
| 1993 | 1.79 | 2003 | 0.44 | 2013 | 0.11 |
| 1994 | 1.85 | 2004 | 0.24 | 2014 | 0.12 |
| | | | | 2015 | 0.11 |
Source:
Monetary Authority of Singapore 2015
Leading 10 Banks & Finance Co. in Singapore
Average Interest Rates in All January
Data Release
Caproasia Platforms:
Caproasia Events & Coverage:
---
Caproasia.com | The leading financial website for financial professionals, professional investors and HNW investors. Covering capital markets, investments and private wealth in Asia. How do you invest $3 million to $300 million? How do you manage $20 million to $3 billion of assets? Quicklinks: Caproasia Access | TFC | Caproasia | Jobs
Join 14,000+ leading financial professionals and professional investors in Asia. Stay ahead of your peers & competition. For press release, email to press@caproasia.com For editorial, media kit, listing on TFC, events, seminars or research & data services, email to mail@caproasia.com
---