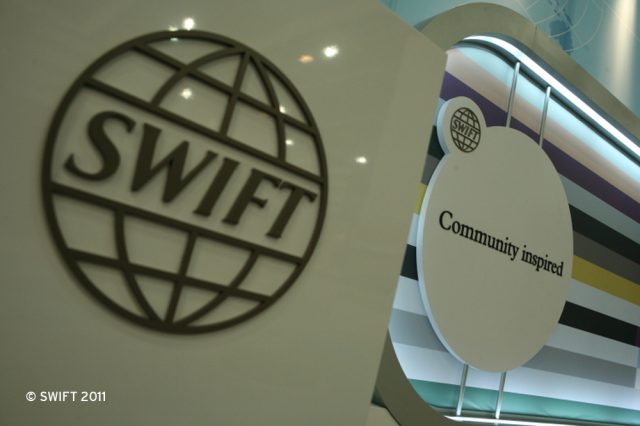 ---
Highlights from the SWIFT Corporates Forum 2017 in Singapore
Singapore | 27th February 2017
With the current market and foreign exchange volatility and regulatory uncertainty creating challenges for business and finance decision makers, SWIFT, the world's leading messaging services that are used and trusted by more than 11,000 financial institutions, held the SWIFT Corporates Forum 2017 in Singapore on the 27th February 2017.


- Article continues below - Web links may be disabled on mobile for security. Please click on desktop.
Optimizing Working Capital & Cashflow
"Optimising working capital," says Peter Tan, Director of Corporate Treasury and Commodities, Risks Assurance of PwC as Asia has worst cash conversion rates, he advised Treasury department.
De-globalisation and elections in Germany, France and Netherlands coupled with tightening of U.S monetary policy will disrupt the markets.  In Asia, China's higher cost of debt burden is predicted approximately to be $600 Billion at the end of 2017.
The slowing down economies means businesses needs to think how they can reduce the cost of funding, and ( immediately), working capital can be the cheaper source of funding.
Changing & Evolving Treasury Job Market 
The top 3 financial positions in demand in the Treasury Job Market are:
Financial Analyst
Manager in M&A
Financial Manager
The growing sectors for Treasury Job Market is in Technology, Fintech, Medtech, InsureTech and BioMed.  Matthieu Imbert-Bouchard, Managing Director of Robert Half Singapore further added that the Treasury job market have 4 main problems:" Ageing workforce, manpower crunch, decrease in job creation and Skills shortage."
Surveys conducted shows that 31% of managers value technical skills in regulatory, risk management & compliance while 27% of managers value leadership and soft skills.
Global Payment Connectivity and Risks
Damien Dugauquier, Commercial Director and Corporate Sales for ASEAN & Oceania Lead of SWIFT mentioned that the focus is on "increasing global connectivity by doing away with the e-banking platforms for different bank transactions for (Corporate Treasurers) while providing visibility on cash balances, which will improve budgeting and forecasting." This automates remittances and payment processes, making it fast, transparent and traceable.
"Protect yourself from financial penalties by screening your transactions," added Jean-Philippe Soubry, Director of Compliance Services Asia Pacific of SWIFT.
Reputational risks and breakdown of business relationships are at stake if transactions are sent to sanctioned areas or individuals. The most common examples were embargo sanctions in Middle East. OFAC guidelines are updated constantly and hard to keep up with but SWIFT feeds updates live.
The Office of Foreign Assets Control (OFAC) of the US Department of the Treasury administers and enforces economic and trade sanctions based on US foreign policy and national security goals against targeted foreign countries and regimes, terrorists, international narcotics traffickers, those engaged in activities related to the proliferation of weapons of mass destruction, and other threats to the national security, foreign policy or economy of the United States. OFAC acts under Presidential national emergency powers, as well as authority granted by specific legislation, to impose controls on transactions and freeze assets under US jurisdiction. Many of the sanctions are based on United Nations and other international mandates, are multilateral in scope, and involve close cooperation with allied governments.
In a response to cyber risks and building a resilient framework for customer controls, Saqib Sheikh, Head of Sales Services Asia Pacific of SWIFT replied that "the Customer Security Programme included steps on restriction of internet usage within boundaries and training, self-assertation, self inspection and third party investigation."
Stella Lim Head of Corporate Sales Asia-Pacific for SWIFT gave a closing remark for the exciting forum discussion.  The event attended by leading industry professionals and many CFOS, Treasurers, key business & finance decision-makers in Singapore.
Managing $20 million to $3 billion. Investing $3 million to $300 million.
For Investment Managers, Hedge Funds, Boutique Funds, Private Equity, Venture Capital, Professional Investors, Family Offices, Private Bankers & Advisors, sign up today. Subscribe to Caproasia and receive the latest news, data, insights & reports, events & programs daily at 2 pm.
Join Events & Find Services
Join Investments, Private Wealth, Family Office events in Hong Kong, Singapore, Asia-wide. Find hard-to-find $3 million to $300 million financial & investment services at The Financial Centre | TFC. Find financial, investment, private wealth, family office, real estate, luxury investments, citizenship, law firms & more.  List hard-to-find financial & private wealth services. Have a product launch? Promote a product or service? List your service at The Financial Centre | TFC. Join interviews & editorial and be featured on Caproasia.com or join Investments, Private Wealth, Family Office events. Contact us at
[email protected]
or
[email protected]
Caproasia.com
| The leading source of data, research, information & resource for financial professionals, investment managers, professional investors, family offices & advisors to institutions, billionaires, UHNWs & HNWs. Covering capital markets, investments and private wealth in Asia. How do you invest $3 million to $300 million? How do you manage $20 million to $3 billion of assets?
Quick Links
2021 Data Release
2020 List of Private Banks in Hong Kong
2020 List of Private Banks in Singapore
2020 Top 10 Largest Family Office
2020 Top 10 Largest Multi-Family Offices
2020 Report: Hong Kong Private Banks & Asset Mgmt - $4.49 Trillion
2020 Report: Singapore Asset Mgmt - $3.48 Trillion AUM
For Investors | Professionals | Executives
Latest data, reports, insights, news, events & programs Everyday at 2 pm Direct to your inbox Save 2 to 8 hours per week. Organised for success
Register Below
For CEOs, Heads, Senior Management, Market Heads, Desk Heads, Financial Professionals, Investment Managers, Asset Managers, Fund Managers, Hedge Funds, Boutique Funds, Analysts, Advisors, Wealth Managers, Private Bankers, Family Offices, Investment Bankers, Private Equity, Institutional Investors, Professional Investors
Get Ahead in 60 Seconds. Join 10,000 +
Save 2 to 8 hours weekly. Organised for Success.
Sign Up / Register
Web links may be disabled on mobile for security. Please click on desktop.



---
Caproasia Users
Manage $20 million to $3 billion of assets
Invest $3 million to $300 million
Advise institutions, billionaires, UHNWs & HNWs
Caproasia Platforms | 10,000 Investors & Advisors
Monthly Roundtable & Networking
Family Office Programs
The 2023 Investment Day
28th March 2023 - Hong Kong
4th April 2023 - Singapore
April 2023 - Virtual
6th June 2023 - Hong Kong
13th June 2023 - Singapore
Sept 2023 - Hong Kong
Oct 2023 - Singapore
Oct 2023 - Hong Kong
Visit: The Investment Day | Register: Click here
Caproasia Summits
Contact Us
For Enquiries, Membership
[email protected]
,
[email protected]
For Listing, Subscription
[email protected]
,
[email protected]
For Press Release, send to:
[email protected]
For Events & Webinars
[email protected]
For Media Kit, Advertising, Sponsorships, Partnerships
[email protected]
For Research, Data, Surveys, Reports
[email protected]
For General Enquiries
[email protected]
---
Caproasia | Driving the future of Asia a financial information technology co. since 2014
---